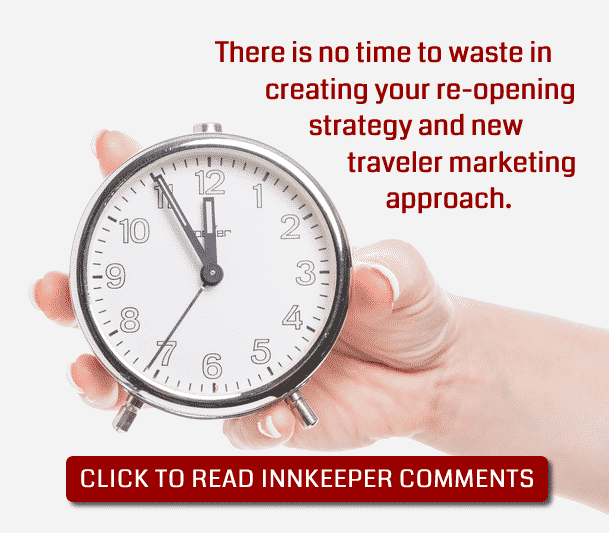 The sheer volume of information available to lodging industry professionals regarding COVID-19 is astonishing. National and state organizations, travel companies, reservation companies, real estate agents, directories, and more are providing educational opportunities in written, podcast or webinar format. Even digital marketing firms are offering FREE classes that were once only available through a subscription, or coming late to the party with promises of education that is "unlike anything that has been offered before in our industry" at affordable rates.
As many innkeepers are presented with copious amounts of content, they naturally feel overwhelmed. They find themselves spending innumerable hours listening to webinars, trying to sift through vast amounts of information that has not been tailored to what they need to know during this unprecedented situation. And many are left on their own to search for the hidden morsels they need to identify, grasp, and apply as they prepare to reopen and market to a new type of traveler.
We Adopted a 3-Step COVID-19 Education Approach
When confronted with the COVID-19 virus potentially devastating small businesses, we embraced the challenge to do what we have always done - race to help our innkeepers get through this incredibly difficult time. We launched our COVID-19 kick-off, "Navigating the Waters of COVID-19 for Innkeepers" on March 24, 2020.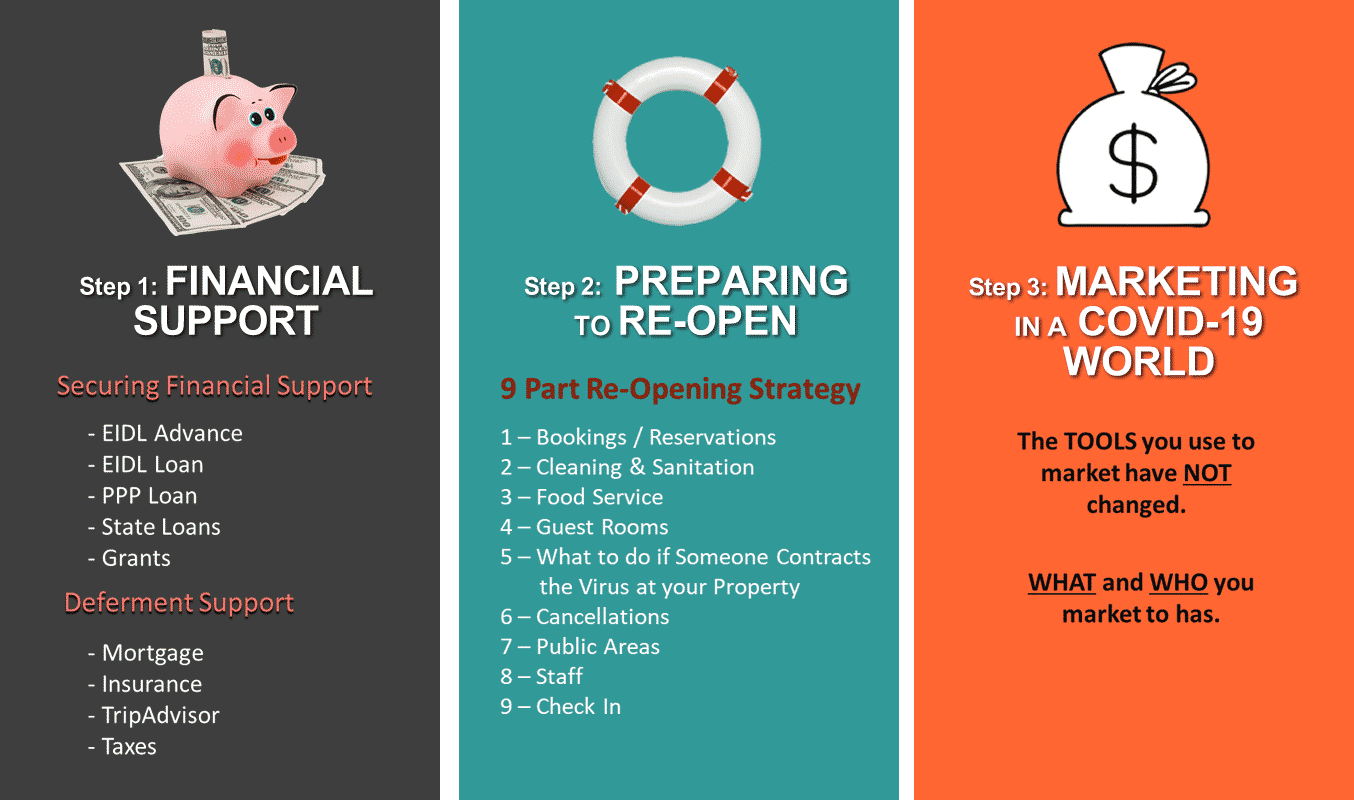 Step 1 of Our 3-Step Approach
Amidst disappearing bookings, a new marketing strategy at this early phase would have been inappropriate. First and foremost, innkeepers needed help with finances. Therefore, we began weekly educational sessions to help innkeepers secure both funding and payment deferment options.
Since no two properties are alike, we presented many different financial options during our COVID-19 webinars so innkeepers could choose the options that fit their situation best. For example, we spent the first four weeks helping our clients secure EIDL advances, track EIDL full loan progress, and submit PPP loan applications, including national and regional grant possibilities. These four weeks were crucial for our innkeepers, especially since new applications for the EIDL/PPP loans were suspended on April 16, 2020. Helping our clients get in the queue for funding ASAP was of the utmost importance.
Step 2 of Our 3-Step Approach
Our education then moved onto reopening strategies. We developed a 9-step process, with the order of presentation being chosen by a client survey where innkeepers voted on what was most important to them. We then launched our "Preparing to Reopen" bi-weekly sessions on Friday, April 24, 2020.
Part 1 – Bookings & Reservations
Part 2 – Cleaning & Sanitation
Part 3 – Food Service
Part 4 – Guest Rooms
Part 5 – What to Do if Someone Contracts the Virus at Your Property
Part 6 – Cancellations Upon Reopening
Part 7 – Public Areas
Part 8 – Staff Safety & Training
Part 9 – Contactless Check-In
Step 3 of Our 3-Step Approach
Our final step will begin Friday, May 22, 2020, once our reopening strategy sessions are concluded. Step 3 will focus on marketing strategies for attracting the new guest, as well as techniques and tips for innkeepers as they prepare for travelers to return.
As with any educational program, we must ask: Is what we are teaching, and how we are teaching it, really helping? More specifically, is the 3-step educational approach we started back in March helping our innkeepers prepare to recover? The answer is a resounding YES!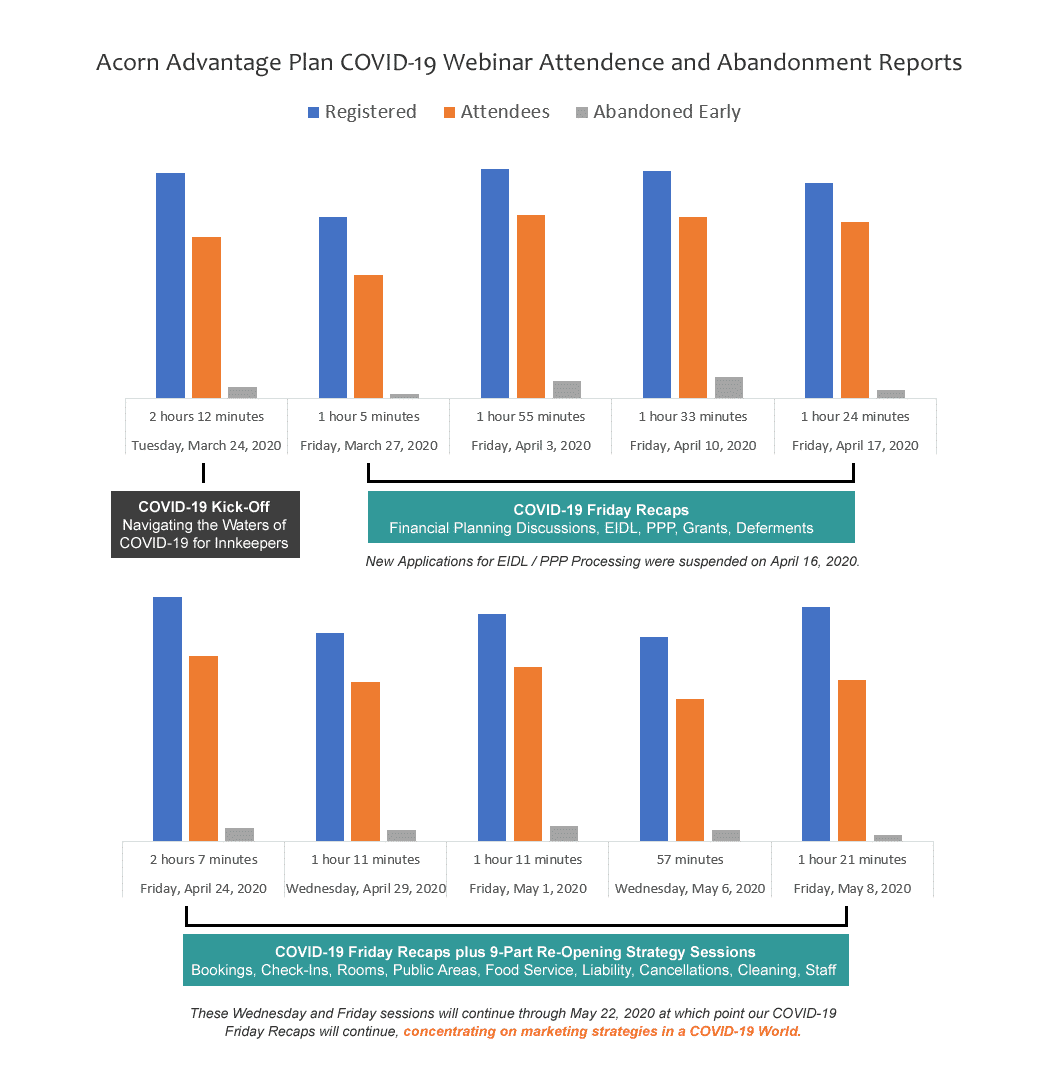 We encouraged all of our Advantage Plan clients to register for our COVID-19 webinars, whether they were able to attend the live webinar or not, so they would automatically receive the handouts, PowerPoint slides, and access to the recorded webinar. Those who registered are in blue, those who attended are in orange, and those who had to leave early are in grey.
Why We Know Our Expert Education is Working!
Regarding the data above, there are two incredible take-aways:
After two months of ongoing webinars, our Advantage Plan innkeepers continue to return, which indicates that our educational information is meeting or exceeding their needs.
We have had so much information to share, that some of our classes were over two hours long! What's more, our innkeepers stay for the duration, which is evident by the low abandonment rate.
Granted, some may find it odd that a digital marketing firm decided to take on all this non-marketing type education for our clients, but that is what sets Acorn Internet Services apart from our competitors. We care deeply about the success of our innkeepers and this industry. Therefore, we are willing to roll our sleeves up and do the hard work that needs to get done to help, especially now, during this crisis.
---
Much of what we are teaching regarding COVID-19 is time-critical, which means there is no time to waste. Now is the time to create your reopening strategy and new-traveler marketing plan. If you have not received the support you need to help you successfully move forward, we encourage you to join our Advantage Plan innkeepers today.
In addition to all our pre-COVID-19 Advantage Plan services:
Level 1 & 2 Advantage Plan clients receive access to our DIY COVID-19 Starter Kit.
Level 3 & 4 clients receive personalized recovery plans developed with the help of their project manager to guide them through this difficult time.
All Advantage Plan clients have access to our extensive COVID-19 Dashboard Portal containing every topic, article, video and link that we have taught, shared, written or recorded, organized into a simple to use format.
We encourage you to reach out to our sales team at 877-226-7699 or sales@acorn-is.com.
You may also complete our online sales inquiry form.
What our Advantage Plan Clients are saying…
"You have been a lifesaver through not only this pandemic and all the research and training you have provided, but in getting our inn up and running in general. Your knowledge, resources, and personal troubleshooting are the best and I am so glad we have partnered with you! Now that we're at the next level, I love it that Will keeps me on my toes, helps me through issues, and gives me the incentive I need to keep going, press on and accomplish what needs to be done to continue to build our business. Truly, I was clueless until we connected with Acorn and I most likely would have been left behind with all the other B&B's in the area who are now closing."
Penny Eldred – The Rosemont Inn Bed and Breakfast
"Thank you, Lisa, for this and everything you and your team have done throughout this crisis. We really appreciate all the guidance Acorn has provided these past few weeks. All of you have made this a little less scary."
Greg & Patrice Wisner - Arcadia House Bed and Breakfast
"I just wanted to say thank you for everything you're doing for us innkeepers and our industry - now and always. I feel like I have listened to a million different webinars in the past few weeks, but I never get as much out of them as I do Acorn's - and especially the Friday COVID-19 ones. I cannot imagine how much time and effort your whole team is putting into just gathering the knowledge and information for all this - please know that it IS appreciated!"
Tiffany & Robert Bertram - Tiffany's Bed and Breakfast
Acorn Internet Services is the Gold Standard for Innkeeper Education in our Industry
Acorn has been providing consistent, timely, expert-led education for over a decade. Acorn's education program is tailored to address innkeepers' specific needs, and taught in a way that allows innkeepers to easily connect the dots and apply what they have learned to benefit their businesses. Providing this type of dependable expert education is not easy. It takes hours of investigation and preparation by a team of experts who are passionate to help innkeepers understand what they need to know, when they need to know it.
Acorn is at the forefront of our ever-changing environment, setting the standard as the leader in mobile-first responsive design, ADA compliance, and GDPR preparedness, the architect of the BookDirect.education movement, as well as creator of Support-Small-Biz.com and the Stay-Safe-Stay-Small-Stay-Inn initiative.