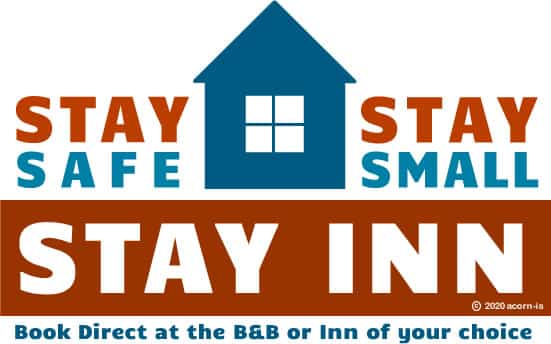 On Friday April 17th, Acorn's Stay Safe, Stay Small, Stay Inn initiative to help our clients prepare to re-open their doors begins.
Acorn Advantage Plan Clients can choose to advertise with the "Stay Inn" logo and Acorn will update the colors and tag line to make this logo their own.
Non-Acorn Advantage Plan Clients may also request use of the "Stay Inn - Stay Safe" logo in their marketing by clicking the link below.
President Trump has announced his plan to re-open parts of the country, and we have a small number of inns who will be accepting guests beginning in early May.
Acorn is working with all our Advantage Plan clients to think through, plan and set expectation guidelines regarding all the various facets of re-opening during this time of social distancing.
We are encouraging all innkeepers to take advantage of the "Stay Safe - Stay Small" initiative, using the #staysafestaysmall in their social media, in addition to using the logo in their guest communications, on their website, in their signature lines, blogs and newsletters.
The new post-COVID19 traveler is going to be looking for a safer smaller alternative to the larger hotel chains, and we are it!
Please take a moment to read through the comments at the end of the post to see what our clients are saying!
Examples of Acorn clients participating in the Stay Safe, Stay Small, Stay Inn Outreach:
If you would like to talk with us about our Stay Safe, Stay Small, Stay Inn initiative, or would like to request the use of the logo graphic, please click the button below and complete the request form. An Acorn IS representative will reach out to you to discuss.
Note: This blog post was updated on 4/18/2020 and again on 5/7/2020