Level One
Best Fit Acorn Client?
• A Hobby or Lifestyle Inn that still needs to produce Inn Revenue.
• A non-lodging client that wants to stay on top of any related items to their specific online web presence.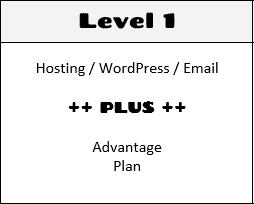 Level Two
Best Fit Acorn Client?
An Innkeeper or business owner who wants to manage their own marketing strategy, without the hands-on support of our MarketWatch program, and needs to be aware of changes impacting their individual business structure.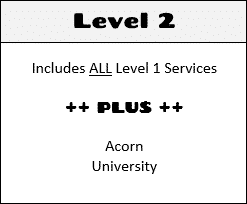 Level Three
Best Fit Acorn Client?
An Innkeeper or business owner that wants expert assistance and monthly monitoring regarding their online marketing strategy, via our MarketWatch monitoring, revenue tracking and review program.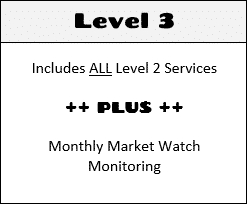 Advantage Plan Pricing at a Glance

If you'd like a copy of the full whitepaper on our Advantage plan options, please contact our Sales Manager at sales@acorn-is.com
Why Now?
Acorn has always and will continue to place the utmost importance on Innkeeper Education. In 2017 we have found ourselves in the un-funded time intensive situation of investing a thousand plus hours of research and investigation on various topics impacting our clients. We want to remain committed to this investment so that we may continue to provide you expert advice with which you can make better marketing decisions, and thus more revenue. However, we cannot continue to provide this invaluable and expert information as a benefit to you without the support and funding from our clients. This process is not a new one. What has changed is the volume of topics, the time investment and the speed of these changes happening in our industry, thus the creation of our new Advantage Plan options.