You've probably been hearing a lot lately about ADA compliance, whether for your physical building or your website. We at Acorn Internet Services are concerned with helping innkeepers get their websites and reservation systems in order, in a hope to avoid costly lawsuits. We also want to help innkeepers make their websites and reservation systems accessible, so that more people can use and get the information they need from them.
One way you may have seen to check your website for accessibility is using a Chrome tool to see how you score, from 1-100, for ADA compliance. Unfortunately, passing the Chrome checker is not a guarantee that your site is ADA compliant.
To test a site for ADA Accessibility, follow the steps below:
Open a browser window in Chrome
Type the website address of the site you want to test
In the upper right-hand corner, click the three vertical dots (…)
Click More Tools
Click Developer Tools
Click the right arrow in the right-hand side of the Developer Tools navigation bar
Click Lighthouse
In the Device section, select Desktop or Mobile (you'll want to run the test for each one)
In the Categories section uncheck all the boxes except for "Accessibility"
Click the "Generate Report" button (under the lighthouse icon)
Wait a few minutes for your score.
You want as high a green score as you can get (Acorn has been able to achieve a perfect 100).
Remember, you can also test your reservation pages to see how they score.
In addition to these tests, an Accessible Website must also work properly with a screen reader.
A way to put yourself in the shoes of someone with vision disabilities is to use a screen reader, such as NVDA. This technology allows blind people or people with low vision to "hear" your website content as they tab along the site. When you use a screen reader, it will help you to understand why it's important for your site to be WCAG 2.0 AA compliant.
Watch this video to see how screenreaders work:
Another piece of the ADA regulations is an accessibility statement. The purpose of an accessibility statement, as per
nomensa
, is:
"An accessibility statement has two basic functions. Firstly, it presents clear information about the target level of web accessibility for the website and the methods used to achieve those targets. It also enables the website owner to acknowledge any areas of the website where accessibility targets have not been met and to outline the proposed plan for resolving any such problem. Secondly, an accessibility statement is a powerful declaration of commitment. People visiting the website, particularly those with disabilities, will appreciate the open acknowledgement that accessibility is a key driver for the website. A word of caution however, an accessibility statement that makes rash or false claims will only damage the reputation of the website, not enhance it!"
So, you need to have an accessibility statement on your website, to tell people with disabilities how your website meets accessibility standards, as well as how it doesn't, and how you intend to fix those issues. An accessibility statement does not excuse a business owner from having an ADA compliant site. You have to be making an effort to comply.
As of January 2018, Acorn has been building websites with these issues in mind, and always intends for our sites comply at a high level. Unfortunately we are at the mercy of the reservations systems or any plugins or widgets that innkeepers demand as part of their web designs. We are constantly researching more about what is required, and implementing new requirements as we learn about them. It is imperative that the ADA regulations are complied with correctly.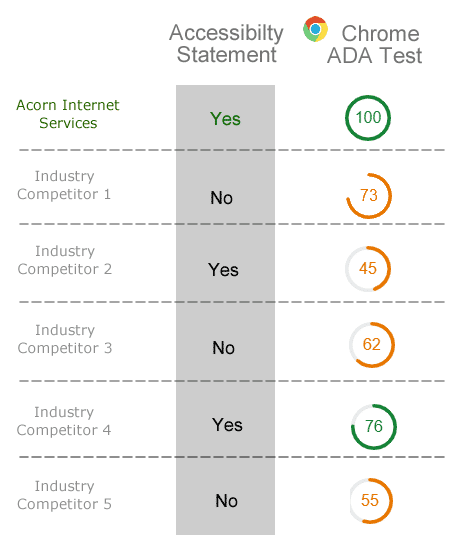 Any lodging property that is required to physically offer ADA rooms and amenities (such as those under the California Unruh Civil Rights Act) needs to make sure that their ADA room descriptions, amenities, access, etc. is clearly documented on their website and just as importantly, if not more so, on the reservation system.
Due to lawsuits arising from innkeepers' ignorance of these requirements, Acorn is providing a joint webinar, partnering with both the AIHP and PAII memberships, to address these requirements and the impact they're having on our already overwhelmed industry.
Make plans to attend the webinar on Wednesday, November 7th at 9am Pacific/10am Mountain/11am Central and Noon Eastern.
Registration URL: https://attendee.gotowebinar.com/register/6929392052629633281
If you register for the webinar, you will get a followup email with a link to the webinar video, whether you are able to attend live or not.