This is Part 1 of a 2 part series
Click Here to Access Part 2: Google Hotel Ads ROAS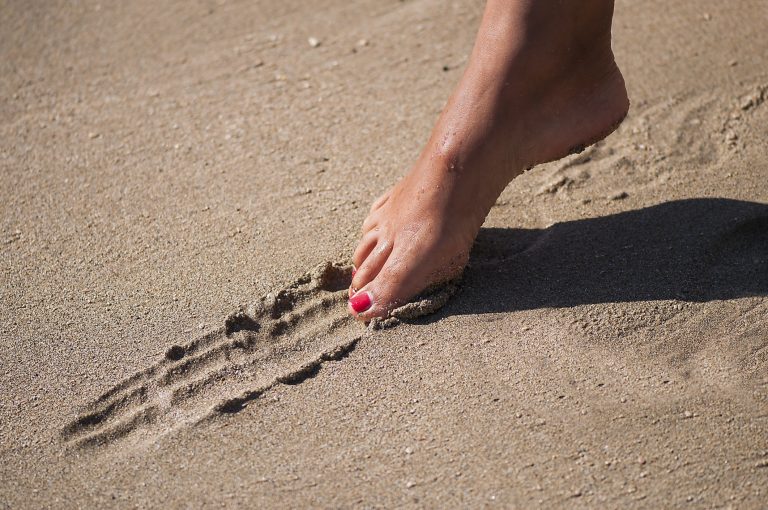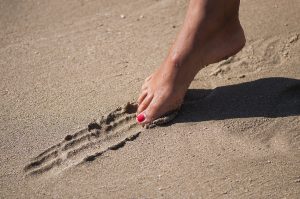 If you currently pay for, or are considering paying for a Google Ads campaign (formerly called Google Adwords) to drive more direct bookings, we encourage you to read through this blog post and use this information to correctly determine if you are making the return on your Google Ads spend that you want to be making.

We teach our Advantage Plan clients that if you are going to participate in ANY paid advertising program, your benchmark, or line drawn in the sand when it comes to what you should be spending vs. what you are making on that spend, should be compared to what you pay, or would pay to an OTA to deliver a booking.
In most cases that's 18%. IE: you pay 18 cents to make a dollar.
Therefore, any paid program that allows an Innkeeper to sell their rooms direct, that costs less than 18 cents on each dollar made, leaves more money in the Innkeepers pocket than selling via the OTA.
Note: In some cases, you may choose to spend slightly more on a direct booking than what you spend on an OTA guest, if you gain other types of advantages, such as building a repeat customer base, etc.
This is Part 1 of a 2 Part Series making Innkeepers aware of the whole story when it comes to calculating ROAS on their Google Ads.
ROAS is short for Return on Ad Spend.
This is a term that was referred to by the majority of the presenters, at the Direct Booking Summit in Miami last month, as the standard process for determining the cost of a direct booking. It is a simple calculation that applies to any paid program an Innkeeper chooses to use when attempting to drive traffic and sell their rooms via a direct booking effort.
In Part 1 of this Series, we will be reviewing Google Ads ROAS, formerly called Google Adwords. Google Ads is a paid program where your ad can be seen above or below the organic listings. Your Google Ads placement will compete with other's who are also paying for similar Ads. Therefore, the more you spend, the more often and the higher you will be seen on the organic results side of a Search Engine Result Page (SERP). IE: The left hand side of your screen on desktop.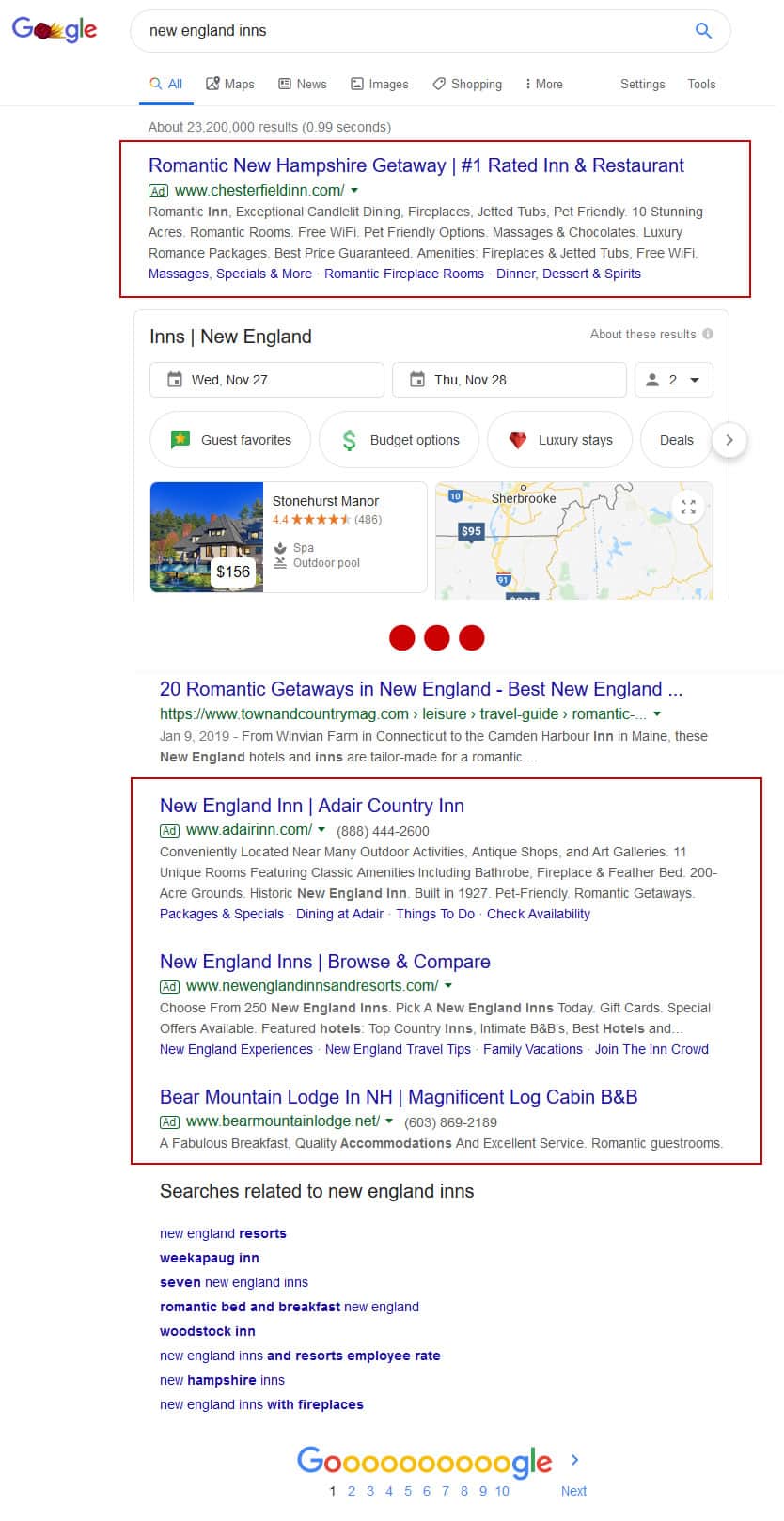 In order to show you the process for determining ROAS for Google Ads, I'd like to share a case study from an Advantage Plan Level 3 client, who has given Acorn permission to share their data and their story.
Acorn Internet Services, Inc. provides many à la carte add-on marketing options for growing your business, including the topic of this post: Google Ads setup and monitoring. Though we do not require a client to use our services for any of these add-on programs. Our clients can choose to do DIY (Do-It-Themselves) or hire an outside firm if they wish. Though as part of our Advantage Plan Level 3 program, we do track all the money spent and made from each program a client chooses to engage with in order to drive direct bookings, whether Acorn set up the program or not.
And this is where this Case Study begins.
This client originally set up their Google Ads account on their own and was advertising their Specials and Packages via Google ads, but wondered if they could do better if they hired a firm to help them with their Google Ads. After speaking with a sales representative at another digital marketing firm, who glowingly spoke about their Google Ads program, our client chose to hire another provider in the industry for their Google Ads campaign management.
The contract pricing for the Google Ads campaign are as follows:
They signed a 6-month contract
Setup of the Google Ads Campaign = $199 (Prorated at $33.17 a month for 6 months)
Monthly Maintenance = $149
+ Monthly Ad Spend paid to Google (which we will share below)
As part of our Level 3 Advantage Plan services, Acorn began to monitor this program. As with any paid programs, we began determining ROAS on this new Google Ads campaign on a monthly basis. What was our client spending to make a booking with Google Ads? Was it a better ROAS than if they would have just paid the 18% to the OTA?
GA snapshot of Last Click Bookings (Initial 3 months of the 6-month contract)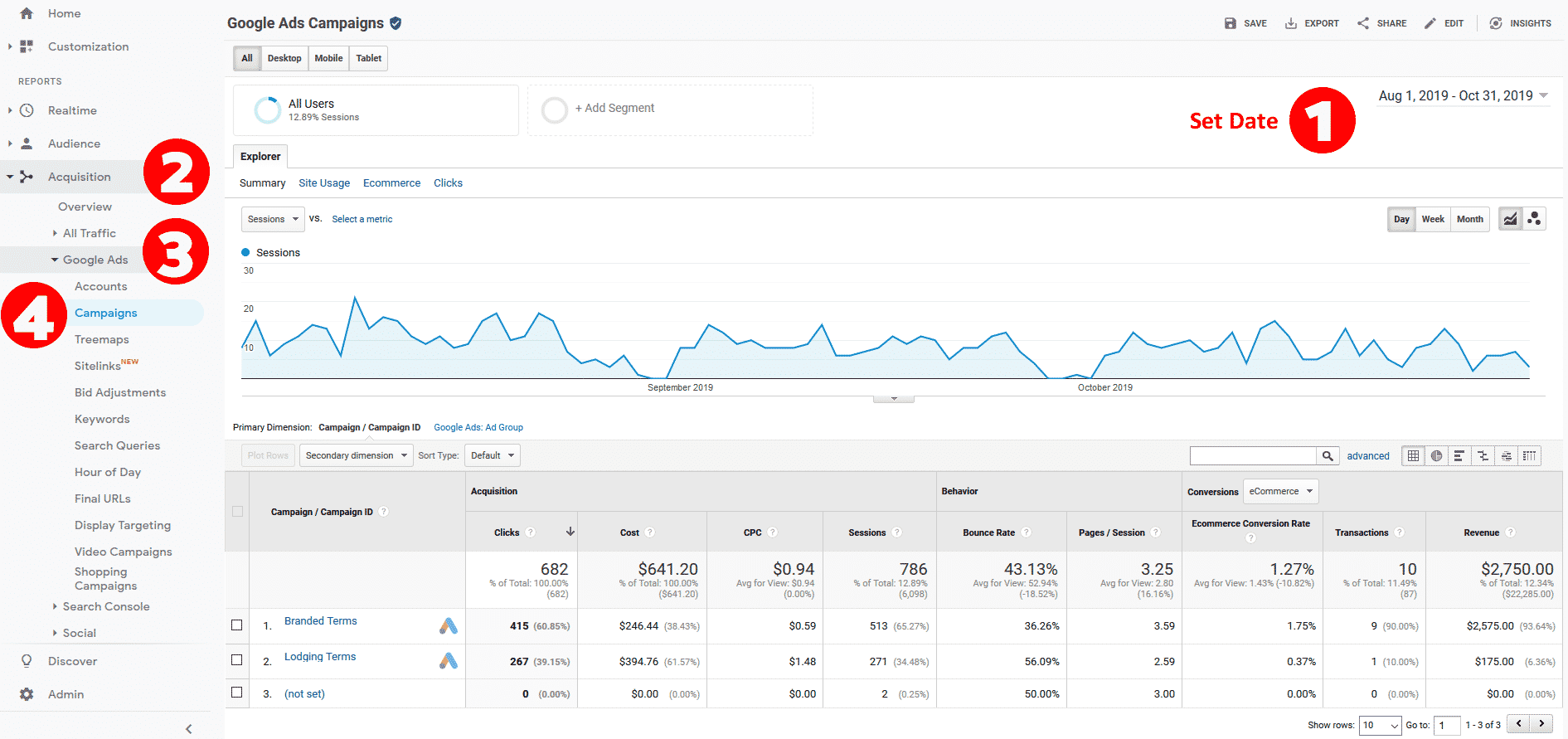 GA snapshot of Last Click + Assisted Bookings (Initial 3 months of the 6-month contract)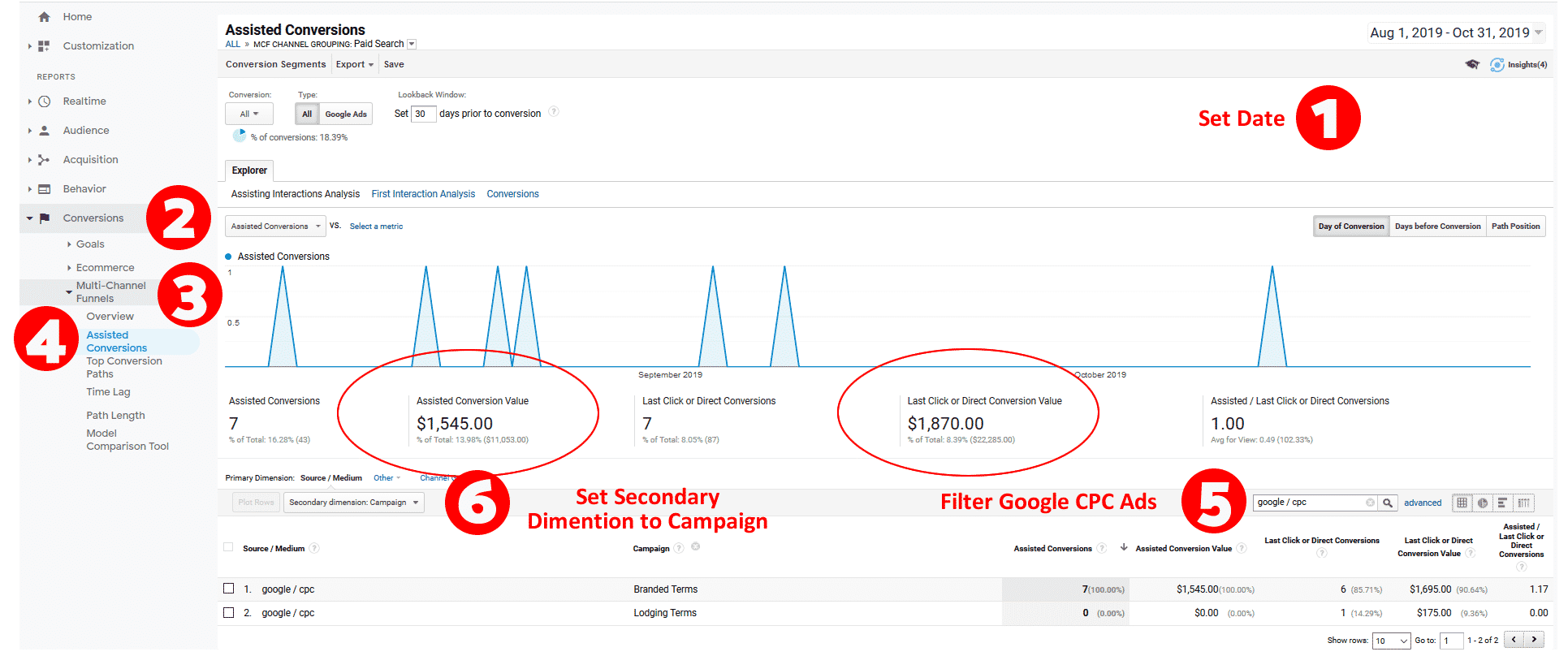 Speakers at the Direct Booking Summit in Miami recently reinforced the process in which Acorn Internet Services monitors our clients Ad Spends when they reminded the audience to not just look at Last Click conversions, but also to include the Assisted conversions when determining ROAS for any paid direct booking effort.
When you see a report such as the one below, it is only showing you what your click costs paid to Google were, not what the overall costs to run the campaign means to your bottom line.

Explanation of the Report Data
Impressions: The number of times the Google Ad was seen by potential guests.
Clicks: The number of times the Google Ad was clicked on.
Cost/Click: How much each click costs (Ad Spend divided by Clicks).
Ad Spend: The amount paid to Google for the clicks on your Google Ads.
Bookings: The number of last click and assisted bookings driven by your Google Ads campaign.
Cost Per Booking: The total click cost paid to Google for each booking (Ad Spend divided by Bookings).
Revenue: The amount of last click and assisted booking revenue driven by your Google Ad campaign.
ROI: The return on your click cost paid to Google (Revenue divided by Ad Spend).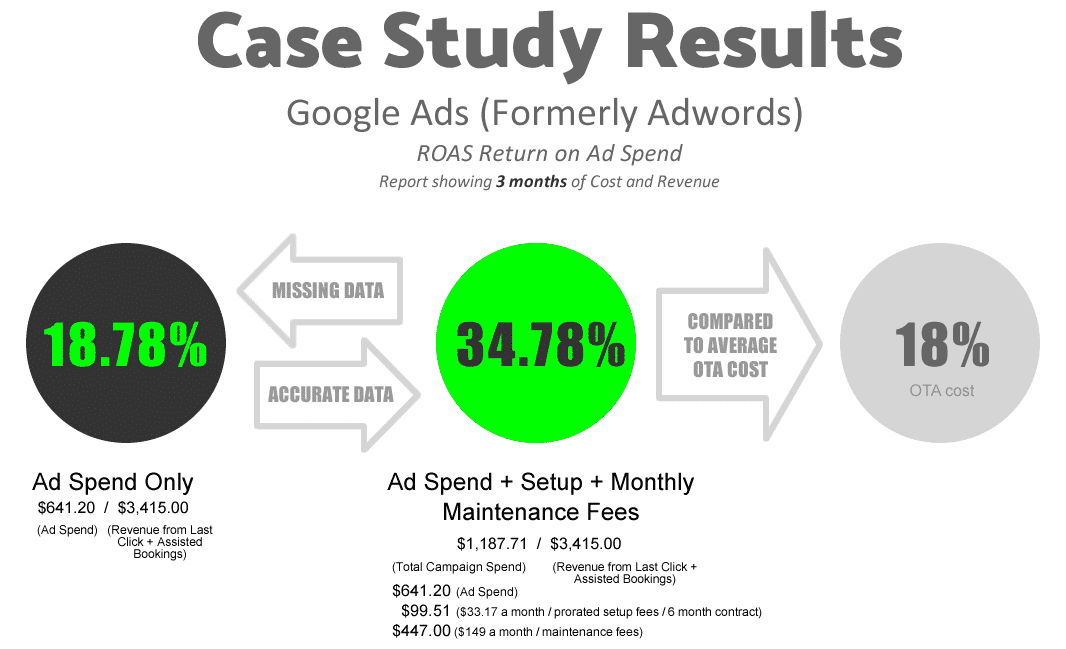 So when we calculate ROAS for the 3 months of Google Ad Campaign results with only the Ad Spend click costs our client paid to Google it looks pretty good at (18.78%) vs. when we include the Ad Spend + Setup + Monthly Maintenance fees at (34.78%) there is now a huge difference in the value of these bookings. You might spend 18% on driving a direct booking, but we'd never suggest that 34.78% is a good return on any Ad Spend.
Note: this data does not include any bookings taken on the phone.
Innkeepers need to know if they are being shown the whole picture,
or one that their Digital Marketing Firm wants them to see.

It was interesting to see many of the attendees at the Direct Booking Summit in Miami sharing their concerns about trusting the data their Marketing Firms were providing them. The bottom line is -- Innkeepers and Owners must educate themselves when it comes to return on all their marketing investments. They must establish and clearly understand their revenue goals, and also how to validate if those goals are being met on a monthly basis. Being involved is key!
Don't forget these considerations when calculating ROAS Don't forget these considerations when calculating ROAS: Read Full Article from Big Commerce Essentials

Advertising incurs more cost than just the listing fees. To calculate what it truly costs to run an advertising campaign, don't forget these factors:
Partner/Vendor costs: There are commonly fees and commissions associated with partners and vendors that assist on the campaign or channel level. An accurate accounting of in-house advertising personnel expenses such as salary and other related costs must be tabulated. If these factors are not accurately quantified, ROAS will not explain the efficacy of individual marketing efforts and its utility as a metric will decline.
Affiliate Commission: The percent commission paid to affiliates, as well as network transaction fees.
Clicks and Impressions: Metrics such as average cost per click, the total number of clicks, the average cost per thousand impressions, and the number of impressions actually purchased.
You will need to check with your Google Ads marketing provider to determine if their monthly reports include only the Ad Spend portion of your cost that was paid to Google, or if they indeed do include all their own fees you are paying them to operate the program for you.
IE: are the setup and monthly maintenance fees included in the ROAS section of your monthly reports.
Additional Helpful Hints for anyone looking to invest in a Google Ads program
Your Digital Marketing Firm has a lot of choices available when setting up your Google Ads account. Will they buy Branded Terms, which are simply variations of your Inn Name? Will they buy Lodging Terms for your city and surrounding areas? Will they work with you to change out Special and Package Terms on a monthly basis for you? Will they buy Weddings or Spa Terms, should you offer them? Are there other terms you want the firm you are working with to buy for you?
Branded Terms
Name + Bed and Breakfast *
Name + B&B *
Name + Inn *
Name + City
Lodging Terms
City + Bed and Breakfast *
City + B&B
City + Inns
City + State + Lodging
City + Lodging
City + Accommodations
Region + State + Bed and Breakfast
Region + State + Lodging
* indicates the type of phrase on which the booking was made in the case study.
Should you plan to hire a digital marketing firm to set up your Google Ads account, or you decide to work directly with a Google Ads representative, it is important to discuss their work process as to how they recommend and choose the phrases they are going to buy for you. And how will they manage moving your Ad spend around based on the booking revenue resulting from the ads? Monthly, Quarterly, Annually? If you are paying an ongoing Maintenance fee, what are you getting as part of that program?
A Rabbit Trail Regarding Branded Terms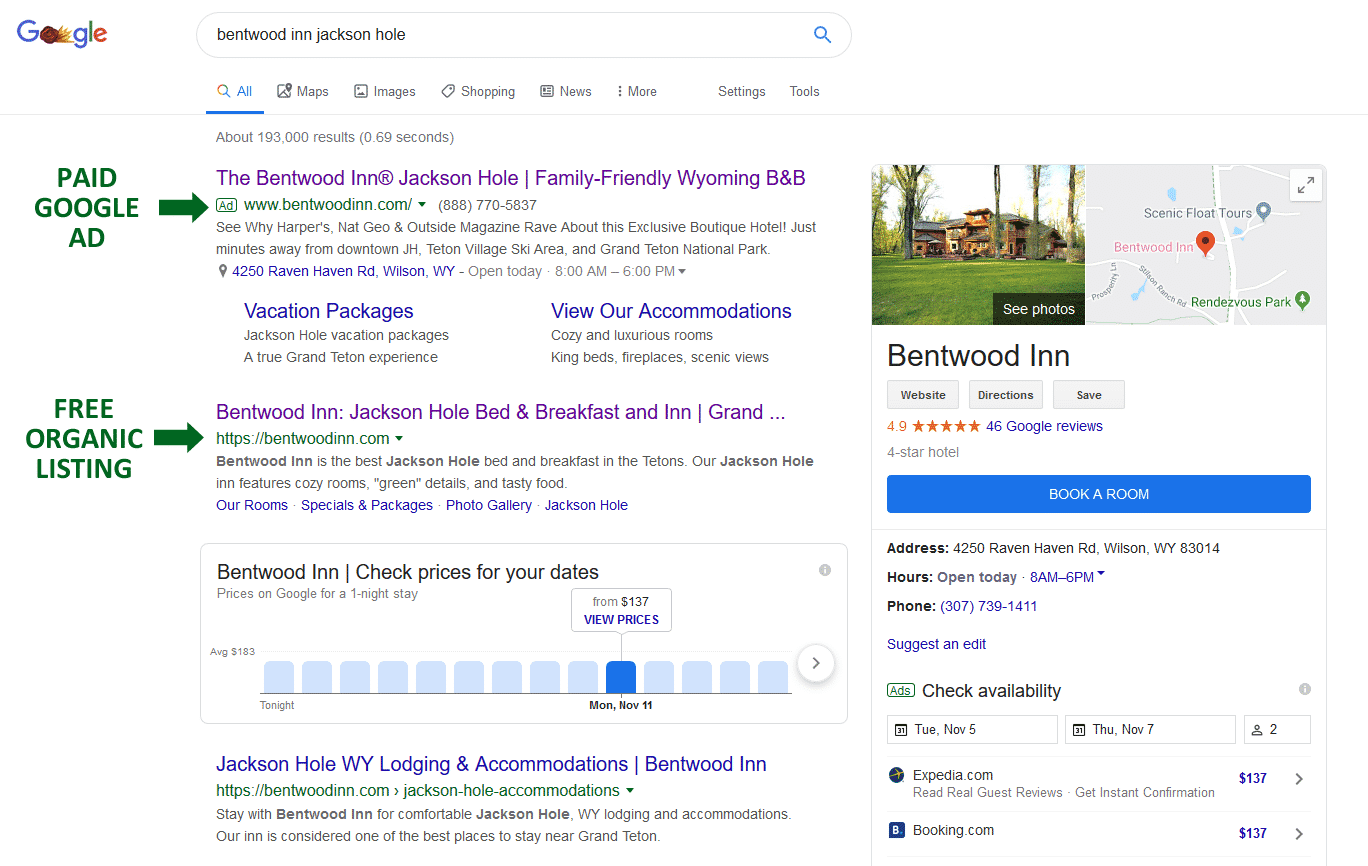 There are a few schools of thought on Branded Terms IE: Buying your own Inn name. Should you choose to purchase your own Inn name, you will want to make sure it is incrementally adding to your bookings, instead of taking them away from your Inn's free organic bookings. [readmore]
Reasons to Pay for your Brand Name include, but are not limited to:
Competing against an OTA that also is buying your name.
If you have a name that is similar to another property name (to reduce confusion).
Dominate your Brand Search Result Page.
Provide Users with more information.
Direct where your users go on your site.
Etc.
If you do choose to pay for Brand Name search phrases, you'll want to monitor your Google Analytics to make sure you aren't Stealing from Peter (your Free Organic Bookings) to Pay Paul (your Paid Google Ads Bookings).
Below is a snapshot of the process to follow to help you determine if your Google Ads are adding to your bottom line, or just replacing some or all of the Free business you were already are booking.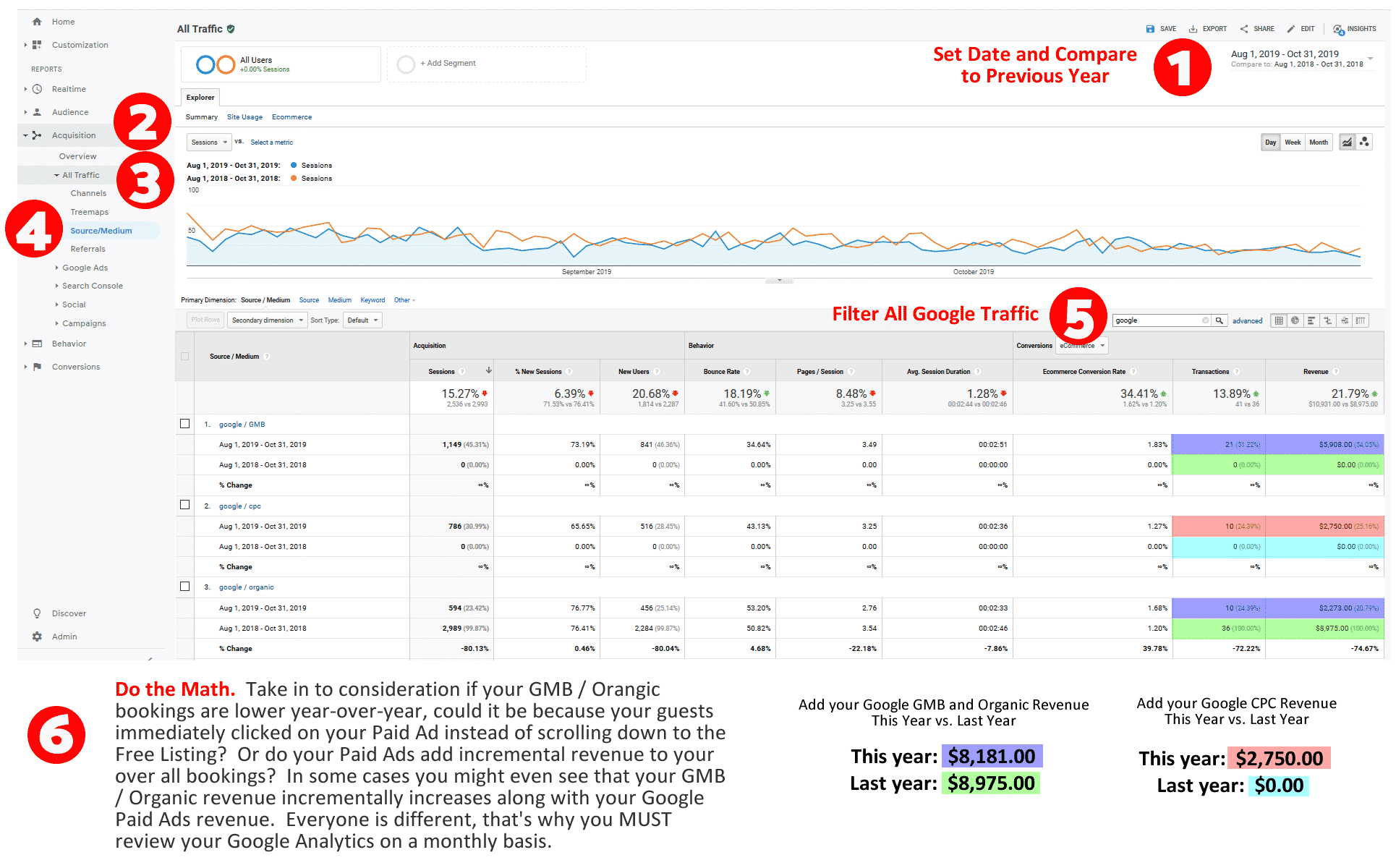 One final note: You can set the second dimension filter to display a list of all your booking transaction IDs that were generated from your Google Ads. Once you have the list, it's a good exercise to compare these transaction IDs back to your actual guests in your booking engine database. This will allow you to see how many of your Google Ads bookings were made by repeat clients. If you determine that your existing guests are clicking on your Google Ads, you may want to consider making changes to your repeat guest communications. Your repeat guests should know how to book a room without eating into your Google Ads spend. [endreadmore]
---
If your business is in decline, and you don't know why, Acorn Internet Services, Inc. can help. Our Advantage Plan Level 3 program will identify issues, create a plan of action and personally meet with you on an ongoing basis so you can quit wasting money and put it where it will make the highest return on your bottom line.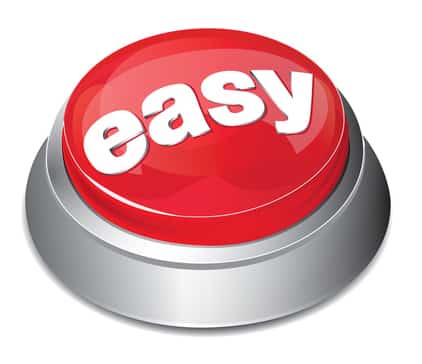 No - - It's not SIMPLE. No - - It's not EASY.
And who doesn't want an Easy Button? Innkeeping is EASY --- said no Innkeeper ever! The same goes for your digital marketing. Plug and play digital marketing is easy for the digital marketer when it's a one-size-fits-all program. But, digital marketing, when done right, in the best interest of the Innkeeper's bottom line, is neither simple nor easy. Every Innkeeper's digital marketing needs are unique, just as they and their own property is unique. It takes time to create and execute an individualized marketing plan that fits their needs, and will help them with their specific direct booking growth. Innkeepers who care about growing their business need to know where every dime of their advertising is going, and how much of a return that dime is making, and that takes time, effort and wisdom. Otherwise you'll continue to pay for services you thought would drive direct bookings and wonder why they aren't working.
If you want to know why, click the request information button below. We can help!