You can draw more traffic to your blog posts and other announcements about your business via your Google Business Profile! Interested in learning more about Google Updates in 2023 for better Business Profile Marketing? Read on and we'll tell you more.
Similar to a social media post, a Google Update (formerly known as Google Posts) consists of a photo and a caption, with a link to a page or post on your website. Updates show in your Google Knowledge Panel  when someone is searching for our business on a desktop, or in Google Maps on mobile.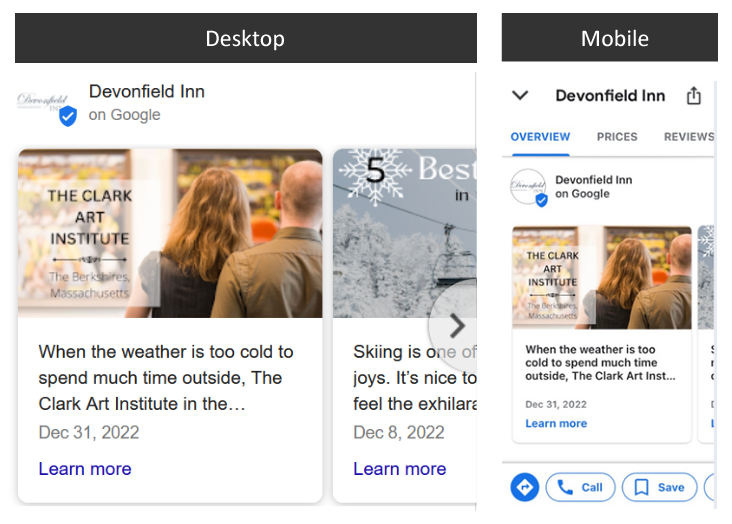 Benefits of using Google Updates include:
More views and clicks than from only posting on traditional social media
Cater to a different audience than traditional social media
Anyone Googling your business is able to view it while on a desktop, no need to click away from Google
Potential guests viewing your property on Google Maps will see your Updates
Create a more visually dynamic profile for your viewers
Optimize every tool that Google allows businesses to utilize by investing in Google Updates.
Don't let this feature go unused - Get the most out of your profile!
Updates is the new term for Posts, which were not available to lodging business for years - now they are! They are free to business owners via the Google Business Profile New Merchant Experience (NMX).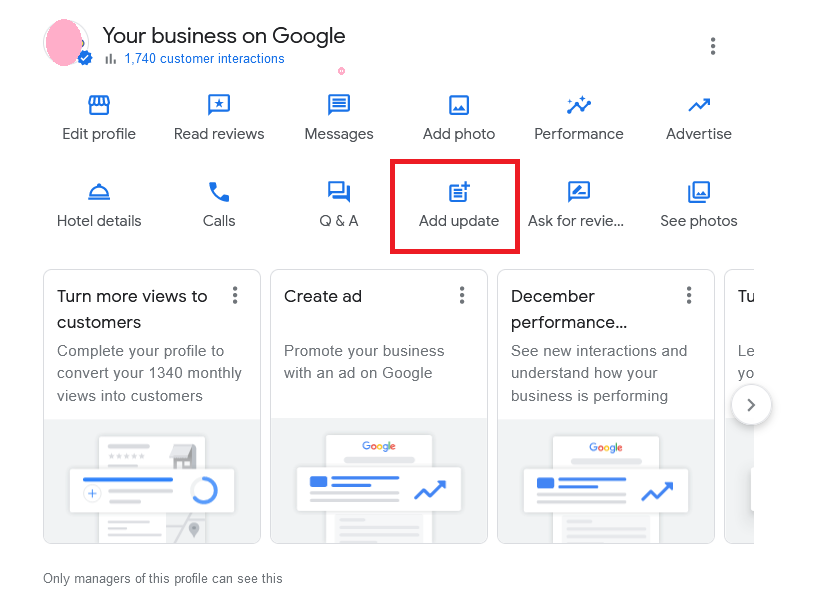 If you have already been utilizing this free service:
In our tests, Google Updates have gotten at least 100 views, some many more
Compare this to your Facebook or Instagram post views (likely the same or more)
Some Updates send clicks directly to the blog, increasing Direct traffic
If you'd like to take advantage of Google Updates, but don't feel comfortable, don't like creating imagery, or just don't have the time, Acorn Marketing's Content Team can do it for you - we have graphic designers and writers - crack content creators ready to move your marketing to the next level! Contact our Sales Department for more information.
Don't lose out on this free opportunity to market your business in 2023!