We have partnered with ALP (Association of Lodging Professionals) to hold a 1-hour FREE SNEAK PREVIEW to introduce our upcoming Virtual Marketing 6-week Bootcamp being held in 2021.
We want to invite all:
New Innkeepers (18-24 months or less)
Aspiring Innkeepers
Innkeepers who are for Sale
Innkeepers who are just now learning about Marketing for their Inn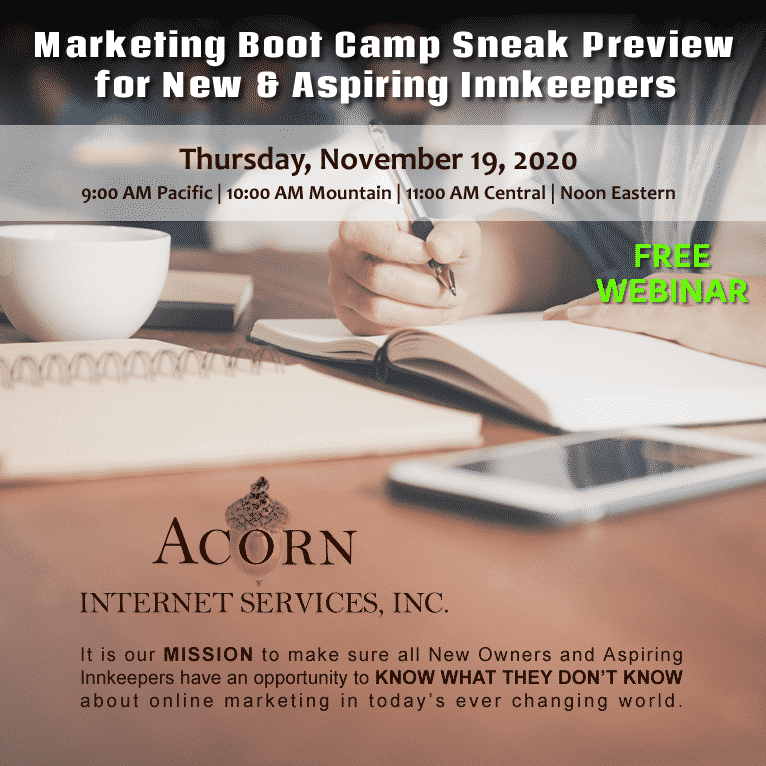 There are so many marketing topics that innkeepers must wrap their arms around that sometimes maintaining a successful marketing strategy for the property falls to the wayside.
A successful marketing strategy includes tasks that can grow your revenue. But there are also tasks that, when left unattended, can seriously harm your business -- simply because you...
"Didn't know what you didn't know!"
Free Sneak Peek Details
Day: Thursday, November 19, 2020
Time: 9:00 AM Pacific | 10:00 AM Mountain | 11:00 AM Central | Noon Eastern
REGISTER NOW
It is our Mission to make sure all owners have an opportunity to "Know what you don't know!" This FREE sneak peek is the perfect way to know if the 6-week Bootcamp is for you!
Give yourself the Gift of Education this year and Register Now!
Lisa Kolb
President and Co-Founder
Acorn Internet Services, Inc.