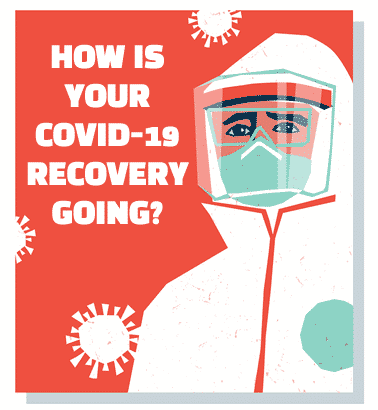 As you probably already know, we at Acorn prize data - as we've said for years - "You don't know what you don't know!" We follow the numbers to find the truth, and then use those numbers to help our clients go forward with the right marketing plan for the future.
Since early 2020, when we knew that COVID-19 was going to have an enormous detrimental effect on our clients, we maintained keeping a very close eye on direct booking and session traffic numbers for our clients, even when the situation looked dire and as we saw some inns thinking of closing industry-wide. What we saw was not encouraging - and in typical Acorn fashion, we pulled out the big guns and commenced our weekly recaps and marketing webinars to help our Advantage Plan clients keep working towards recovery. Now that we have started to see the impacts of the virus begin to settle down, we have taken a very close look at the data - and are sharing that data in this blog post.
We looked at Google Analytics for our Level 3 and 4 Advantage Plan clients. These are our clients that meet with us on a monthly basis and continually adjust their marketing plans based on what we are seeing with their specific numbers. We began by comparing direct booking and session traffic data from Jan 5, 2019- June 27, 2020 to direct booking and session traffic data from Jan 5, 2020 - June 27, 2019. What we are seeing is very encouraging for our clients, even in the face of some states and localities remaining closed to most potential guests.
Starting the week of June 7th, we saw a large spike in direct bookings. As this data is coming from Google Analytics, this is tracking data based on the booking date, not the actual stay dates, for any bookings being made into the future. This is very likely due to more and more states loosening restrictions and allowing lodging properties to open and citizens to travel again -- and to start hoping for and thinking about traveling again.
Here are the charts:

This chart shows data for all of the participating inns country-wide. What we found is really great news! Overall session traffic and direct booking revenue is up over 2019 levels for the first time since late January, when the news of COVID-19 began to spread.
And at the rolled-up US level we see good news, but we also know that some regions are doing better than others when it comes to COVID-19 recovery, so we decided to break our data into regions based on the U.S. Census map.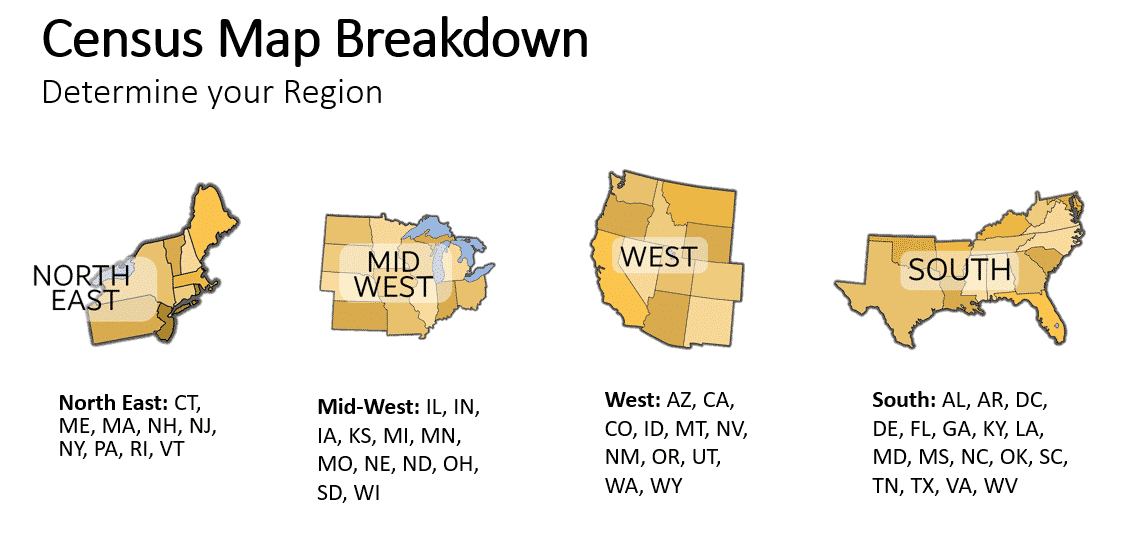 Below you will see the direct booking revenue charts for clients in all four regions. All regions are seeing gains over 2019. Though we do anticipate as we move further into summer and then into fall and winter to see session traffic and direct bookings drop in some regions of the country as different areas are required to return to more strict re-opening guidelines due to an increase in virus cases.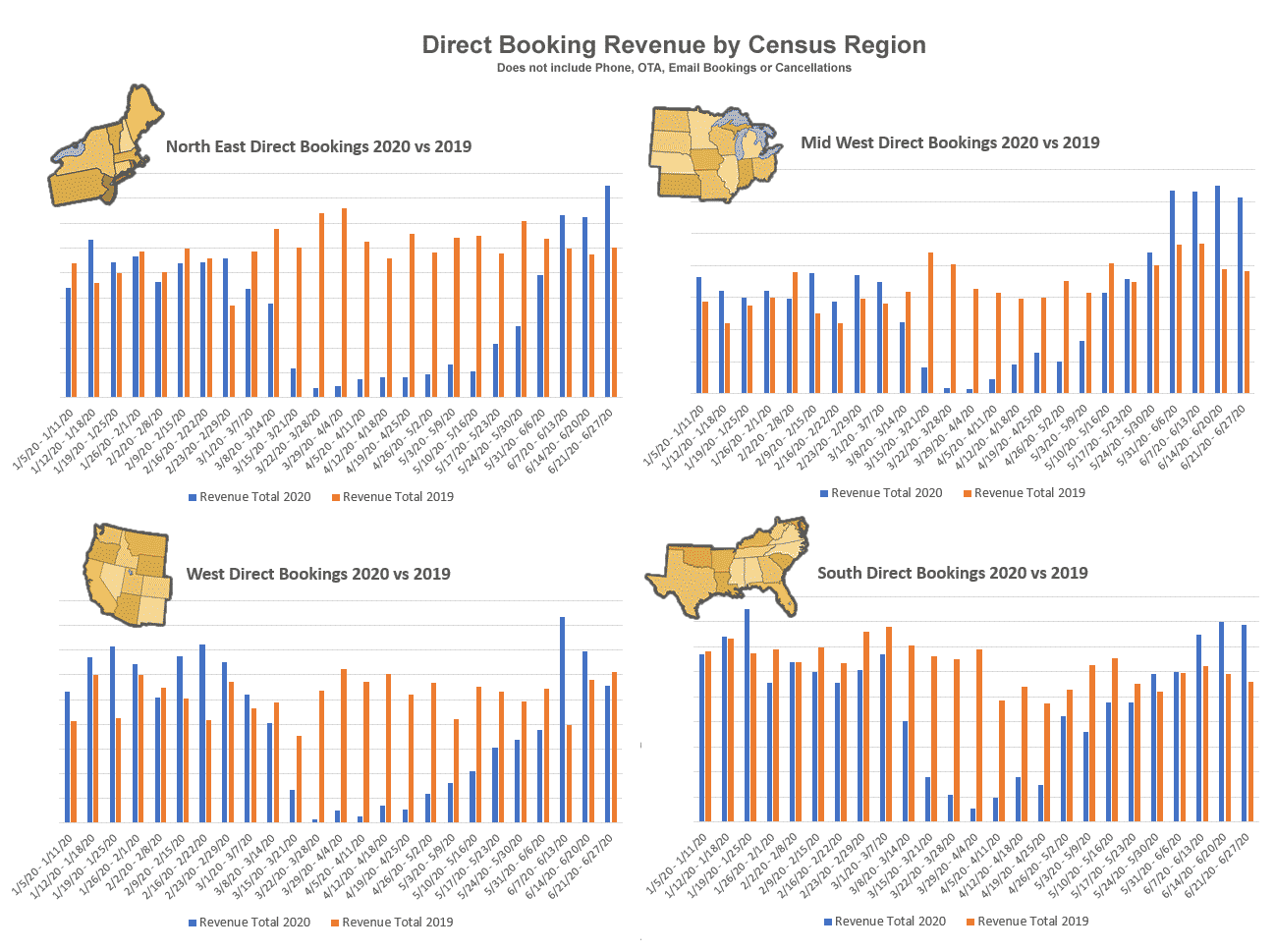 Finally - we see session traffic showing very similar results to direct booking revenue: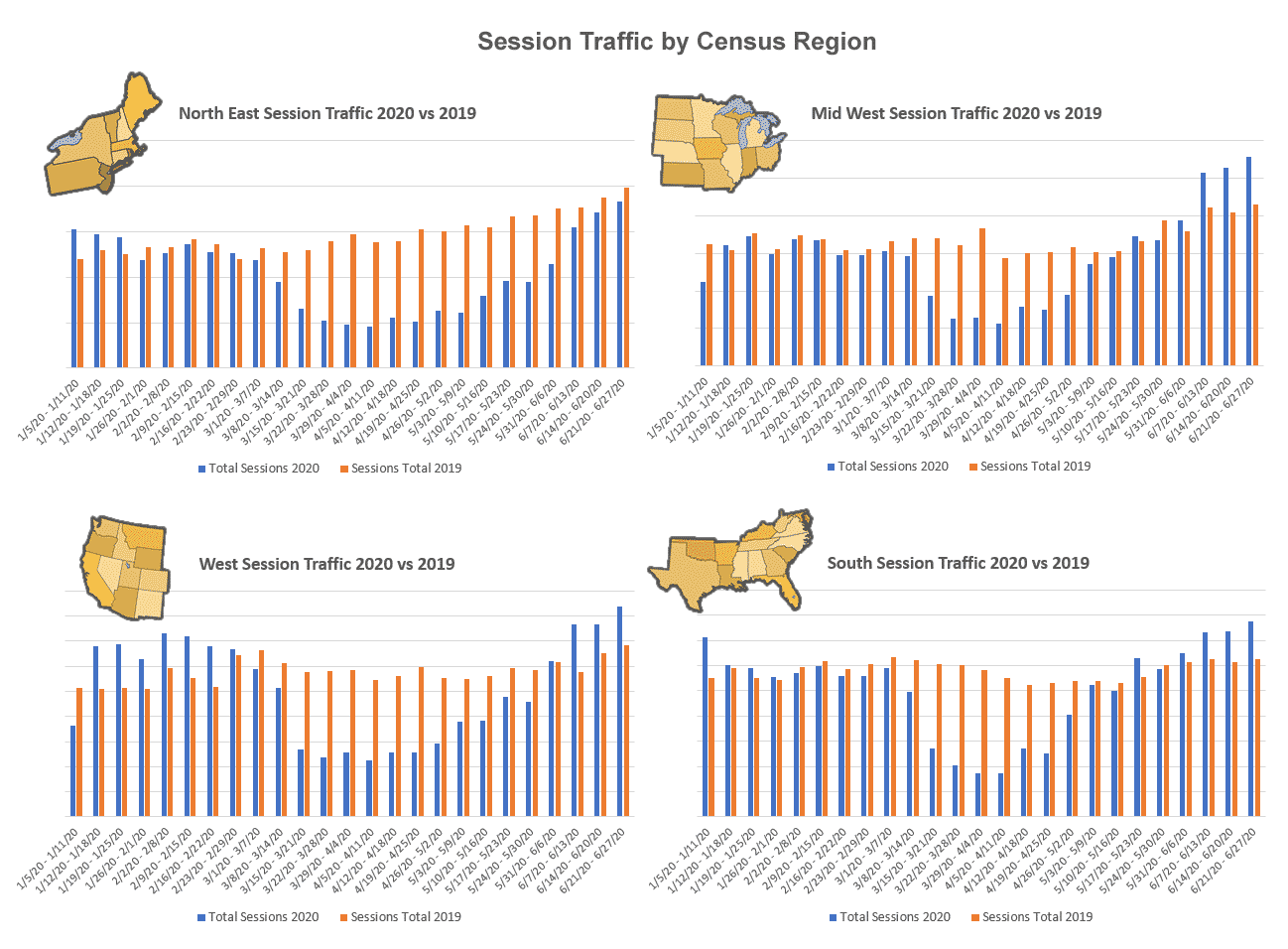 This upward trend is very good news to a starving small lodging industry. Although re-opening has see a rise in cases of the virus, it is clear that people want to travel again and are ready to spend their vacation funds.
We hope that proposed stimulus measures such as the Explore America Tax Credit will be passed to further help the travel industry as a whole and lodging in particular.
We encourage you to gather your own Google Analytics data and compare it to that shown above. If you do not know how to do this, or are using a marketing firm that doesn't provide this type of data, it's time to make a change.
We invite you to read the glowing reviews from our clients regarding how Acorn is helping them weather COVID-19 and then choose to join the Acorn family of satisfied innkeepers. Please fill out an inquiry request and our sales manager will contact you to share how we can help you too!