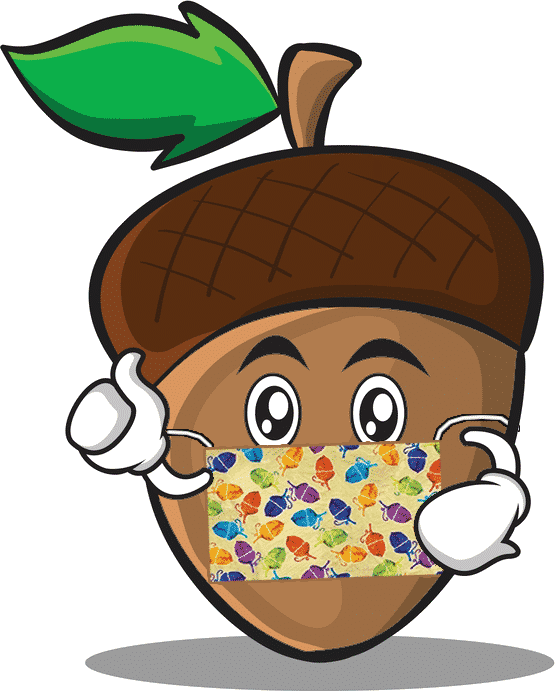 Acorn has created free face masks for our team members and Advantage Plan clients. Made of 100% cotton, the masks feature a cute Acorn motif. We then asked our team members and Advantage Plan clients to take a snapshot while wearing them to send to us!
Whether or not you believe wearing a cloth mask is a benefit during the current COVID-19 pandemic, Acorn Internet Services decided it was the "thought that mattered most!"
At this unprecedented time, it's not just the health of our Innkeepers' businesses we care about!
Advantage Plan client images and comments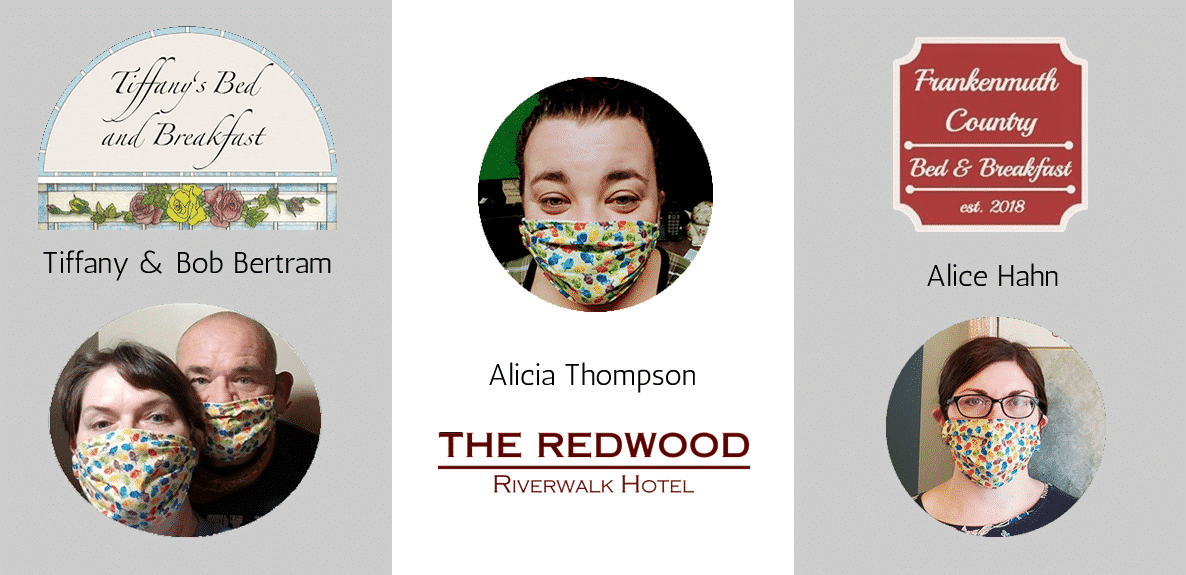 "Thank you for keeping us covered!"
- Bob & Tiffany Bertram, Tiffany's B&B (AR)
"Thank you for the nutty face mask!"
- Alice Hahn, Frankenmuth Country Bed & Breakfast (MI)
"Best mail day in a LONG time! Thanks Acorn!"
- Julie-Lynn Anderson Wood, Golden Stage Inn (VT)
"Thank you so much for the masks! We tell guests that we wear them because we are "nuts about them".
Need to have some humor added these days!"
- Michelle, Beyond The Wall Bed and Breakfast (FL)
"Just received our cute 'Acorn' face masks today! How very cute and so thoughtful of you.
We will wear them with pride! Thanks again!"
- Mike and Lisa Friedemann, School House Bed & Breakfast Inn (MO)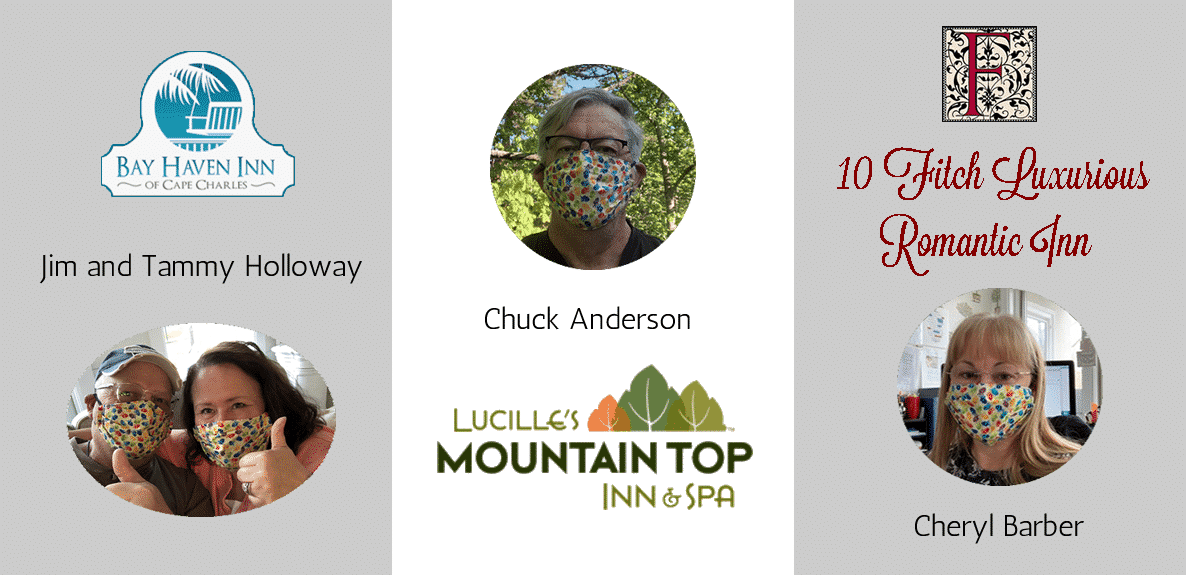 "I opened the envelope and was so touched to find the mask and little card enclosed. It made my day!"
- Cheryl Barber, 10 Fitch Inn (NY)
"...They even had acorn Facemasks made and sent to us. I know that the Acorn team has spent many, many hours researching and pushing out valuable info to help us thrive & survive during these uncertain times."
- Monica Edwards, Morehead Manor, Durham (NC)
"Just got our masks - love them - thank you very much!"
- Nancy Boyce, Eagle Rock Lodge (OR)
"Thank you for the masks!!!!!"
- Scott Hall, Pilgrim's Inn (ME)
"If the goal of sending out a mask was to make people smile, you hit it spot on! Thanks so much for the acorn themed mask. Such a thoughtful creative gift that made me smile big! You guys rock!"
- Julie-Lynn Wood, Golden Stage Inn (VT)

"What a great surprise! Found this in my mailbox today. Thanks Acorn. Love the print. Excellent gift."
- Melody Kronenberg, Aysgarth Station (ME)
"We wanted to thank you for the Acorn masks that we received. I don't think I've ever gotten such a timely and useful gift from a service provider before. We didn't have any masks and were still using a bandanna and a scarf. Thank you very much for sending those!"
- Connie Thayer, The Inn at Locke House (CA)
"Thank you for the lovely Acorn masks. We really appreciate them!"
- Erika Hall & Peter Burton, Abbey's Lantern Hill Inn (CT)
"It was so sweet and thoughtful of you to send masks. We appreciate it very much! "
- Christina and Steve Filep, The Whalewalk Inn & Spa (MA)
"Just a note to thank you for the masks. So helpful, and perfectly timed!"
- Jane Lowe, Tropical Inn, Key West (FL)
"The masks arrived this week and they already came into good use today! They are very comfortable. Thank you!"
- Margit Wezwick, Ash Street Inn, Manchester (NH)
"A surprise came in the mail yesterday! That was really nice of you all. We feel you are "stepping up" to take care of your customers right now. We have a daughter who is on the front lines as a COVID nurse. She would approve of your masks! "
- Gabe and Dawn Rubio, Lone Cedar Cabins (AR)
"Thanks for the masks. What a nice surprise and much appreciated."
- Steve & Nancy Adams, Lucky Bar Farm, (NC)
"What a wonderful surprise arrived in the mail today! The masks you sent us are great, and such high quality! We'll make good use of them. Thank you so much for thinking of us all."
- Peter Muller, Pearl of Seneca Lake (NY)
---
Acorn Team images and comments


"From the wise Billy Ocean, "When The Going Gets Tough, The Tough Get Going." All of you innkeepers are tough, and I know you will make it through!"
– Keri Young
"This too shall pass" (a favorite of mine that my mom would always say during hard times)
– Brandi Neely
"Practicing social distancing in sunny Florida!"
– Debbie Howard
"We can do hard things!"
– Maggie Anderson
"Love all the colors in this mask... wear it with anything!"
– Dee Fegan

"We all feel a little nutty suddenly wearing masks, so it only makes sense to wear one with acorns on it! Remember Acorn has your back - and your front - throughout this crisis."
#inthistogether #staysmallstayinn – Theresa Keegan
"Heading out for a quick trip to the grocery store and rocking my super cute acorn mask! Thanks Mark and Lisa! You both have gone above and beyond in supporting and encouraging all of our clients as well as us staff! 🙂 "
- Trisha Bush

* Willie Louthen Brown, Kay Chaapel, Duane Ford, Mark Hall, Star Hatchel, Mark and Lisa Kolb, Grace Kulkani, Lori Schiraga, Kim Skinner, Marcy Talbert and Jevon Wright.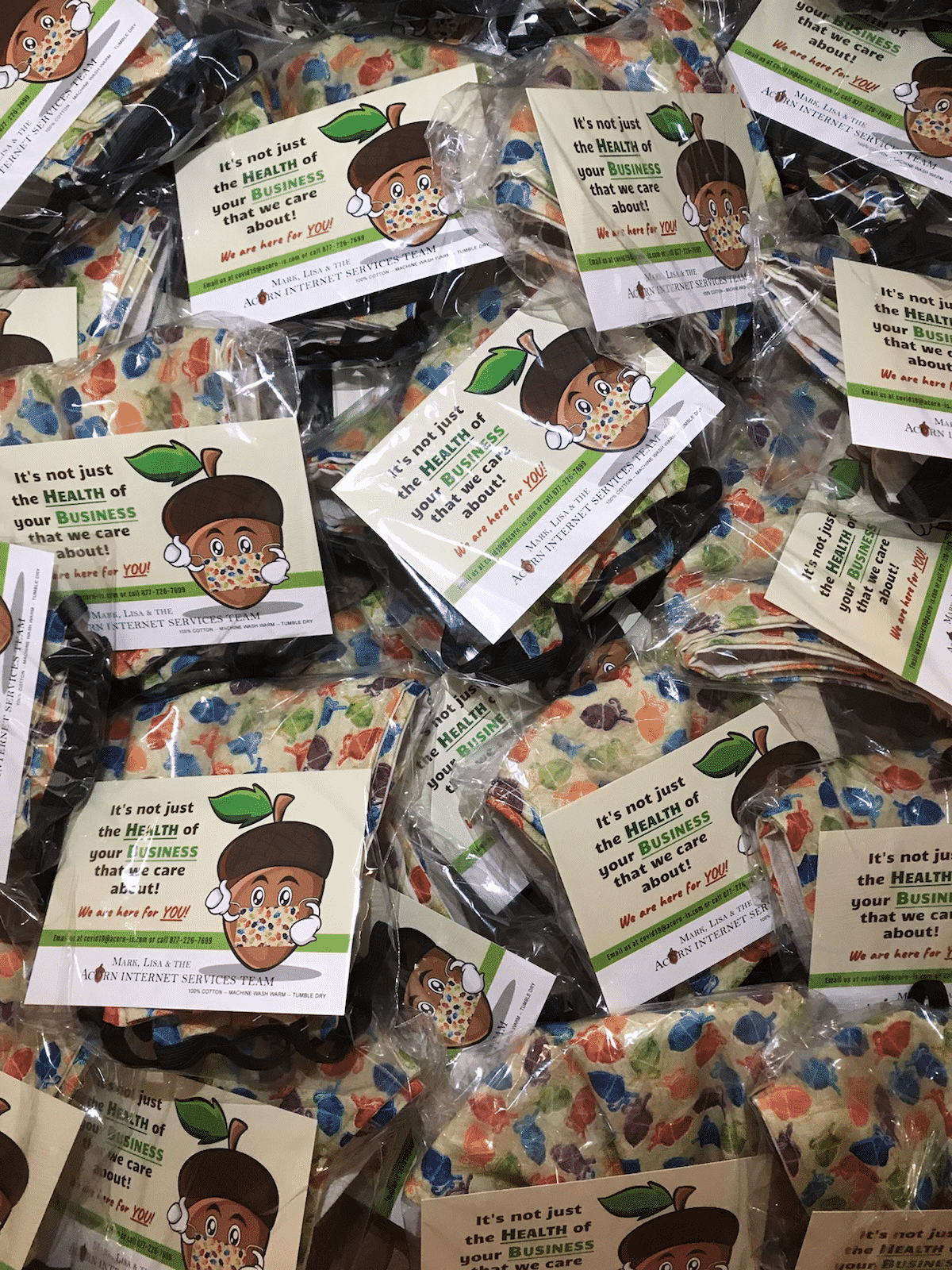 Looking for custom cotton motif masks for your team members and/or guests?

If you are looking to have custom cotton face masks made for your team to use, or  to include in a gift bag for your guests, email Josh Kolb at 536masks@gmail.com for more information.