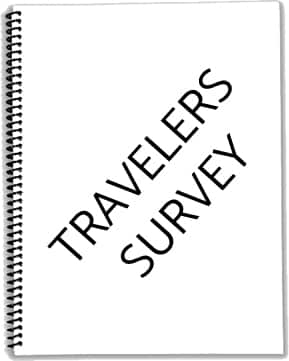 Below you will find three different traveler surveys conducted during the past few weeks.
Google Survey conducted by Acorn IS
Question: When you are ready to travel again, where will you feel the most comfortable booking?
This was a paid survey that was managed by Google and seen by the general public.
764 travelers completed this survey.
Facebook Survey conducted by Acorn IS and ALP Innkeepers
Question: When you are ready to travel again, where will you feel the most comfortable booking?
This survey was available through Innkeepers' business and personal Facebook accounts.
737 travelers completed this survey.
BnBFinder Survey conducted by BnBFinder
Question: For future travel, where are you more likely to book your stay? (Select all that apply)
This survey was shared by Janice Hurley and answered by BnBFinder travelers.
595 travelers completed this survey.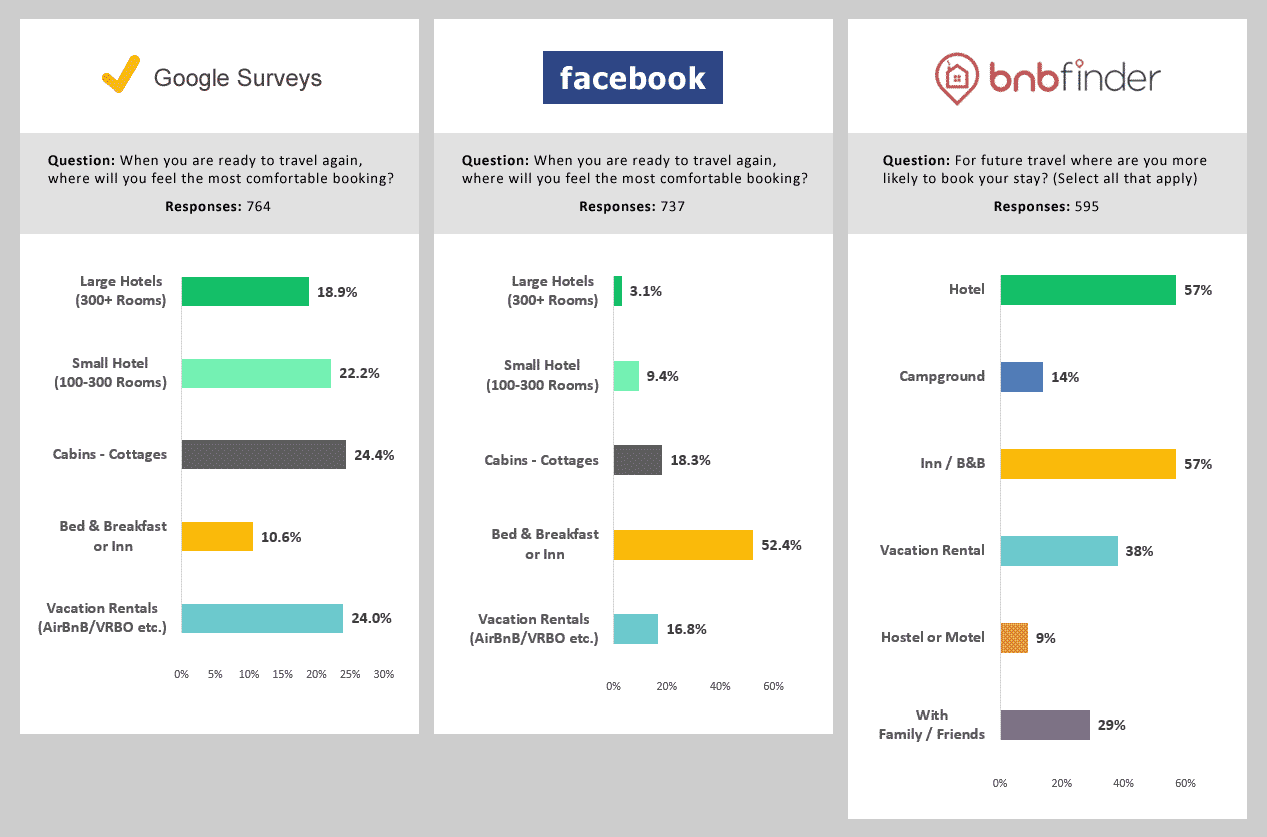 What can we learn from this information?
Consideration 1: Travelers who follow innkeepers' Facebook accounts, or directories like BnBfinder, are aware that staying at a smaller, owner-occupied property is the Stay Safe, Stay Small choice, as they prefer an inn or B&B option compared to other lodging options.
Application 1: You should be keeping your brand in front of your guests via social media and newsletters both now and into the future.
---
Consideration 2: As shown in the Google survey above, travelers in the general populous who are not familiar with B&B or inn properties are choosing B&Bs and/or Inns as their least favorite choice.
Application 2: You should be continually working on getting press during this time of COVID-19. Everyone in our industry should be sharing how our Stay Safe, Stay Small initiative really is the best choice for the traveling public right now. Our industry also needs to do a better job promoting what "TODAY'S" bed and breakfast experience looks like - i.e., it's not grandmother's house any more. This is just one more nudge for innkeepers who have not yet updated their property based on what the traveling public wants or expects.
---
Consideration 3: On the Google and BnBFinder surveys, notice that independent, stand-alone options like cabins, cottages, and vacation rentals have a high percentage of traveler interest.
Application 3: If your property includes separate entries or buildings, then you should definitely consider promoting them at this time.
---
Consideration 4: Travelers who chose large hotel chains with more than 300 rooms may feel that a large hotel will make sure its cleaning staff does a better job cleaning, thus keeping the traveler safe.
Application 4: You must effectively communicate the high level of cleanliness that our industry is typically known for, as well as your specific property. You may want to highlight any top guest reviews in TripAdvisor or Google where cleanliness is mentioned.
---
Consideration 5: In the Google survey, travelers who chose a large hotel as their comfortable option made up less than 20% of the whole survey. That means 80% of the traveling public is looking at vacation rentals, cabins, cottages, B&Bs, inns and smaller hotels as their comfortable option.
Application 5: This leads us to believe that as innkeepers, you should clearly communicate what sets our Stay Safe, Stay Small concept apart at your own property. In other words, why is the smaller option the best option? What makes your Inn experience the one your guests should be choosing?