Last year, Acorn launched our new Standard Website. It's been a huge hit! Since we get so many questions about it, I wanted to get into some of the details.
The site comes with 20 pages, which you can use any way you wish. This includes your home page, individual rooms pages (or not), Specials/Packages, Things to Do, or specific pages that you want. You just write the content and give us the photos. We include the Site Map, ADA Accessibility Statement, and Privacy Policty for ADA and GDPR compliance.
The site is NOT a custom site - it's a "plug-and-play" - meaning you get to choose the font and colors, and several layout choices, but the basic theme doesn't change. You can take a look at two different Standard sites to see how different it can look, depending on your choices (click the image to see the full sites):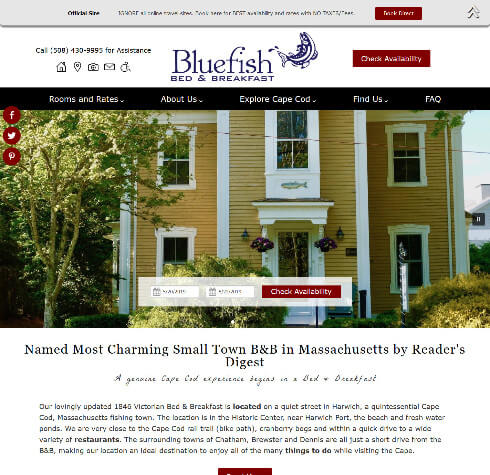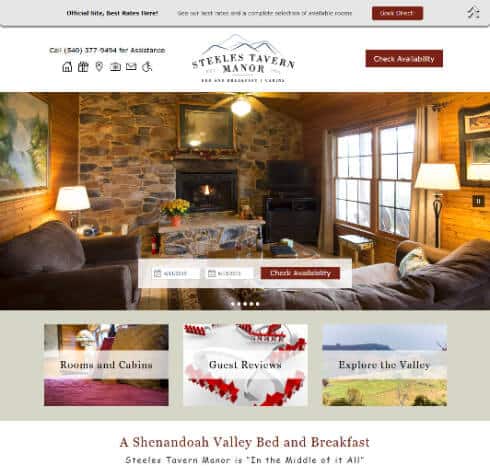 We have 35 color combinations, which have all been run through an ADA tester to make sure they are contrast compliant. Check them out on our Design page. The font choices are simple - choose between a Serif or Sans-Serif font set. Want to change your color scheme? It's easily done with 2 clicks in your dashboard, no developer help needed!
Layout options abound - choose to have a pop-up on your home page, or not: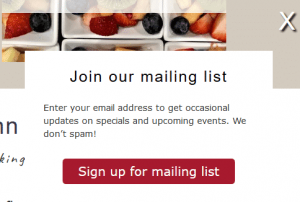 Call-to-Action buttons can drive traffic to specific pages of your site, or to outside review sites - your choice to have or not:

Home page - single or double coumn, or no additional layouts under the main body text: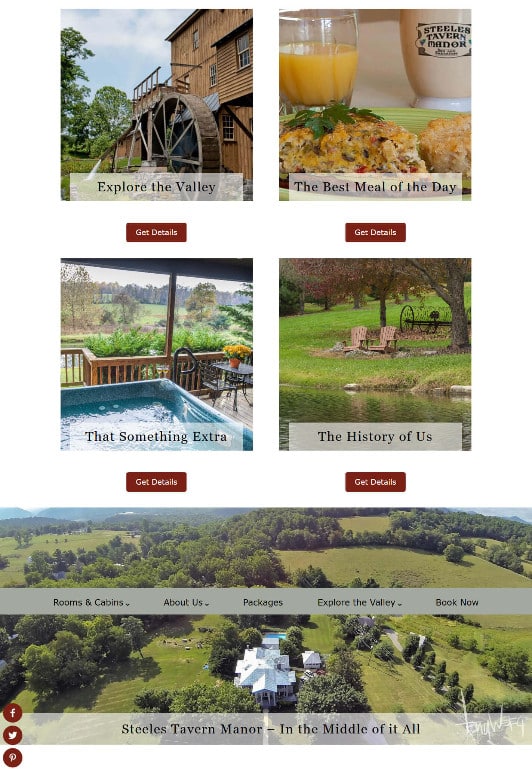 Want another call-to-action at the top of your site to promote specials or Book Direct? You can have it!

If you have a blog, you can choose to have your most recent post snippets featured above your footer:

Moving on to the Rooms - you can choose to have different room types listed on your main rooms page:

The site has a specific area to add/edit/delete rooms, and to assign room types, up to 4 different types - so if you have rooms, suites, cabins and lodge, you are all set!
Specials and Pacakges - add as many as you like, and choose whether you want them to be displayed or not - say you have a Valentine's Day Special - turn it on in December and then off after the holiday, then turn on again next year - you don't have to keep adding and deleting: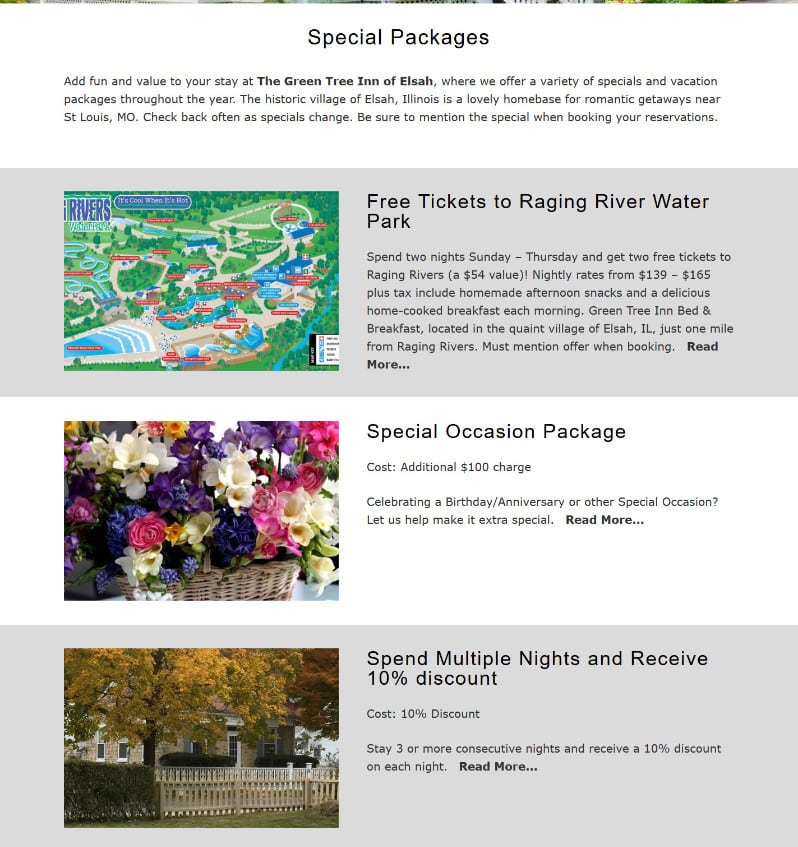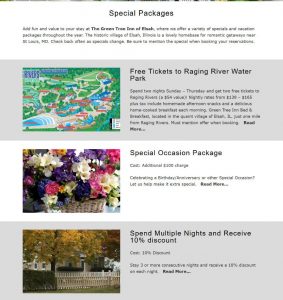 Things to Do (Area Attractions) - super easy to add, and turn on and off, in the case of events. All attractions can include a photo and a link, if needed:

You can choose to have a blog or not. The blog will match and be an integrated part of your site - no going to a different site to write a blog post.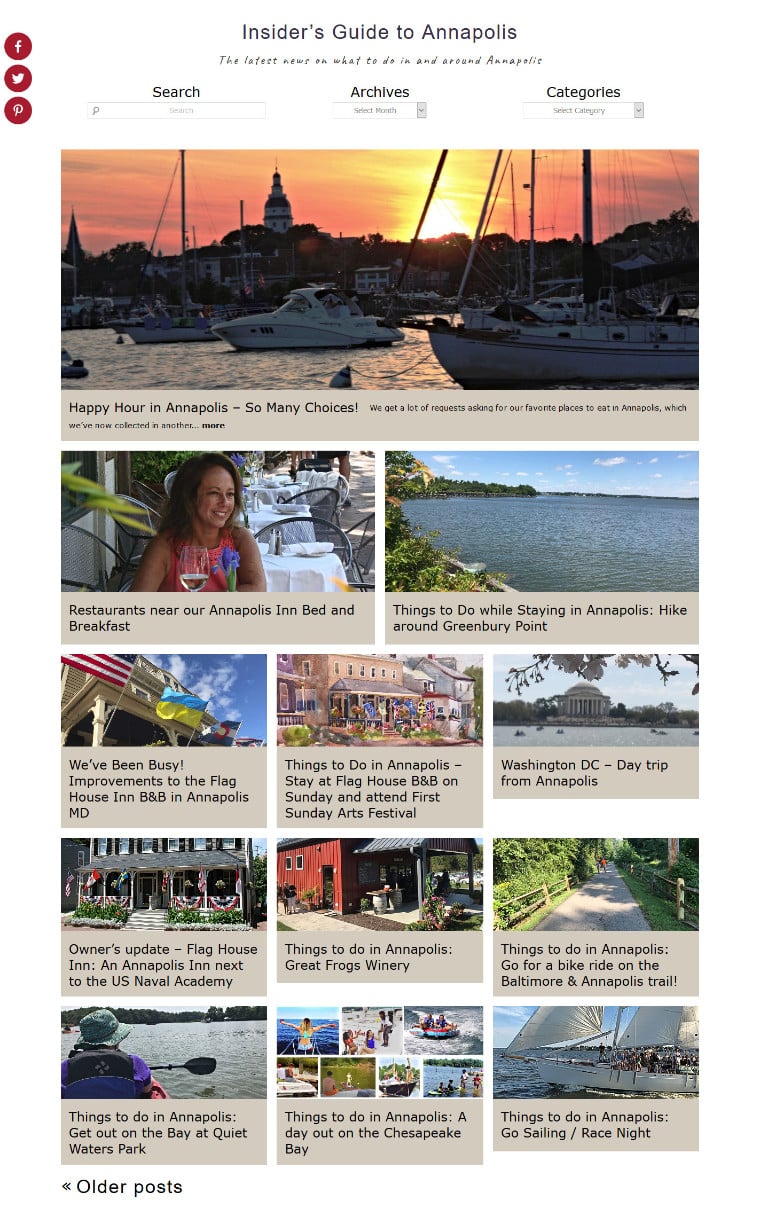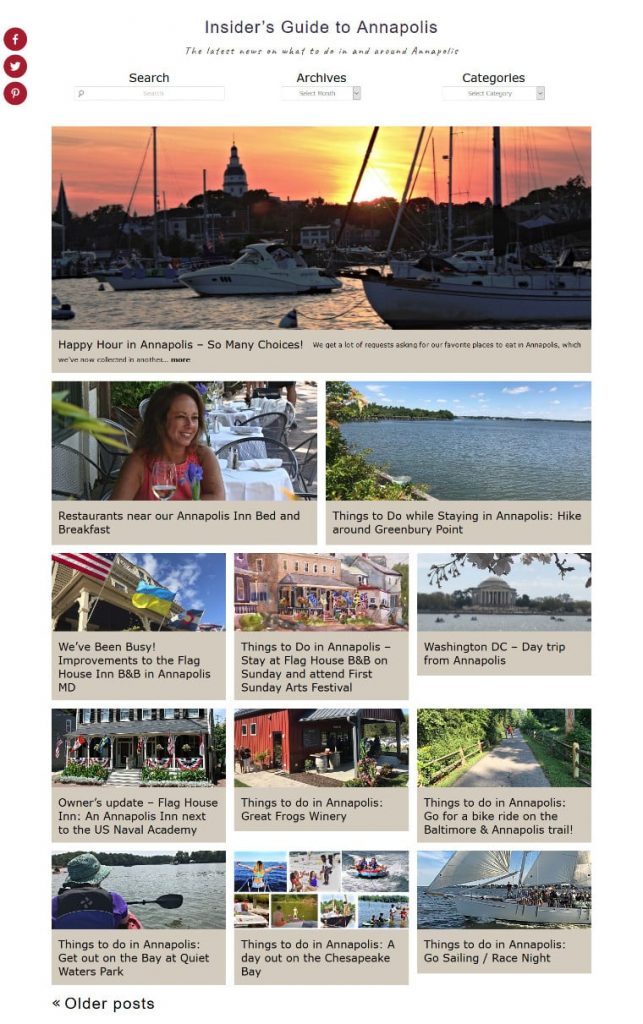 You may choose to have a photo gallery - if so, we will ask you for 10 beautiful photos to start you out. It's easy to add more photos to the galleries later.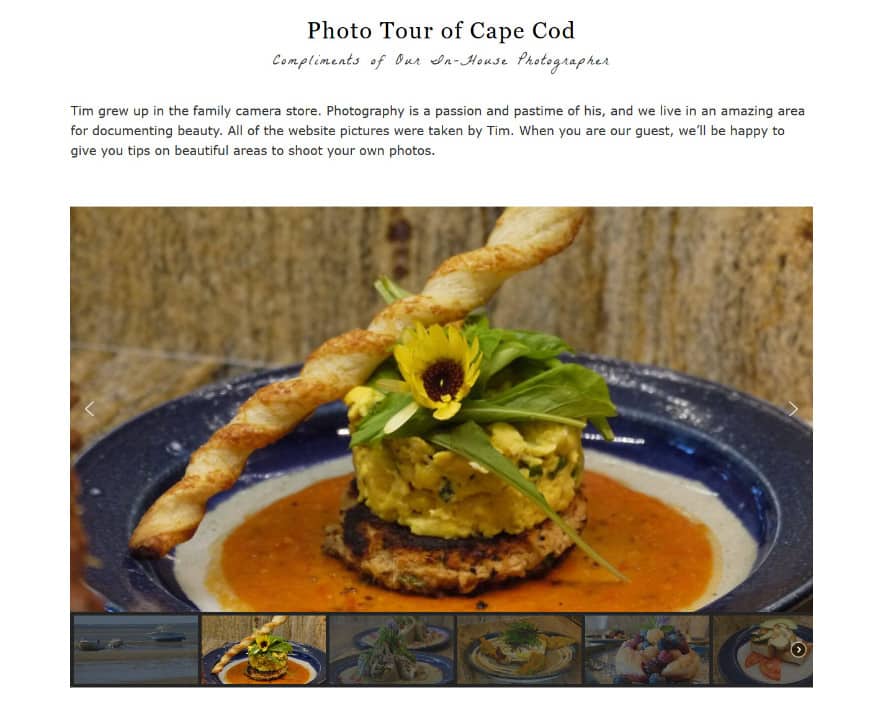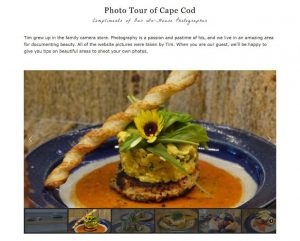 A.D.A. is on a lot of minds lately - this site covers some of the most important issues facing site owners today:
All images have well-crafted ALT text
The color schemes pass color-contrast tests
We include a spot to list your A.D.A. amenities
An accessibility statement is included
We test all of the sites to make sure they are A.D.A. compliant
We perform QA on the tabbing to make sure it works
Your site will be accessible to disabled people.
Now for the part you really wanted to know about! Pricing! The cost for the 20-page Standard website is $2499.
You have payment options:
Pay half down and half when the site is complete
Pay $500 down and 12 monthly payments of $175
Pay $250 down and 24 monthly payments of $100
We require that you host the site with Acorn and take part in one of our Advantage Plans for at least 12 months (1 year). Through our Advantage Plans, we help you succeed, and keep you informed of the latest news affecting B&B owners.
Make no mistake - you own the website and all of the content - if you decide to leave Acorn after 12 months, we will provide you with the files to take to another hosting company.
Want to learn more or talk to our Sales Manager? Call us at 877-226-7699 or fill out our Sales Inquiry form: https://acorn-is.com/sales-inquiry-form.htm. Our new Standard Design is popular for a reason - it's easy to use, meets A.D.A. guidelines and has a great low cost!