Many thanks to Darren Shaw for his work in publishing the 2018 Local Search Ranking Factors.
BTW: Absolutely LOVED the new survey format you provided the participants to use this year!
Acorn Internet Services, Inc. is proud to be included, once again, to share input from the Bed and Breakfast industry. At the end of the report I've included all the participants who contributed to this year's survey. You will find experts in the US, Canada and United Kingdom with areas of expertise ranging from Medical to Automotive, Small to Large Businesses, and Individual Clients to Agencies and everything in between!
For Innkeepers to succeed in today's Local Search environment, you must understand that the direction that Local Search has taken, and continues to take, requires individualized strategies involving OTAs / Google Hotel Finder that other types of businesses such as Law Firms, Medical, Automotive, Plumbers, etc. do not have to struggle with.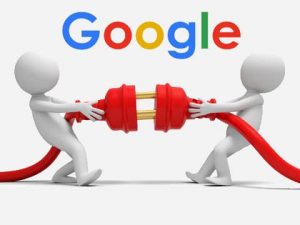 As you've heard us say over and over again, Google wants to control how your data is seen. This theme is clearly evident in Moz's 2018 Local Search Ranking Factors.
Adam Dorfman, Reputation.com
"In short, it's the same story of

Google trying to control all information

people require whether they are actively looking for it or not."
Andrew Shotland, LocalSEOGuide.com
"It's pretty clear that

Google is going to continue to increase the time searchers spend within Google's systems

at the expense of sending them to your site."
Ben Fisher, Steady Demand
"If you look at the investment that Google has put toward GMB in the last year alone, you can tell that

Google is the transactional layer of the Internet

. More than 70% of users are now making their transactions on a Google search result page versus visiting a clients website." (and) "Google's focus has always been answering a user's question directly on the SERP."
Brian Smith, Rio SEO
"

Google continues to minimize the user's time spent on a brand's/company's website.

" (and) "Personalization factors on a business's website become even more critical moving forward, as

Google My Business becomes a new homepage for your business."

Colan Nielson, Sterling Sky
"Google will continue to add features to the SERPs that

will eventually make it pointless to leave Google to learn more about a business

and contact a business via their website. In other words, business owners will need to invest a significant amount of effort optimizing their "Google Homepage" and

less emphasis on their actual website."

Cori Graft, Seer Interactive
"Nearly all of Google's recent updates to Maps and

GMB features are focused on getting people to interact more and communicate better with businesses through listings and Search

."
Dan Leibson, Local SEO Guide
"As Google held their 20th anniversary event, they made it clear that they are "all in" on the Knowledge Graph. More and more,

Google wants to be able to provide the answer to questions.

"
David Wallace, Search Rank
"Unfortunately, the one thing I see

Google continuing to try to do is to keep users on their site by providing searchers answers to their queries without ever leaving Google

."
Greg Gifford, DealerOn
"I think we're going to see more of the

"GMB is your new home page"

direction. I think Google is going to put more and more value on showing as much as they can in the Knowledge Panel and SERP t

o keep users on Google.

"
Joel Headley, Patient Pop
"

Google wants the online marketing experience to be end-to-end performed on their platform

where awareness, discovery, and ultimately conversion can all happen via Google products."
Marcus Miller, Bowler Hat
"In the small business space, my belief is that

Google will continue to try and give users what they need without having to move on to a business's website

..."
Miriam Ellis, Moz & Solas Web Design
"Google has forced us to focus largely on their own local product instead of on local business client websites." (and) "

Savvy local businesses will stop viewing Google as their benefactor and rightly view them as their top competitor.

It's a competitor that sometimes does you favors (sends you phone calls, leads, traffic, makes your good reputation highly visible to the consumer public, etc.), but it's also a competitor that wants to position itself between your business and every dollar it earns, while often failing to meet basic standards of protecting your brand from illegal/irresponsible damage."
Nick Pierno, Whitespark
"Obviously

Google continues to increasingly satisfy users' needs without their needing to leave the SERPs.

"
Search Influence Team, Search Influence
"… since

Google is moving to keep us on Google services longer without a site click-through

."
Lisa Kolb, Acorn Internet Services, Inc
"Google continues to institute options, products and services that over time have incrementally reduced the ability for an individual lodging property to sell rooms directly via Google's Search products.

For years, we have seen Google continue to make efforts to keep users on their platform for longer and longer periods of time.

The longer a potential guest stays on a Google-controlled display, the more likely they will book with a Google affiliate or Google Hotel Ads directly, and in return, Google will receive a fee from that third party. Google wants to be the end-all for any online sales." (and) "Old-school SEO is no longer effective — you can no longer rely on just your website to do all the work for you. In the lodging industry, direct bookings were easier to obtain in the past than they are today. With competition from the OTAs and Google's persistence to sell those OTA rooms for a fee, a proven, individualized strategy is now imperative to survive. Your website, blogging, and social media, although foundational items in the past, are no longer producing the same ROI. In the past, our clients were able to be found on page 1 organically and in the 3-pack by simply following basic Google guidelines. Such tactics are no longer effective in light of Google's quest to dominate the travel industry."
Take Away: Noticed your bookings dropping? Paying too much in OTA fees? This is one, if not the primary reason as to why. A quality Web design is still needed. Blogging, Newsletters and Social Media are still valid for continuing customer engagement. But if you seriously want to improve your business, an individualized strategy to manage your GMB listing, including your OTA strategy via Revenue Management should be at the top of your marketing list of todo's.
---
Also, many of the survey participants shared the increasing benefit of using features in GMB (Google My Business) to help promote their clients. These experts are seeing added value with the use of GMB Posts to promote their clients.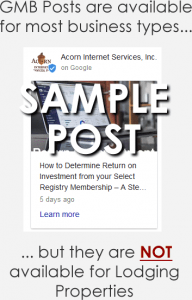 This is yet another difference between Lodging vs. Non-Lodging Listings. Hotels, Bed and Breakfasts and most all types of Lodging Properties are denied access (except for Cabins) to GMB Posts. They are also denied the ability to update their description, include a direct link to their booking engine, and add menu links.
Tim Capper, who is also a contributor to this survey, has very neatly quantified in his blog post "How Google Exploits the Hospitality Industry for Profit" showing how lodging properties in the UK are losing out by not having access to these features. US Lodging Properties are experiencing these very same issues.
10 Factors Experts Are Focusing on More in the Past Year, Quantity of Google
Posts Posted comes in at #2, only second beyond Quality/Authority of Inbound Links to Domain.
See what 16 experts in this survey are saying about GMB Posts. Pay attention to some of these quotes, as they also include other items that lodging properties are denied access to in their GMB accounts, being a benefit to their Non-Lodging clients.
Andrew Shotland, LocalSEOGuide.com
"

GMB Posts

are one of the more interesting opportunities in local SEO these days. The control you have over the messaging allows for a lot of creativity."
Andy Monte, Directive Consulting
"

GMB Posts

are definitely something to look into for your local clients if you haven't already! They can be a great way to not only increase user engagement with your GMB listing, but you can even leverage them as a great call-to-action to increase conversions!"
Ben Fisher, Steady Demand
"We have done case studies that show how these activities can influence ranking:

Google Posts Impact Ranking

[Case Study] and Local SEO Boost with Mike Blumenthal [Case Study]."
Brian Smith, Rio SEO
"

Google Posts

and it's ability to showcase promotions and increase local visibility beyond ranking."
Casey Meraz, Juris Digital
"With behavioral factors we have tried different things to increase CTR. We take advantage of things like

Google Posts

."
Cori Graft, Seer Interactive
"Examples of enhancing the experience would be optimizing your photos, taking time to thoughtfully respond to reviews and Q&As, and making a point to actively communicate with your customers through

Posts

or Messages."
Dana DiTomaso, Kick Point
"

Google Posts!

We've seen gains for clients in competitive niches after consistent posting."
David Mihm, ThriveHive / Tidings
"The one that's potentially easiest to influence is CTR. Making my Knowledge Panel as rich as possible — with amazing photos, menu links,

Posts

, and anything Google is making available to me via Google My Business to increase searcher engagement with my Knowledge Panel — seems like a no-brainer."
Greg Gifford, DealerOn
"But, for "new" things that are really killing it, we're having amazing success with

Google Posts

." (and) "Definitely

Google Posts

and Q&A. We're seeing tons of user engagement with both, and it seems that either the additional dwell time on the GMB features or the extra interaction is really making a difference for our clients."
Gyi Tsakalakis, AttorneySync
"Anything that helps listings stand out or screams "click on me." Here's a short list: structured data that generates snippets (i.e. reviews), GMB enhancements (i.e. maximizing hours, reviews,

posts,

emoji), and compelling page titles and meta descriptions (i.e.

putting offers in descriptions

)."
Mary Bowling, ignitordigital.com
"Tell people to search for a business on Google to get a coupon/discount/add-on that you're offering via

Google Posts

on your Local Knowledge Panel."
Miriam Ellis, Moz & Solas Web Design
"Why am I emphasizing

Google Posts

this year?" The answer is, "I've seen use of them move a dentist up two spots in the rankings" or something like that."
Nick Pierno, Whitespark
"Using GMB features (

Posts, descriptions,

services,

appointment URLs

, etc.)"
Joy Hawkins, Sterling Sky
"I expect Google to continue launching more features for

Google Posts

and would predict that they will start playing more into ranking in the future than they do currently."
Search Influence Team, Search Influence
"I have seen visibility improve when following Google's lead. In other words, they rolled out the

Posts feature

broadly and I have seen activity on the listings increase as a result. Furthermore, they have added business descriptions, attributes, and other features over the past year or so." (and) "By managing the listings more proactively (answering questions,

utilizing posts

, responding to reviews) you are sending some signals locally that you are engaging with customers as well as actively maintaining your listing information."
Lisa Kolb, Acorn Internet Services, Inc.
"Google does not treat lodging businesses as it does other types of businesses when it comes to local placement. Lodging properties are not provided the same opportunities in their GMB (Google My Business) accounts. Non-lodging businesses are provided a direct link to their website from the Local 3-pack and maps results. Lodging properties are denied that opportunity. In addition, lodging businesses are restrained from many of the GMB features such as

sharing posts

, adding a

business description

(Google provides it for them), and

a link to book directly with their property

. Instead, when searching for a lodging property, Google displays their OTA options along with any of the Google Hotel Finder participants. On April 1, 2016, our industry went from being able to follow the standard Google Local Guidelines for local placement to having to pay-to-play in order to be seen in a similar ranking position. This puts local SEOs in the travel space in a unique position, as we cannot rely on the traditional techniques used in the past."

So – Why are we Deep Diving on this topic of GMB Posts?
Because it seriously puts our Industry at a disadvantage (one of many). Especially when so many of the other experts in this survey are using these tools to their Non-Lodging clients' advantage when Google denies our Lodging clients access to the same tools.
Take Away: If you care about these services that you are being denied, and want to see change, please make sure to get involved as we pursue these and other issues that affect our industry with the support and assistance of both AIHP and PAII. To get involved you may contact any of us at the link below.
Acorn Internet Services, Inc.
info@acorn-is.com 877-226-7699
Association of Independent Hospitality Professionals (AIHP)
rob@independent-innkeeping.org 844-317-9632
Professional Association Innkeepers International (PAII)
kris@paii.org 715-921-2327
---
This Year's 2018 Local Search Ranking Factors Participants
Adam Dorfman - Reputation.com
Healthcare, Automotive, Retail, Property Management, Restaurants, Financial Services and Senior Living
Andrew Shotland, Dan Leibson - Local SEO Guide
Multi-Location Brands, Media, eCommerce, StartUps & Agencies
Andy Kuiper - Andy Kuiper Internet Marketing
SEO services in Alberta Canada
Andy Monte - Directive Consulting
B2B marketing and demand generation with a core focus on MQLs and ROI
Ben Fisher - Steady Demand
Providing Local and Social SEO and Social Media services
Blake Denman - RicketyRoo Inc
Multi-Location and Small Businesses and Addiction Research Centers
Brian Barwig, Gyi Tsakalakis - AttorneySync
Digital marketing agency for law firms
Brian Smith - Rio SEO
Retail, Health Care, Financial & Insurance, Restaurant, Hospitality and Agencies
Carrie Hill, Mary Bowling - Ignitor Digital Marketing, Inc
Local Search Marketing Solutions for Small & Medium Businesses and Agencies
Casey Meraz - Juris Digital
Supporting Law Firms and Lawyers
Conrad Saam - Mockingbird Marketing
Law Firm Marketing
Cori Graft - Seer Interactive
Emerging start-ups to Fortune 500 companies in the U.S. and abroad
Dana DiTomaso - Kick Point
Works with exceptional entrepreneurs and organizations
Darren Shaw, Nick Pierno, Nyagoslav Zhekov – Whitespark
Helps clients get more customers from Google
David Mihm - ThriveHive / Tidings
Provides digital marketing solutions for small to medium sized businesses
David Wallace - Search Rank
Provides strategic digital marketing services for small to large businesses
Dev Basu - Powered by Search
Canada's fastest growing Digital Performance Marketing Agency
Eric Rohrback- RedShift
A fresh approach to marketing services, shifting the way the agency/client relationship is viewed
Greg Gifford - DealerOn
Car dealer websites, automotive SEO, and digital advertising services
Joel Headley - Patient Pop
Medical Marketing
Joy Hawkins, Colan Nielsen - Sterling Sky Inc.
Internet marketing service in Ontario, Canada
Lisa Kolb - Acorn Internet Services
Digital online marketing for Bed & Breakfasts, Inns and Boutique hotels
Marcus Miller - Bowler Hat
Small business marketing in the United Kingdom
Mike Blumenthal – GatherUp
A customer experience and online review engine
Miriam Ellis - Moz & Solas Web Design
Website Design, Local SEO, Professional Copywriting and More
Phil Rozek - Local Visibility System, LLC
Helps businesses become visible to more local customers in Google's local search results and beyond
Search Influence Team - Search Influence
Zoos, Museums, Attractions, Education, Medical & Healthcare and more
Tim Capper - Online Ownership
Local SEO Specialists and Google Business Experts in the United Kingdom