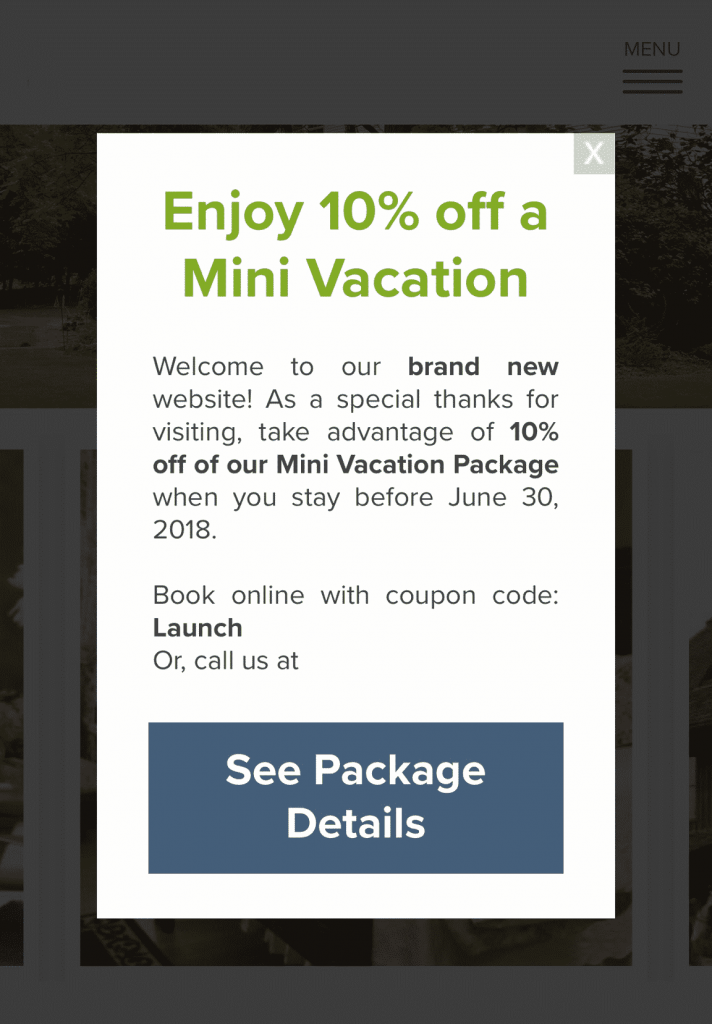 Pop-ups, also called Interstitials, are simply a space or visual display that appears on the screen or mobile device to communicate a message to the user. These spaces may contain special deals, newsletter signup forms, and other various calls to action.
Innkeepers have been using these Pop-ups for years and years to assist in promoting their business to anyone visiting their website. And as it always seems to happen, Google changes the rules.
On January 10th 2017, Google released the following information about Pop-up ads appearing on Mobile. Note that these updated guidelines do not affect Pop-up ads on the desktop version of your website, just on your mobile version.
"Pages that show intrusive interstitials provide a poorer experience to users than other pages where content is immediately accessible. This can be problematic on mobile devices where screens are often smaller. To improve the mobile search experience, after January 10, 2017, pages where content is not easily accessible to a user on the transition from the mobile search results may not rank as highly."
Pop-up Don'ts
Showing a Pop-up that covers the main content, either immediately after the user navigates to a page from the search results, or while they are looking through the page.
Displaying a Pop-up that the user has to dismiss before accessing the main content.
Using a layout where the above-the-fold portion of the page appears similar to a standalone Pop-up, but the original content has been inlined underneath the fold.
Pop-up Do's
Pop-ups used for legal obligations, such as for cookie usage or for age verification.
Login dialogs on sites where content is not publicly available.
Banners that use a reasonable amount of screen space and are easily closed.
It has always been Acorn's goal to follow Google Guidelines in regards to your online presence. When this change was announced 18 months ago, we updated our Acorn-built client sites, which were using Pop-ups, to allow the Pop-up to remain on desktop but not be seen on mobile.
Note: If you use a Pop-up on your site, please check your site on your mobile phone. You SHOULD NOT see any Pop-ups display on Mobile. If you have made any changes that affected our original updates to meet this requirement, please open a support ticket, and we will assist you.
So here's the million dollar (euro) question.
Why are we telling you about a Pop-up penalty 18 months after it was announced?
First - GDPR guidelines indicate that using a Pop-up to convey information to your guest for compliance purposes, depending on your individual situation, is acceptable. And as you can see Google provides for this in their first Pop-up Do's above.
Second - I'm surprised to see that some webmasters still are not adhering to this Google Guideline for their clients. It's been in effect for the past 18 months. In the visual above, this Innkeeper went live in the last 60 days with a known provider in our industry. And they have a mobile Pop-up.
---
Innkeepers MUST be involved in understanding the basics of their own online presence. The high level Do's and Don'ts. The "PERFECT" web provider doesn't exist. Many of us try hard to be (I know we at Acorn do) but changes in our industry are unrelenting, come quickly and take massive amounts of time to understand. It's seriously like a game of Whack-a-Mole. But we choose to play it for our clients, so that these things DO NOT end up affecting YOUR bottom line.
Just trusting anyone to "Handle It" for you is a mistake! Be a smart "Inn the Know" Innkeeper. It will be these Innkeepers that will ride the changing tides impacting our industry! Don't believe me?
Just ask yourself - are you ready for GDPR?