If you've ever seen the "Review Summary" when looking over your business on the Google Knowledge Panel, you may have wondered where it came from, who was summarizing those reviews, and from which reviews were those comments pulled. If you don't know what I am talking about, here is an example:

About halfway down the knowledge panel, you will see the Review Summary - in this case, the revew summary for Caldwell House Bed and Breakfast says, "Guests spoke highly of management - Guests appreciate the friendly staff".
Here's a close-up: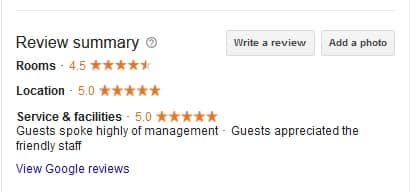 If you look closely, you can see a little question mark within a circle next to the words Review summary - when clicked, this is revealed: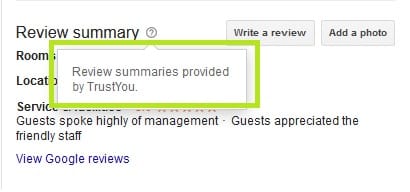 So, who is TrustYou?
TrustYou is a reputation management company that works with many organizations to help businesses keep track of and deal with the reviews they get from many different sources. "But", you say, "I don't work with TrustYou, so why do I see a review summary in my knowledge panel?"
We reached out to TrustYou for an answer, and got this response from Account Manager, Alex Kopp:
"We crawl all verified reviews for most inns around the world. We aggregate the reviews and analyze the sentiment and provide the summarized review scores seen on sites like Google and Kayak. We're making use of the public data displayed on the OTA's. If the inn has a listing and reviews on Google, Booking.com, BedAndBreakfast.com, etc., they are connected to our system."
So, you don't have to have a direct connection with TrustYou in order to see a review summary on your knowledge panel. Here is an example of a review summary on Kayak:

If you've ever wondered where those review summaries are coming from - there is your answer!