You may ignore this post if you are sure NONE of your paid directories or association sites use the JackRabbit System products as part of their websites, otherwise please proceed.
---
What is JackRabbit? How is it used in our Industry?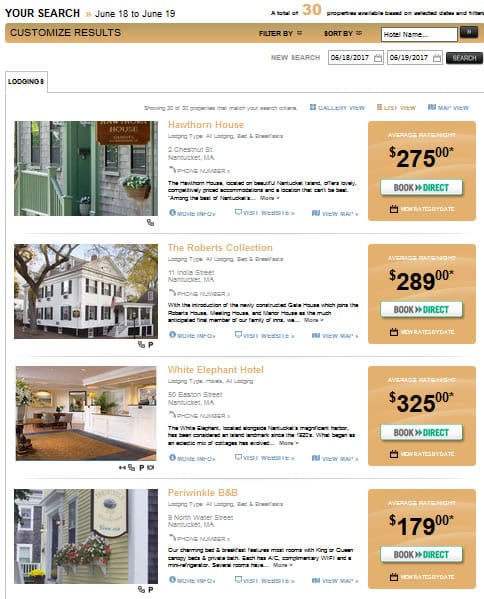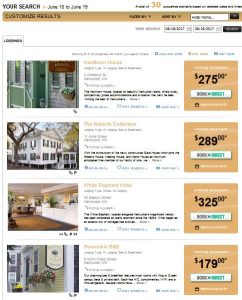 There are various directory or association Websites supporting our industry that have chosen to integrate JackRabbit's Book>Direct product into their websites.
JackRabbit's Book>Direct product will gather together participating member inns room availability from various different reservation systems and display them on one web page.
Once the guest chooses a property they will then be taken to the Inn's reservation system to book a room. These websites include, but are not limited to, NEIA, Nantucket Lodging Association and Visit Staunton.
At the time this blog post was written, SelectRegistry.com isn't displaying the rolled-up option where all Member Inn's available rooms are displayed on one page. Currently, they have only added JackRabbit's Book>Direct connection to the blue "CHECK AVAILABILITY" box on each Inn's listing. Even though this feature isn't currently available, SR member inns are still being impacted by the JackRabbit tracking changes discussed further in this blog post.
You can learn more about JackRabbit Systems at https://www.jackrabbitsystems.com/
Why Should You Care?
Accurate Google Analytics data is imperative when making quality ROI (Return on Investment) decisions. If you are tracking your bookings via Google Analytics E-Commerce tracking, and the data being provided to Google Analytics from any other third party is not accurate, you are going to be making decisions on bad data. You might decide to cancel a directory that indeed was providing bookings, but due to an issue with that directories ability to provide you accurate Google Analytics data, you cancelled a directory that indeed was providing you valuable bookings.
Innkeepers MUST know exactly what directories are producing traffic and bookings. The accuracy of such Google Analytics data also affects our MarketWatch clients, who depend on us to help them determine ROI, which we can't do if the Google Analytics data is not complete.
The Back Story
During our Select Registry New Web Site Tracking Review webinar on April 20, 2017, Mark Jaronski, Chief Executive Officer of Select Registry suggested that in addition to monitoring visitors and booking referrals coming directly from the selectregistry.com website, they should also be monitoring any visitors and bookings that show up in the JackRabbit referral source.
Video Link JackRabbit discussion may be found at 31:34 through 34:33. Administrative correction: Power Point cover sheet says 2016 which should read 2017.
You will also hear on the video recording where I indicated that I would be looking further into the JackRabbit visitors and bookings and how they were being tracked.
The Investigation
After the webinar I began to dig further, and found that JackRabbit supports many, many different directories in addition to Select Registry, such as New England Inns and Resorts, Nantucket Lodging Association, and Visit Staunton to name just a few.
This investigation showed that if an Innkeeper was subscribed to more than one directory or association that uses JackRabbit then ALL the traffic and bookings were being displayed in one JackRabbit referral source with all the data being grouped together from ALL the JackRabbit related directories. There was no way to separate the bookings and traffic into their respective directories.
So if you are a Select Registry member who is also a member of another directory or association that uses JackRabbit, you didn't have any way to know which directory was delivering you the traffic or bookings, as they were all combined together under one referral: JackRabbit.
Steps to Discovery
First, I went out and did a search for as many JackRabbit supported directories that existed in our industry.
Second, I went looking for any Acorn IS clients that used both Select Registry, and at least one other directory supported by Jack Rabbit.
Third, I verified that YES, indeed all the traffic and bookings were being stored in one Jack Rabbit referral source in Google Analytics, which is useless when reviewing ROI (Return on Investment) for when Innkeepers are participating in multiple directories or associations that uses JackRabbit.
Actions Taken
At this point, I was absolutely positive that we (our industry) had a problem. So I started by reaching out to Mark Jaronski, Chief Executive Officer of Select Registry, asking him to provide me SR's contact at JackRabbit --- I then reached out to a few of our Acorn IS clients who I knew used Select Registry and also at least one other directory supported by JackRabbit to see who would be able to help me find the right person at JackRabbit to contact about this issue.
Many thanks goes to Michele Langlois of Brass Lantern Inn and Ray and Melissa Alexander of Steeles Tavern Manor and Alpine Hideaway Cottages. Both of these Innkeepers took the time to contact their representatives at Nantucket Lodging and Visit Staunton respectively, as that both of these groups use JackRabbit. It was with their help that we were able to find the right contact at JackRabbit to talk to. Which we then discovered was also the POC (Point of Contact) for Select Registry.
As that Acorn IS and White Stone Marketing are the two most prolific Marketing providers of Select Registry Member Inns…
… I contacted Scott Crumpton at White Stone Marketing, and he and I worked together to communicate via email with our POC at JackRabbit about this issue. I also reached out to Brandie Sigler at Select Registry to let her know there was a problem.
On April 25, 2017 an email was sent to our JackRabbit POC which shared the tracking situation, and subsequent emails were provided with possible solutions to break out the traffic and bookings in Google Analytics.
On May 22, 2017 I received a note from our JackRabbit POC saying that they had applied code that would now accurately break out traffic and bookings, as a global change, on all their directories.
On June 7, 2017 the new tracking referral was mentioned in the Select Registry Newsletter under item number one.
So What Do You Need to know?
First: Do you have your Google Analytics and E-Commerce Tracking properly installed on your website and reservation system?
Second: What, if any, JackRabbit supported directories do you subscribe to?
Third: If you participate in two or more JackRabbit directories, then before May 22, 2017, your traffic and bookings were being combined into one JackRabbit referral source.
Example:

After May 22, 2017, your traffic and bookings are now being broken down into multiple NEW referral sources which now include redirect.bookdirect.net in the source/medium (though the original tools.jackrabbitsystems.com / referral may still exist) depending on how many directories you participate in that use JackRabbit's Book>Direct product.
Examples:
selectregistry-redirect.bookdirect.net
nantucketlodging-redirect.bookdirect.net
visitstaunton-redirect.bookdirect.net
__________________-redirect.bookdirect.net
How to Find this Data in your Google Analytics Account
Step 1: Set Dates for after May 22, 2017
Step 2: CLICK Acquisition – All Traffic – Source Medium
Step 3: Type In bookdirect.net in the FILTER BOX and CLICK the Search Icon
Questions?
Feel free to comment on this blog post and we will respond to your questions.
Acorn IS clients may also contact us at 719-329-0977 x1 or support@acorn-is.com for additional assistance.