If this is you – I encourage you to keep reading.
The reality is – You can't afford NOT to keep your online presence up to date.
Acorn Internet Services supports 700 +/- clients, and as you can imagine, no two are going to be the same.
Though we are finding that most fall into two camps.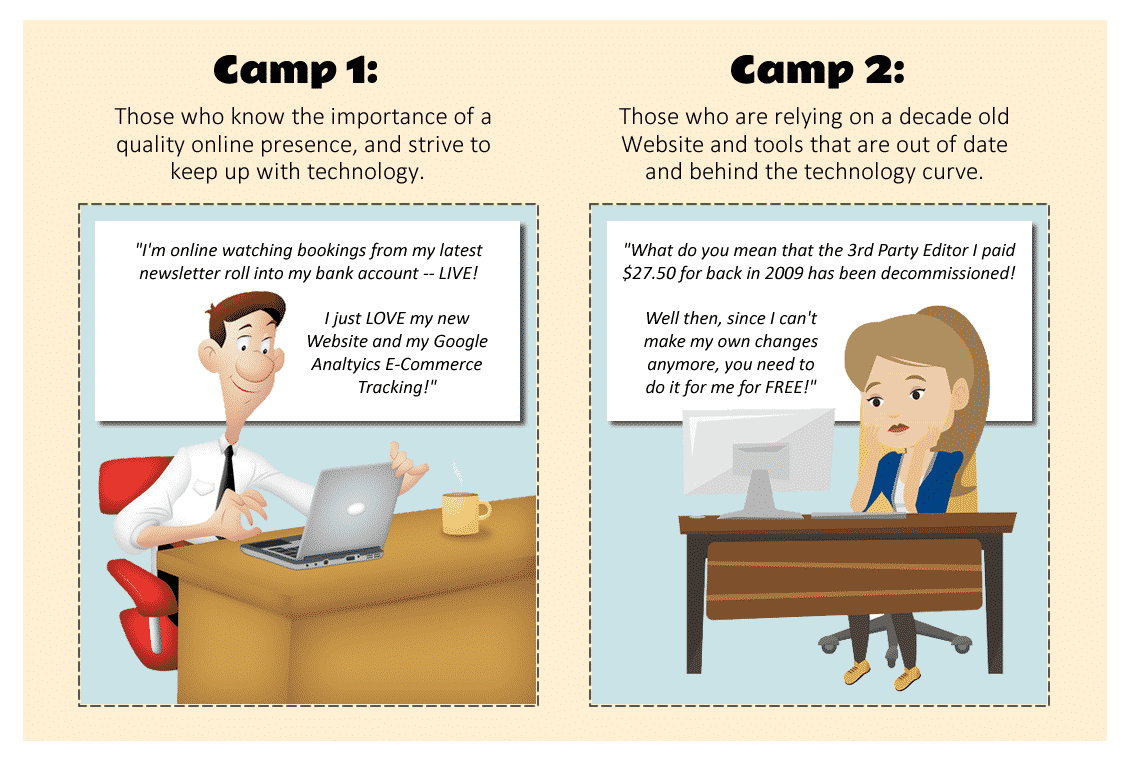 Just this week, an Innkeeper in Camp 2 decided to go with a "Local" provider, as they were much cheaper than the vendors who service Inns in the lodging industry.
Here is a Very Scary Case Study of their brand new LIVE Website.
Keep in mind, "Local" webmasters who are not well-versed in the Lodging industry simply do not have the knowledge to build a Website and include all the necessary parts required to make it into a successful online presence.
There are reasons these Webmasters are "Cheaper" than those who are "In-The-Know", which you will clearly see documented in the Case Study below.
One Innkeeper's New, Cheap Alternative Website Case Study

1. The new Website fails miserably with Google's PageSpeed Insights Testing tool.
Google's PageSpeed Insights Testing tool tests your Website on both Mobile and Desktop and provides feedback to the Webmaster on how to make it better IE: more acceptable for Google indexing. The results are all color coded:
RED

is BAD
YELLOW is OK
GREEN is GREAT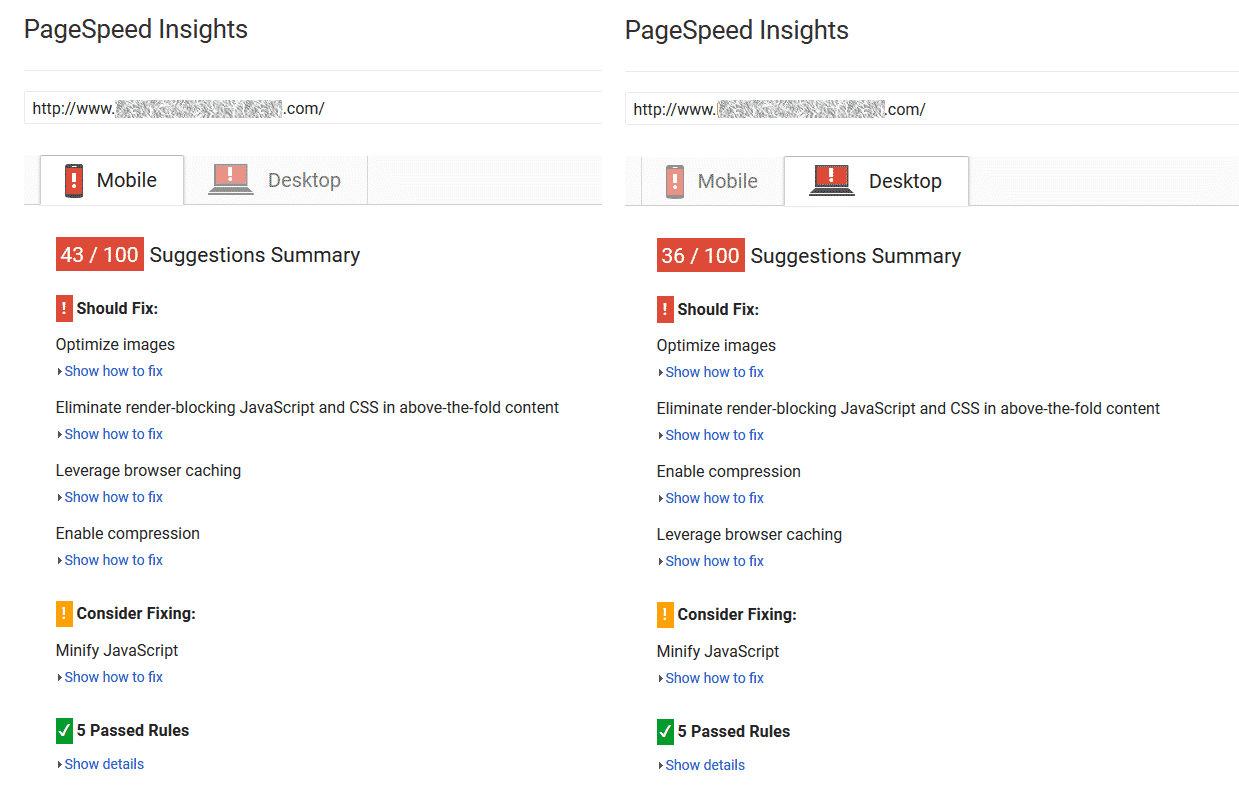 ---
2. The new Website fails Google's Structured Data Testing Tool.
Structured Data is used by Google, BING and YAHOO for a variety of reasons. One of the most important reasons is to support your location for your GMB (Google My Business) Listing, which is prominently displayed on both desktop and mobile.

---
3. The new Website is significantly smaller than the original site. In other words, it has far less pages.
One way to make a site "Cheaper" is simply not to put as much work into building it. The fewer number of pages, the less work to build the site. Google typically does not see a significant number of fewer pages as an improvement.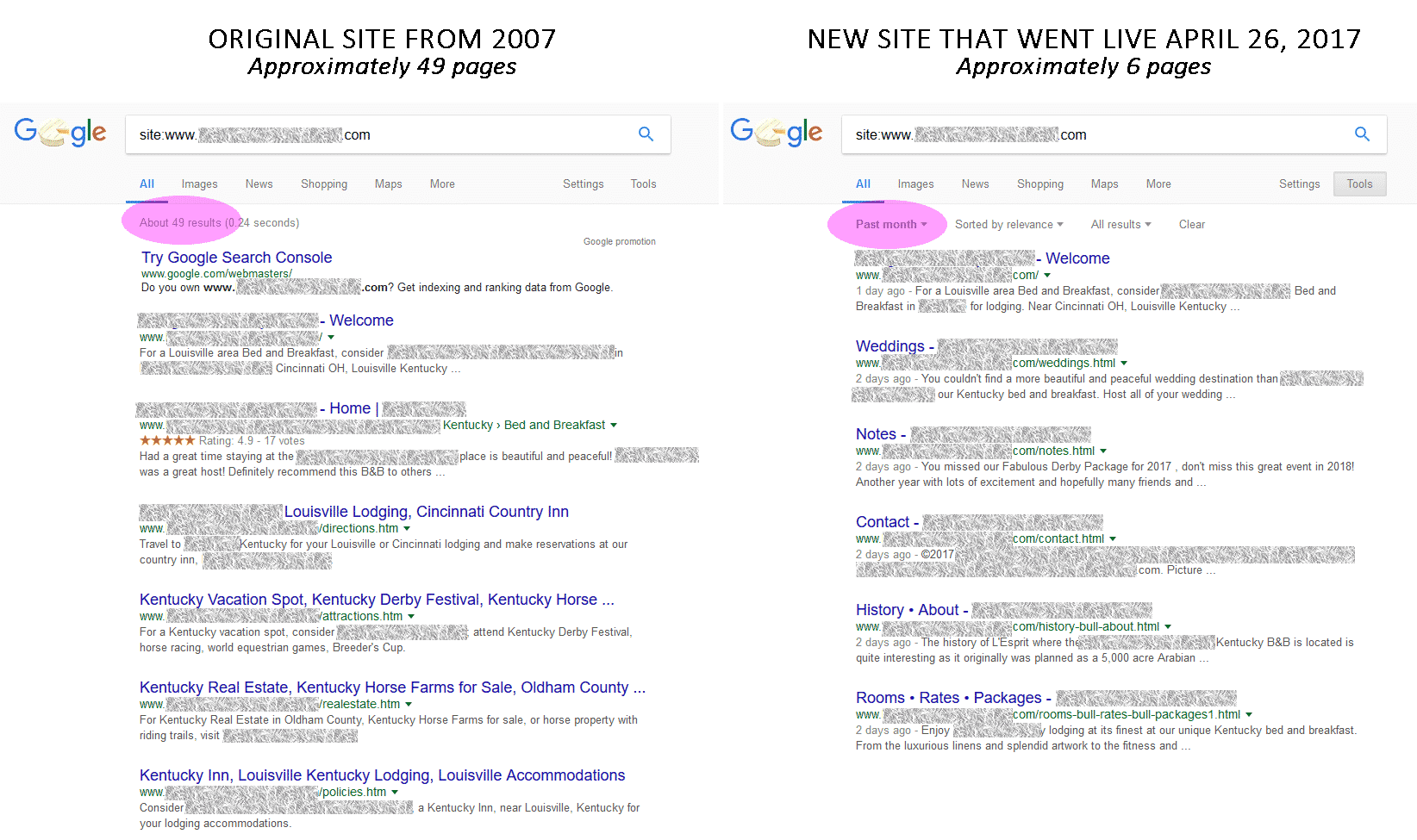 ---
4. Not only is the new Website significantly smaller, the Webmaster didn't bother to re-direct any of the old Web pages, so now they all go to a 404 Error - Page Not Found.
If you are going to reduce the number of pages during a new Website rebuilt, it's imperative that your Webmaster redirect the old pages to the new pages, so that Google doesn't think something is wrong with your business. Not to mention, all the angst you are going to cause your existing guests who may have your pages bookmarked.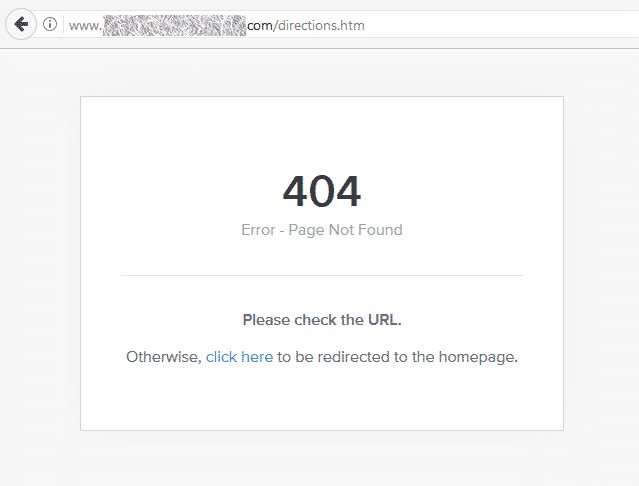 ---
5. Another way to save money on a new Website, is for your Webmaster to abstain from doing any on-Page SEO (Search Engine Optimization) on the new site.
Google is clear – and has published their SEO guidelines online. But again, this is a lot of work to properly create and include in a Website, so most "Cheap" Web designers leave it out, and let the SEO titles and descriptions default. Definitely not an optimal decision for on-going Google Placement and resulting bookings.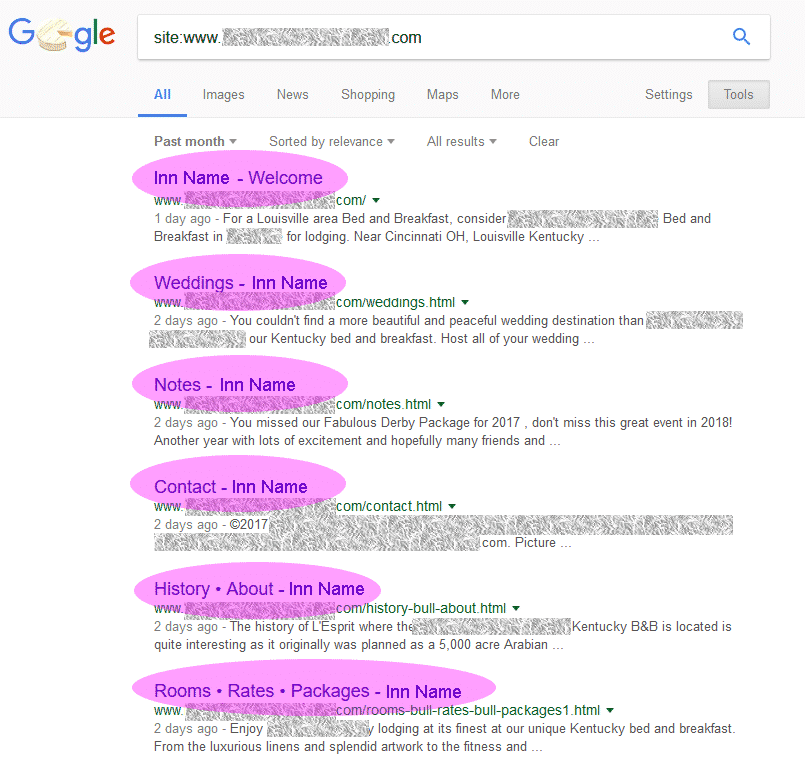 ---
6. The new Website was loaded on an Un-Secure HTTP:// server.
If you are going to invest in a new Website, it really should follow Google's guidelines and be loaded on a Secure HTTPS:// server. Google has even hinted at a placement boost for following this particular guideline. But to save money, the Cheaper (but definitely not better) alternative is to go with Un-Secure.

---
7. The new Website's Google Analytics is royally messed up.
This is such a rookie mistake. But that's what happens with Webmasters who are not in our Industry. This Webmaster has installed both versions of Google Analytics Code but with different tracking ID numbers. You should only have one version of the code, either Universal OR Classic, and the UA ID number needs to be the same number from your previous website. Not the case with this Innkeeper's New "Cheap" Website. This Innkeeper's original UA ID number, with it's year's of associated tracking, is nowhere to be found. Not to mention there isn't any cross domain tracking code installed. There is NO WAY that this Innkeeper will be able to determine how poorly this new site is going to perform, because their tracking is completely broken.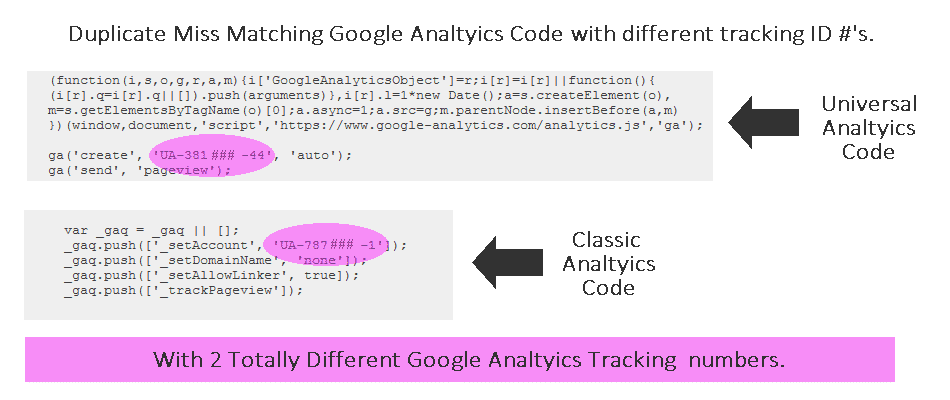 ---
8. The original Innkeeper's Blog was left hung out to dry. IE: It was never connected when the Website was moved to the new server.
Just more proof of why a Webmaster from outside our Lodging industry building for a Bed and Breakfast Inn is NOT a good idea. This Inn had a sub-domain blog. It's now just LOST. The webmaster didn't bother to reconnect it on their servers. Just another sign to Google that something is amiss.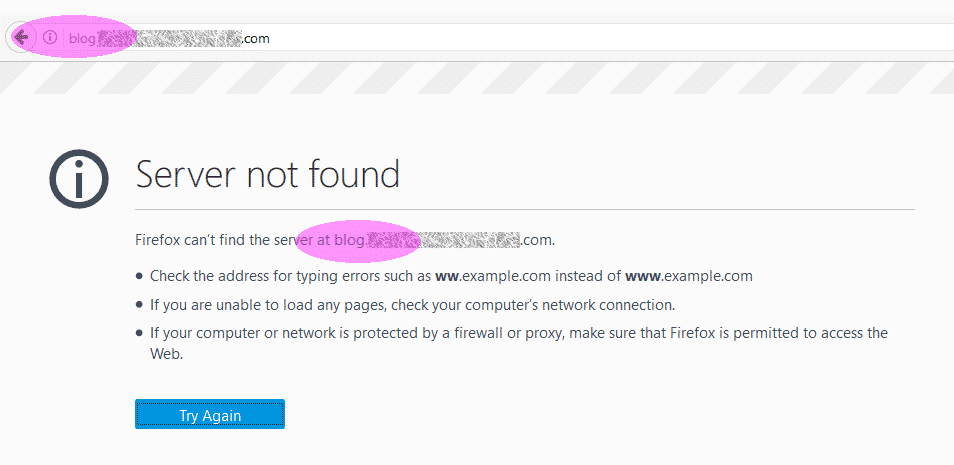 ---
I could go on and on and on, but I think you get the idea.
"Cheap" is just "Cheap".
It doesn't mean "Cheap is Better".
"Cheap" can only be achieved by leaving the majority of the most important things out of your Web design that you need to thrive on the web.
Sure you'll probably get a pretty new look and feel, but the Web sites internal engine is going to cough, sputter and die on the Internet Highway.
We absolutely HATE to see Innkeepers make these really bad decisions that ultimately can put them out of business.
In the past 15 years, Acorn Internet Services has helped over 1000 Inns with their web presences.
The continuing trend we see over and over again is that the Innkeepers who don't respect and listen to our Industry guidance and advice are typically those that go out of business.
Please, don't fall for "Cheap". Innkeepers are the lifeblood of our industry. When you fail, you take a little bit of our industry with you.
If your Website is old and outdated, and in desperate need of an upgrade, please email me at lisa@acorn-is.com before you decide to go with a "Cheap" alternative.
Save
Save