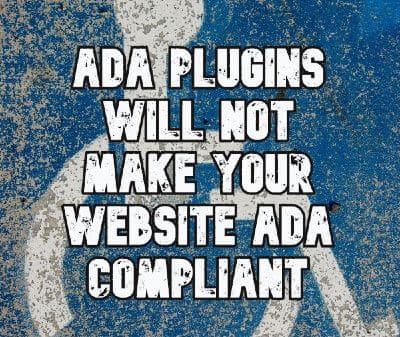 Many innkeepers are asking about using "ADA plugins" on their sites rather than doing the work necessary to make their sites ADA compliant. We would recommend that if you have an ADA plugin, you will still need to do the work. A plug-in is not an easy button that protects you from ADA lawsuits. Some of the plug-in builders include InnSight and Userway - however, it's important to note that neither company says that their plugin will make your site ADA compliant.
We aren't against these plug-ins - to the contrary, if you want to use a plugin, go ahead and do so, but don't add a plugin to your site and think you are compliant. You still need to make the changes that will make your website ADA compliant, such as:
Adding alt text to your images
Making sure your site is navigatable without a mouse, using keyboard tabbing...
...which includes keyboard users not getting "stuck"
Having at least a 4.5:1 color-contrast ratio between text and background
Having closed captions and transcripts on videos
Having consistent navigation
Having a web-accessibility policy page
Having a physical accessibility statement if you are not exempt that identifies the accessible and non-accessible features of the property. (Note: you're exempt if you live on the property and rent 5 or less rooms).
.....And much more
Don't rely on "easy-button" techniques to keep your website ADA compliant. You won't regret taking the extra steps to make your website accessible.