If you have loaded videos to YouTube, or have a YouTube channel for your inn, you've probably received an email that looks like this: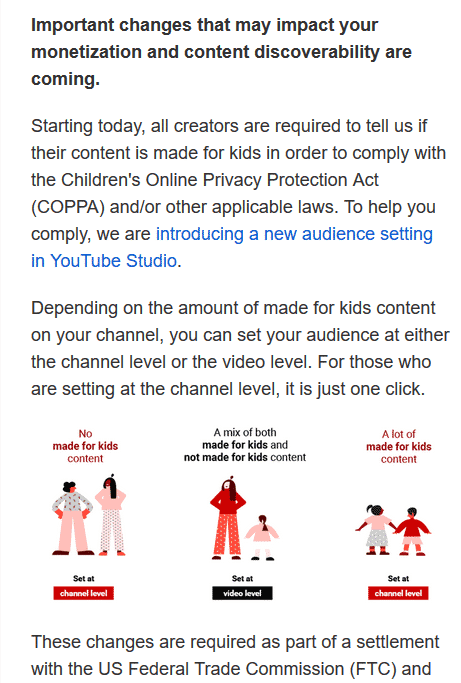 This is nothing to worry about, if you don't create videos expressly for children. Most, if not all, bed & breakfast video channels will not have videos made expressly for children. This doesn't apply to any videos that would not be objectionable if shown to a child, but does apply videos that are made just for kids to watch (such as toy unboxing videos), or made for teens, (such as video game playing), and it can reasonbly be expected that kids might watch.
There is no downside to marking your channel as "No Made for Kids Content". In fact, if you were to mark your channel or videos as made for kids, you would lose some of the options available to you now, such as comments, some ads, info cards, etc.
Here are instructions for setting your channel (choose option B):
Sign in to studio.youtube.com.
On the left menu, click Settings.
Click Channel.
Click the Advanced Settings tab.
Under Audience, select:

"Yes, set this channel as made for kids. I always upload content that's made for kids."
"No, set this channel as not made for kids. I never upload content that's made for kids."
"I want to review this setting for every video."

Click Save.
Now, if for any reason you have made some videos with content especially for children, make sure you set those videos as made for kids - here's how:
Sign in to studio.youtube.com.
From the left menu, select Videos.
Check the boxes next to the videos you'd like to edit. Note: You can select all of your videos by checking the box next to "Video" at the top of your upload list.
Select Edit >Audience >"Yes, it's made for kids."
Select UPDATE VIDEOS.
As you can see, it's a couple of steps to make sure that your settings are correct and will make YouTube happy.