On May 10, 2019 we posted the article "7 New ADA lawsuits were filed in the last 2 weeks: Are you one of them?"
As of today, there are now 12 lawsuits filed by these same 3 plaintiffs, via this 1 law firm, involving 5 different booking engines being used in our industry.
The common thread is: the blind Plaintiff cannot book a room on the inn's website. It's not the only issue I am seeing in these complaints, however it is the only one that is in all the complaints I've read.
"… access barriers make it impossible for blind users to even book lodging reservations on the Website."

"In the wave of technological advances in recent years, assistive computer technology is becoming an increasingly prominent part of everyday life, allowing blind people to fully and independently access a variety of services, including booking lodging."

"Defendant's sighted customers can independently browse, select, and book lodging accommodations online without the assistance of others. However, blind people must rely on sighted companions to assist them in making an online reservation on the Website."

"Plaintiff browsed and intended to access Defendant's online booking and reservation service on the Website. However, unless Defendant remedies the numerous access barriers on the Website, Plaintiff and Class members will continue to be unable to independently navigate, browse, use and book a reservation on the Website."
And this is where it gets sticky.
Some of these Innkeepers that have been hit with these lawsuits have gone to their reservation companies and said they have received a complaint and want to know where the booking engine stands in regard to ADA compliance. Other than one firm that is taking responsibility, we are hearing the others saying things like:
"You are at Booking Engine ## score."
"You look good for accessibility at a score of ##."
"We (the reservation company) ran the Google test on our site it said we were 94% compliant."
These lawsuits are not about testing tools.
They are about: The Plaintiff, who could not see the screen, not being able to book a room. Could they maneuver from your website to the booking engine, put dates into the availability calendar, move on to see and then choose a room, and finalize the booking with payment?
This requires a very different type of testing than just running it through a testing tool like WAVE or CHROME. This type of testing involves physically navigating through your site, verifying one step at a time that a blind person can "audibly see" all of the options on the page of the booking engine and complete the booking.
This type of testing isn't hard to do.
I encourage all Innkeepers to educate yourselves on how to do this type of testing yourself, so you can speak with your reservation companies with authority about specific issues regarding blind users booking through your reservation software.
To do this type of testing you simply "pretend" to not be able to "see" the screen with your eyes and attempt to maneuver through, step by step, to complete a booking by listening to the audio prompts provided via a screen reader. If you cannot hear a prompt, then it technically would not exist for the blind reader.
I've tested a handful of these booking engines myself. All but one stops me at the very beginning where I cannot hand key in a date on the calendar using the number keypad on the keyboard just like a blind person would need to do. If your only option is to choose from the calendar using the mouse, then you have found your first issue with your booking engine being used by a blind person. If a blind person cannot move forward without sighted assistance, then you are not meeting compliance. And this is just the first step. You must test all the way through completion of the booking to determine what other barriers a blind person might encounter when trying to complete a booking.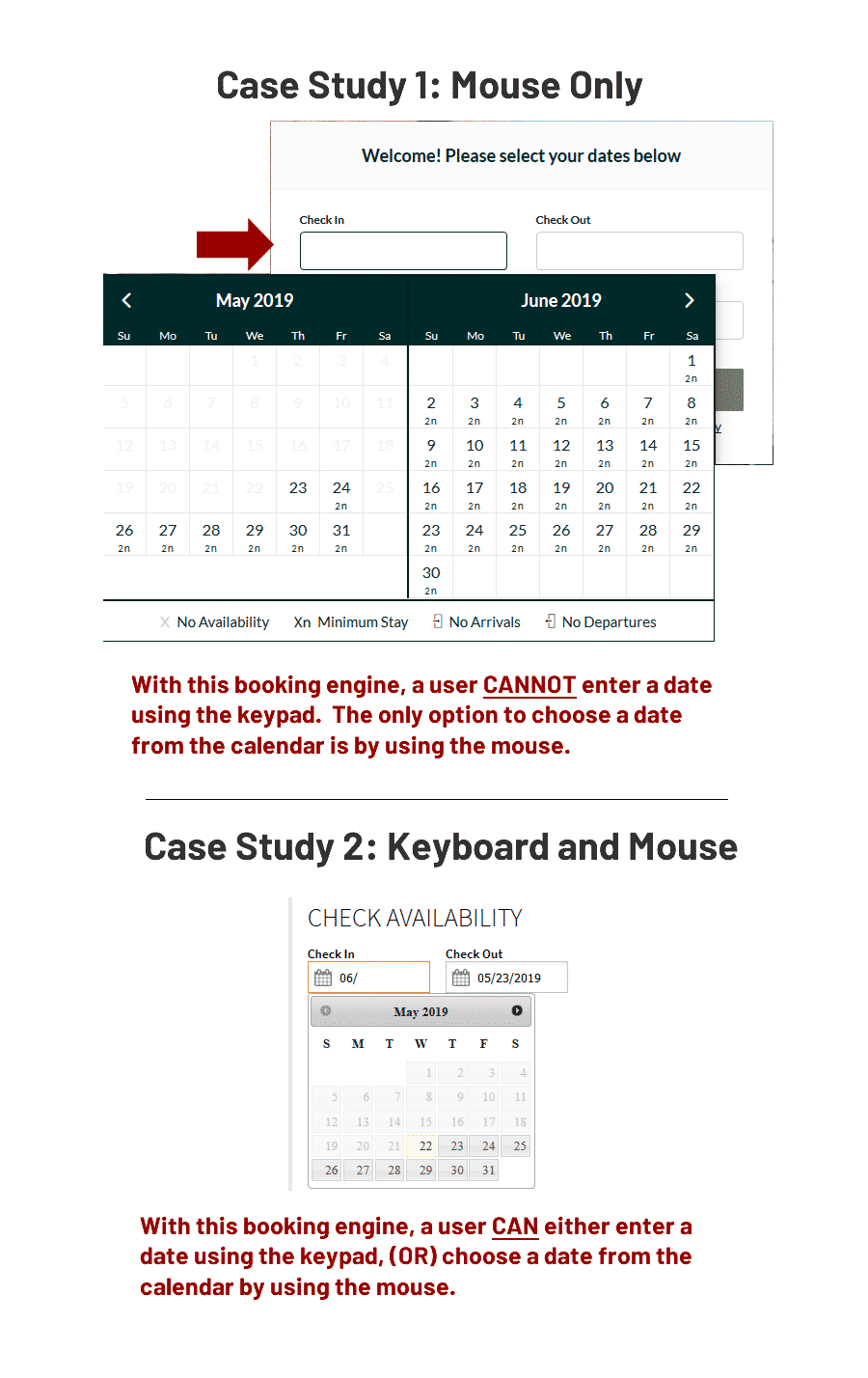 So how do you do this?
For PC users, you can download a free screen reader called NVDA. On a MAC, you can use the built-in VoiceOver under Accessibility in System Preferences. There is a learning curve to using a screen reader, so refer to the help section for the appropriate keystrokes. Once you're comfortable using the screen reader, navigate through your website to the booking engine and see how far you can get in booking a room without needing sighted assistance.
Make a note of where the screen reader gets stuck and then contact your reservation company with detailed descriptions of what you could not do on the booking engine as a simulated blind person.
It's the Innkeeper's responsibility to know if their site is readable by a blind person. Just asking the reservation company isn't enough. You need to understand this for yourself because these plaintiffs are not suing the reservation companies, they are suing you. These plaintiffs, or any blind user for that matter, doesn't even know there is a difference between the website and the booking engine.
If you're an Acorn client and have not moved forward with the ADA website update, then we recommend that you do so.
If you're not an Acorn client and would like assistance with ADA, please contact sales@acorn-is.com by completing the Sales Inquiry Form.