So why would Acorn Internet Services give away a Free Website?
Ultimately, because Innkeepers need help! We are in the process of creating a new standard website design that is affordable, attractive, and most importantly, effective! We are offering a contest to win this new website in order to beta test this new design.
You may be wondering, why do Innkeepers need help? And that's the problem. So many Innkeepers don't even realize they need help! This lack of knowledge as to what's going on in our industry is costing many innkeeper's both guests and money.
We at Acorn KNOW there are some requirements that Innkeepers simply cannot ignore. However, without understanding the need for these requirements, innkeepers continue to choose providers that do not use the same measuring stick that Acorn does. Acorn's measuring stick includes notches for owning your own site (versus leasing), https://, local schema, responsive design, mobile first, mobile friendly, on-page SEO, GDPR, ADA, and the list goes on!
This infographic will help you to "see" what is really going on with website providers out there who promise you the world but in reality, offer nothing more than a pretty design, and sometimes not even that. So, before you sign that contract for a new website, be sure to verify the competitor's results by testing 2 or 3 of their designs.
We'll show you how!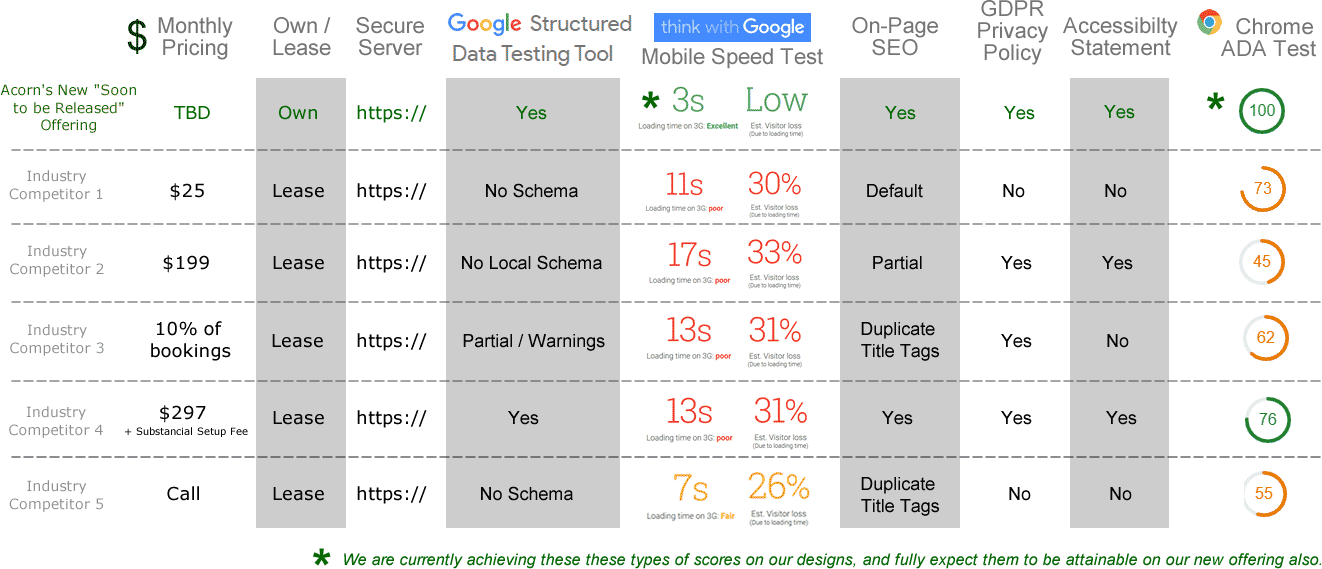 Pricing: Pricing information gathered from competitor's websites at the time of this writing.
Own vs. Lease: Some competitors may offer both Own and Lease Options. When Innkeepers are told they own their data and photos, they assume they own the site, but when it comes time to leave and take their site, they find out that the site will not run on any other server, and all they can take with them is their data and photos, but not the website "glue" that makes it run.
Secure Server: Google requires that sites be loaded on an HTTPS:// server. You identify a website being loaded on a secure server via the HTTPS:// or the Lock Symbol in the address bar.
Local Schema: Structure Data (AKA Schema) Testing Tool – Structured Data is a programming technique that feeds the search engines specific data for them to use to place you in the search results. There are many types of Structured Data, although Local Schema is very important for placement in Maps and Local placement.
An example of the way Local Schema SHOULD look: [Click Here]
Hint: Click on the box that says BedAndBreakfast to see correctly written Schema
Mobile First: Think with Google (Test My Site) -Think with Google is a tool that will tell you the expected success of your mobile site based on load time. The lower the number (fewer seconds to load) the more likely a mobile guest will wait on your site to appear.
On-Page SEO: On-Page SEO (Search Engine Optimization) is extra work that a webmaster/marketing firm must do in addition to building the website. It includes Meta Titles, Meta Descriptions, Header Tags, Anchor Links, etc. Google Search Console will tell you if your site is meeting their SEO guidelines, or if you have duplicate content. Titles SHOULD NEVER default to the page name or the Inn name. They should be crafted, with attempting to get you the highest organic placement possible.
GDPR: GDPR (General Data Protection Regulations) is a European standard that you must meet for European guests. It went into effect on May 25, 2018.
ADA: An Accessibility statement tells your ADA guests that your website meets ADA WCAG 2.0 AA level requirements. You should never put a statement on your site saying you are working on being compliant when you are not. *
Chrome ADA Test: Chrome provides an Accessibility Testing tool to test whether a site is ADA compliant or not by using a scale from 1 to 100, with 100 being perfect. This perfect score may not protect you from being sued but it may encourage a potential plaintiff to look elsewhere.

To test a site for ADA Accessibility, follow the steps below:
Open a browser window in Chrome
Type the website address of the site you want to test
In the upper right-hand corner, click the three vertical dots (…)
Click More Tools
Click Developer Tools
Click the right arrow in the right-hand side of the Developer Tools navigation bar
Click Audits
In the Device section, select Desktop or Mobile (you'll want to run the test for each one)
In the Audits section uncheck all the boxes except for "Accessibility"
In the Throttling section, check "Simulated Fast 3G, 4x CPU Slowdown"
Make sure "Clear storage" is checked
Click "Run audits"
Wait a few minutes for your score.
You want as high of a green score as you can get (Acorn has been able to achieve a perfect 100).
Remember, you can also test your reservation pages to see how they score.
* Note: If you are not exempt from providing ADA accessible rooms, then you must also display additional information on your website and in your reservation system that meets the requirements for providing ADA accessible rooms.