To begin with -- What is Rate Parity? Eye for Travel defines rate parity as...
"Rate parity can be defined as maintaining consistent rates for the same product in all online distribution channels—Expedia, Orbitz, Hotwire, etc.—regardless of what commission the OTA makes"
---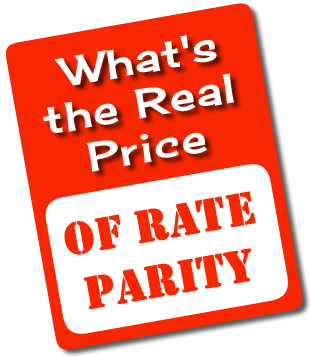 How does this affect you, as an Innkeeper who is using an OTA (Online Travel Agency)?
When you sign a contract with an OTA, you need to know what you are agreeing to. The OTA doesn't want to have you as a competitor, so they add clauses into their contracts that keep you from offering your rooms at a lower rate than the OTA.
Here are a few contract examples:
"The Accommodation shall give XXXXX rate and availability parity - Rate parity means the same or better rates for the same accommodations, same room type, same dates, same bed type, same number of guests, same or better amenities and add-ons (e.g. free breakfast, Wi-Fi, early/late check-out), same or better restrictions and policies, such as reservation changes and cancellation policy, as are available through the Accommodation's websites, apps or call centers (including the customer reservation system), or directly at the Accommodation, with any competitor of XXXXX (which includes any online or offline reservation or booking agency or intermediary) and/or with any other (online or offline) third party that is a business partner of or in any other way related with or connected to the Accommodation."
"You agree that the Rates and Rate Plans you provide to XXXXX will be equal to or better than those made available through Your own or any third ­party booking or distribution channels. Any rules, restrictions, policies, and/or conditions (including rules associated with cancellation) applicable to any room that You make available through the XXXXX System shall be no more restrictive than those applicable to any comparable room that You make available through Your own or any third ­party booking or distribution channels."
"The Property shall set the Net Rates for Rooms booked through the Systems to result in a consumer price as low as any other available price. This is defined as the "Best Available Rate" and shall be set for the Company to be at least as favorable as the rates, rules, terms, and conditions the Property sets for rooms made available for booking through any other company or entity ("Other Channel") authorized by the Property to book or sell rooms at the Property. The Best Available Rate also includes any other means through which the Property makes rooms available, including any web site operated by the Property or by another entity acting on the Property's behalf."
You need to make sure that if you have signed an agreement such as this, that you do not offer your rooms for lower rates than the OTA.
This includes any promotions you may have that say something like, "Book Direct for Lower Rates".
Doing this may put you in breach of contract. If you want to play in the OTA game, you have to follow their rules. Make sure you are in compliance with your contract.