Acorn has always stayed current to help our customers have the latest technology for their web sites. As Google has announced that their preferred configuration for mobile is Responsive Web Design, we have not only offered RWD, but worked to make those sites as fast as possible as per Google's Pagespeed guidelines.
If you missed Acorn's quarterly newsletter, please take a look at this informative video: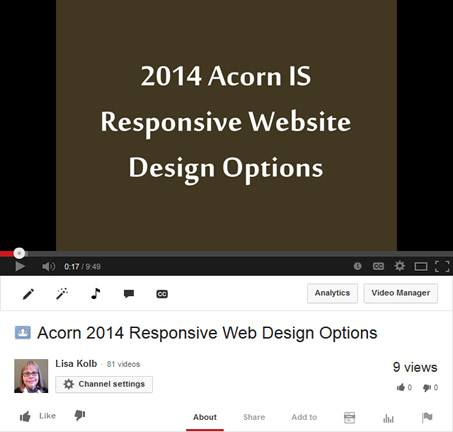 Here are a few testimonials from happy Acorn design customers:
"As new owners in the bed & breakfast world, one of our first goals was to bring our old inherited website into the year 2014.  Clearly outdated and disjointed, the old site lacked any new internet compliance's needed to properly market our business.  Fortunately, Acorn Internet Services specialize in making "the guts" of any new site current and ready to compete in today's market.  Using their turnkey web-site option not only made our new site affordable for our small business, but also made it clean, easy and very Google friendly.  Working with our Data Gathering and Development project managers also made our job easy and pain free.  Quick responses to our questions and changes were always appreciated and very professional.  Thank you for bring us up to speed!" - Mike, Beacon House Inn Bed & Breakfast
"I have been working with a great team at Acorn IS on my new website and have had a wonderful experience the whole way on this project. Each team member was helpful and has given me, what I feel, is the best customer service I could have had. I am so very pleased with the totally new built site that gives Google what they are asking for. The responsive site is a plus, so that I don't have to manage a mobile and main site now. Way to go Team Acorn!!!" - Debbie, Star of Texas Bed & Breakfast

"I have complete and total faith in Lisa, Mark, Sharon, Annie, Pam, Willie, and the rest of the staff.  In the months ahead my Market Watch Reports will point, I'm sure, to the success of this new website.  In addition, I have signed up for Intell-A-Keeper that will help me in the future to analyze and understand just how my marketing dollars are doing in targeting certain guests and getting them to book at The Beechmont.  I have no complaints.  The staff at Acorn is talented, competent, and on the cutting edge.  I could not be more pleased.  My only request is for a staff member to kindly hit me over the head (gently) when it's time to design a new site so I don't wait so long!" - Kathryn, The Beechmont, A Bed & Breakfast Inn

Join the ranks of these happy customers with their new sites! Call our Sales Manager, Tammy Doriot at 877-226-7699, or email to: sales@acorn-is.com.
Annie Buck
Local, Social Media and Education Manager
Acorn IS