Topics for this Acorn News release are listed below.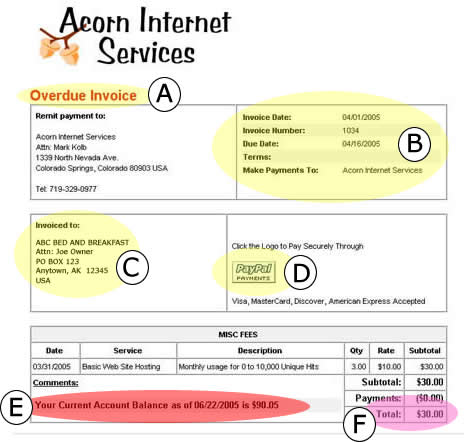 Through our Billing Orchard system, you are able to view your quarterly invoices online and pay online through the active PayPal button (Section D) shown on your invoice if you so choose. As always, payment by check is accepted. YOU DO NOT NEED TO HAVE A PAYPAL ACCOUNT to pay online with a credit card.

A)

After 15 days from the billing date, your invoice is automatically shown as an Overdue Invoice.

B)

Listed in this section of your invoice is the Date of the invoice, Invoice number, Due Date and to whom to make your check payable. Our mailing address is listed to the left in the "Remit payment to" section.

C)

This section includes your Company name, your name and mailing address.

D)

The active PayPal button is shown here for your convenience in paying online. Simply click to provide a credit card to pay online. YOU

DO NOT

NEED TO HAVE A PAYPAL ACCOUNT to pay online with a credit card.

E)

Within the Comments section is the sum of the amount billed this quarter (shown in Section F) in addition to any unpaid amounts from previous billing periods. If there is a "Your Current Account Balance as of…." listed here, PLEASE REMIT THE TOTAL AMOUNT DUE.

F)

This is the dollar amount due the current billing quarter based on the itemized list of Services and Descriptions shown in the Miscellaneous Fees section above.


| | |
| --- | --- |
| Included in Acorn Hosting is a full-featured version of URCHIN Tracker. Acorn DOES NOT CHARGE for a web site statistics tracker, as many of our | |
competitors do. The reason for this is that we believe tracking is the fundamental building block of knowing how your web site is functioning. We DO NOT want cost to be a factor for you not to have the right tools to run your business. This version provides you all the tracking information about visitors to your web site to help you make informed decisions on listing services, Pay Per Click (PPC) listings, etc. If you host with Acorn and do not know how to access your statistics, please contact us for your username and password to access your tracker.

URCHIN Enhanced Visitor Tracking (Add On Functionality)
The Urchin Tracker included in your monthly Hosting fees also has an additional add-on feature for enhanced visitor tracking that will remove all the spider and crawler traffic from your basic numbers and will also provide additional detailed visitor statistics (how many times did visitors come back to your site vs. first-time visitors, etc.) This add-on requires development time to include special tracker code on each page of your web site.
If you are looking for even more detailed statistics to help you manage your marketing dollars, contact us and request that we install the URCHIN Enhanced Visitor Tracking to your web site code. There is no on going fee, once the code has been added to your pages.

Estimated Work Effort: 1-2 hours at Development Rates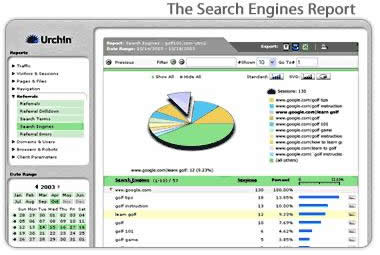 If you find you simply do not have time to watch your statistics monthly, you may wish to sign up for the Acorn Marketing Watch program. By signing up for this program an Acorn Statistics Specialist will track the following items regarding your web site on a monthly basis.

1
Organic placement in Google and Yahoo of your top Search Phrases
2
Number of Popularity Links counted by Google and Yahoo
3
Web site Referrers
4
Search Phrases and Terms
5
Number of Unique Visitors
6
PPC Cost and Visitors (Google and Yahoo, fed by Overture)
7
Overture Site Match Cost and Visitors
(a completely separate program from Overture PPC)
8
Chart number 5, 6 and 7 above based on a date range.

Finally, reporting on the previous 12 months of referrer tracking will be provided to help you understand the value of all your Paid Listings and Directories to assist in Marketing Money Decisions for the next year. If you are interested in signing up for this program, E-mail Us or give us a call.
"I can't thank you enough for the new service you are offering to help us track our stats. We are forced in this business to be "jacks of all trades.' Marketing my B & B is one place I cannot afford to be a "jack" and it is impossible to be a "master" and do all of the other tasks necessary to keep my business going. The reports were easy to understand and Sharon's coaching was priceless. For the first time it made sense. You charted it, analyzed it and shared your findings and together we came to some decisions aimed to save me money. Thanks again."
Martha, Ponder Cove


| | |
| --- | --- |
| Earlier this spring, Google updated it's algorithms. If you worked with us to choose the best possible meta titles for your web site, are you tracking your | |
Organic Placement in Google and Yahoo based on those titles? Once a month you should track where your web site appears in the organic listings (not your listing on another site, but your web site itself) based on 2-3 of your top search phrases. If you are working on link popularity, you should see increased placement; if not, simply watch your placement and if it starts to drop beyond an acceptable level, E-Mail us or give us a call and we'll review and offer suggestions for making changes.

A review of your site is extremely important for web sites that haven't had any updates in the past 12 months.
| | |
| --- | --- |
| "Excellent web site design, management and exposure of your business are absolutely the most important aspects of your business plan in the hospitality field. It can also | |
be one of your worst headaches. Constant analysis, evaluation of what is effective and what is less than effective as a strategy is a daily constant in a thriving business. Failure to address that can result in unsold rooms and disappointing fiscal results.
Prior to our best marketing decision of the year resulting in our retaining the services of Mark, Lisa and Co. at Acorn Internet Services, we were very handicapped in the management of our site. Our analytical efforts often became fruitless. Even the most responsive web site management sometimes cannot alter your site "right now." You are one of many clients and your web person, though sensitive to the priority of your request, can only place you in the queue while you lose valuable time in placing your most recent marketing plan into action.
SnippetMaster is a life saver! It is stellar not only in its ability to render "immediacy" but also totally eradicates the stagnation that is often the death knoll to new ideas. It is hard to strategize on "what's next" when your last creative work session is still on your webmaster's desk. Empowerment is the byword and SnippetMaster is the tool. It is efficacious and easy to utilize for even those not computer savvy."
Patti, Cumberland Falls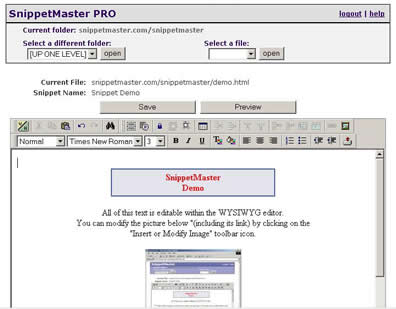 Acorn offers the installation of the Snippet Master toolset. This simple wysiwyg (What You See Is What You Get) content-editor tool is for those web site owners who want a very easy, quick, and visual way to edit a pre-defined area on any web page through their browser without messing up the rest of the web page. If you can pull E-mail online, or know how to use a word processing tool such as WORD or WORD PERFECT, you have the skills to use Snippet Master to update the text on your web site. IT REALLY IS THAT EASY!
[Snippet Master Overview] | [Snippet Master Demo]
Acorn will install either the PRO or LITE version of Snippet Master depending on the customer needs. Installation time is billable at Development Rates and usually takes about 1 hour to install. Once installed, there are NO ONGOING fees to use these tools. E-mail us or call us regarding installation schedule.



| | |
| --- | --- |
| The following information only applies to Acorn Hosting customers who have an E-mail form on their web site. We recently have noticed that some of | |
the larger ISPs are starting to check the FROM address and validate the SENDING E-mail server to determine if the sending Mail Server is authorized to send E-mails for the domain of the FROM address. This would cause forms that a visitor submits to possibly be dropped and lost. The FROM E-mail address domain would not know anything about our web servers and in turn would inform the mail server doing the verification to drop the E-mail. This process is starting to occur more and more to combat spammers who impersonate other user's E-mail addresses when sending out spam. So . . . Acorn now sets the FROM address to your domain so the verification does not occur and the E-mail form will go through. By doing this you should get all of the E-mail form submissions. But it will be your E-Mail address in the FROM field - not the senders. If you wish to reply to the E-mail form you can copy and paste the E-mail address located in the content of the form to the "To:" field when replying. IF YOU SIMPLY REPLY TO SENDER, IT'S GOING TO ONLY GO BACK TO YOUR MAIL AND THE CUSTOMER WILL NEVER SEE IT.
With the increase of spam, these type of tactics to keep the spammers under control will only become more stringent in the future. This is not good for those inns using forms to do reservations. We'd highly recommend that you look into some type on online reservations software such as Webervations, NetBookings or Availability Online etc. so as the future of battling spam changes, you are not at risk for losing reservations.


| | |
| --- | --- |
| Customers today are looking for better spam fighting E-mail solutions. After extensive research we have found a company called FASTMAIL.FM | |
"One of the slickest, most powerful e-mail systems on the planet"
The Sunday Times, London
"The world's best email service provider"
The Sydney Morning Herald
"If you take your e-mail seriously, FastMail is the service for you"
PC World

This company does a very good job at blocking spam and viruses. This is done on their E-mail servers so very little spam and viruses make it to your computer. Their virus checking appears to be excellent because we have not had any get through to our local virus checker. They also have a very nice web based E-mail product, which is great when you need to access your E-mails when you are away from your computer, but still have access to them when the return home to their office PC. Most ISPs offer very little storage for their customers E-mails. FastMail is very generous with their storage space. All of our customers we have setup with FastMail use the IMAP protocol, which is superior to POP. This lets you save your E-mails on the server and have multiple folders on the server for storage. If you leave your E-mails on their servers then you do not need to worry about archiving, because FastMail does it for you. This is great when multiple computers need access to the same E-E-mail account(s) or when setting up a new computer. Their prices are excellent and we recommend FastMail if you are serious about a strong E-mail Spam Fighting solution. We will assist in helping you setup your FastMail account so that you can manage your E-mails more effectively.
Time estimate is approximately 30 minutes to setup one E-mail Account. Time Billable at Development Rates.


| | |
| --- | --- |
| View more designs in our portfolio section on the Main Menu above. | |




Marcy graduated Summa cum Laude from Slippery Rock University in Pennsylvania with a B.S. in English Writing and a minor in Communications, and she attended the graduate studies program in Children's Literature at Hollins University in Roanoke, VA. She comes to us with over ten years of experience in customer service. Marcy's writing experience includes creative and technical copy writing and editing for corporate, non-profit and academic publications.
Marcy has been married for eleven years to Richard, who is also a professional writer/editor and an adjunct professor at a local college. Rich and Marcy have a two and a half year-old daughter, Shannon, and are expecting their second child at the end of July.
When Marcy isn't working on Acorn projects, she enjoys playing with her daughter, scrapbooking, photography, reading and helping her husband remodel their turn-of-the-century home.
Marcy provides customer support for Acorn clients, as well as writing and editing copy for web sites and web site submissions.



| | |
| --- | --- |
| Please take a moment to browse through our new company site. | |