Innkeepers MUST have a Mobile Site...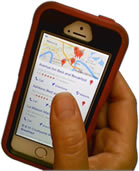 It's beyond time. If you don't have a mobile site, the bottom line is, you are losing business.
I'm still in awe at how many innkeepers have not moved toward a quality Mobile experience for their guests.
In light of Google's Pigeon release on July 25, 2014, without a Mobile site, you are at even more risk of not being seen promeniently in the Mobile SERPS.
Statistics of Innkeepers
WHO HAVE NO MOBILE PRESENCE AT ALL!
49% of the 2014 Mid Atlantic Conference attendees

40% of the May 2014 PAII Forum Contributors Sample

40% of Acorn Internet Services B&B Hosting Clients in July 2014

33% of Select Registry Properties as tested in July 2014
Over a year ago, an article was published - Google: In Future, Pages with Bad Mobile SEO Won't Rank as Well in Mobile Search.
"Is your site not doing a good job for mobile visitors? Better get that fixed. Sites with mobile experience issues won't rank as highly in Google's mobile or smaprtphone search results, in the future."
That time is now. Don't become a Statistic. Need to talk?
E-mail Lisa@acorn-is.com directly. It's that important!
Words of Innkeeping Encouragement
At Cumberland Falls Bed and Breakfast Inn
Innkeeper and Owner, Patti Wiles
"In challenging economic times, there exists a tendency to locate things to cut from an already tight budget. There are expenses and time associated with learning how to keep your business fiscally robust and thriving but unless you never want to hear "CHA CHING" again, make the decision to learn and to market. It's called a decision implying there is a choice, but truly, it's a mandate for survival."
- - - - - - - - - - - - - - - - - - - - - - - - - - - - - - - - - - -
Is Pigeon leaving Droppings on your Placement?

Google's latest release, on July 25, 2014, is all the talk of those of us in the world of Online Marketing. And what I'm finding is that Innkeepers that have taken heed of our warnings and advice concerning...
Responsive Mobile Site

Site Speed and Usability as per Google Guidelines

Ongoing Fresh Content

Current SEO as per Google Guidelines

Schema / Rich Snippets Installed

Authority and Publisher Tags Installed

Reputation Management

Social Media Involvement

Google + Business Cleaned and Claimed

NAP (Name, Address Phone) accuracy everywhere online

And a variety of other topics we teach in Acorn University!
... are faring very well, some even improving placement, with this latest release Google has named Pigeon.
But, that said, I see other Inns that are not keeping up, simply not faring as well. It's not too late to clean up your presence. You don't have to be left in the wake of Pigeon droppings.
Consider joining Acorn University if you want to do this yourself.
If not, consider our Professional Services Offerings where we do it for you.
Either way, if you don't keep up, the bottom line is, you are going to lose business.
- - - - - - - - - - - - - - - - - - - - - - - - - - - - - - - - - - -
Buuteeq Sold to Priceline
If you haven't heard, Buuteeq has sold to Priceline. What that means to Innkeepers leasing their web sites from Buuteeq is yet to be seen.
I encouarge everyone to read the article published by Vikram Signh on "Why 'Innkeepers' Must Own Their Digital Assets" [Read the Article]
- - - - - - - - - - - - - - - - - - - - - - - - - - - - - - - - - - -
We invite you to join us Live and In-Person!
- - - - - - - - - - - - - - - - - - - - - - - - - - - - - - - - - - -
Latest Acorn IS Blog Posts
Want to Automatically Receive our Blog Posts? Click Here
We are constantly updating our Acorn Internet Services Blog with important REVENUE GENERATING information for all our clients. If you do not automatically receive our Blog posts, we encourage you to do so by registering Here.
If you find an article particularly helpful, please share on Facebook, G+ or Twitter via the SHARE BUTTONS at the top of each Post!
Is Pigeon Pooping on Your Placement?
July 28, 2014 [Read]

New Educational Bytes from Acorn IS!
July 17, 2014 [Read]

Wishing your Website a Happy 4th of July!
July 3, 2014 [Read]

Save the Date: Hospitality Marketing Summit, Denver, CO
June 2, 2014 [Read]

True or False?
You'll be out of Business in 2014 without a Responsive Design…
April 16, 2014 [Read]

Not So Fast! Your Localeze Listing Is Probably Still Claimed!
March 28, 2014 [Read]

Some Spring Cleaning You Might Actually Enjoy…
March 26, 2014 [Read]

Google Email: Important changes to your Google Places Account
– Not Spam
March 4, 2014 [Read]

Local U Presenting at Mid Atlantic Innkeepers Conference, March 2014
February 24, 2014 [Read]

Is your Website Old, Tired and Outdated?
February 21, 2014 [Read]


Blog Posts Revealing our Newest Sites!
See what Innkeepers are Saying!

If you have been considering a new site, but haven't taken the plunge yet, give us a call for our best offers on a new Responsive Turnkey or Responsive Custom Site.
Click Here to See our Latest Designs!
.