Albuquerque, NM
Heritage House / Spy House




Independence, MO
Hawthorn Bed & Breakfast





Plainfield, NJ
Pillars of Plainfield



How long has it been since you did any significant updates to your web site? If it has been more than 2 years since you added professional photos or updated your design, navigation, and search engine optimization/marketing, it is time to take a close and careful look at the message your web site conveys as compared to your competition.

What could your site become with a re-design? Allow us to give you a quote on web site overhaul – you won't regret making this important investment in your business.
Call or E-Mail Marian Talbert at 877-226-7699

To view all of our new designs, check out our Portfolio of New Designs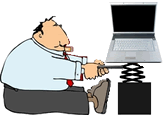 With the way the economy is today, now is NOT the time to stall on your Marketing and Web presence. Acorn is looking for a variety of ways to help our customers keep their businesses running well when the finances are tight.

We have created the "Site-Lift" concept for customers who have a fairly well designed web site, good navigation, and so on, but needs a bit of a "Lift" to stay fresh and competitve.

"Site-Lifts" simply freshen up your site so you are more visually appealing to your customer base. A "Site-Lift" will update images (customer must provide quality photography for this to happen), clean up look and feel, possibly a bit of simply flash, or updated navigation. The difference between a Site-Lift and a Full Site Re-Design is that we do not add any additional pages, or change the overall functionality of the site. We simply freshen what you have so that you may stay more competitive in today's market. In general, a "Site-Lift" would cost approximately half of what a full design would cost.
If you are interested in a "Site-Lift" or would prefer to discuss a Full Site Re-Design, please contact our Sales Team or call 877-226-7699 to request a review and bid.
Page Count

Defined by New Design

Remains the Same

Photography

Integrated into New Design

Replace / Update Existing Photos

Flash

Simple to Complex

Simple Only

Navigation

Integrated into New Design

Existing Navigation Remains

Fonts

Integrated into New Design

Modification as part of Clean-Up

Visual Look of Site

Defined as part of New Design

Modified within Current Design

Google

Local Business Setup

*

Blogger

*

Google Maps

*

Google Mobile

*

SEO Marketing

Integrated into New Design

*

Verbiage

Integrated into New Design

*
* Not included as basic Site Lift Options. Customer may choose to add on to site lift, and additional cost will be included as part of the bid.
Note: Professional Photography to be provided by the customer.



Acorn is making 2009 the year of "Training and Knowledge" for our customer base. Starting in January, we are going to be holding online seminars using a product called Go-To-Meeting.

It's very simple to use. All you need is a PC and a telephone, and you can join in our seminars, live. Ask questions and benefit your business. We are going to be holding these seminars as a FREE service to our customers as a way of helping in today's economic times.
Webinar topics we are currently considering are as follows:
Google Interactive Maps
Google Local (Maximize your Local listing for FREE!)
Google Blogger (How to set up and connect for best Google usage!)
Google Calendars (Would this feature benefit my inn?)
Intell-a-Keeper (Why it is better than Google Analytics.)
Newsletter Editing & Distribution (Using Your Mailing List Provider product)
SnippetMaster (Content Editing Techniques)
Urchin Web Stats (Tracking & Interpretation)
If you are interested in being alerted of our seminars so you may plan to attend those that interest you, please sign up below.
We will also looking for additional ideas from those customers that sign up to be included in the Webinar schedule.


Trip Advisor Links to Online Reviews
You now have several options to link to your Trip Advisor reviews from your web site.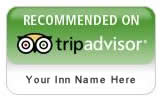 Badge: You can have the code supplied by Trip Advisor to put a "live" badge on your site that will change as your rating with Trip Advisor Changes. See Sample to the right.
Box with Comments (or Tickle Feed): This is an at-a-glance view of the last few comments posted to your listing. For an example of this display, visit Acorn clients Rock Cottage Garden or Andon Reid Inn. It's a handy way to give first time visitors to your site an idea of what others are saying about their visit to your Inn!
Full List (or Full Feed): We can then load the full comments on a Guest Comments page if you have, or want one on your web site, which we are doing for this same client Rock Cottage Garden. You will never have to manually update your Trip Advisor guest comments again! This is a great time saver and keeps your site content updated each time a new post is generated by a past guest.
Contact Acorn Support to open a ticket to update your web site with one or more of these Trip Advisor opportunities for less than $100.


Make sure you are deliberately signed up with a Google Local Business Account. Don't just assume that the information in Google Local Business is accurate. Make these free offerings from Google work for you.

If you already have a Google personal account (IE: if you use G-Mail, you have one) you can use that username and password. If you'd like to make one up specifically for your business, you can do that, also.
Note: Acorn is always available to assist you with your Local Business Account. The instructions below are for our "Do-It-Yourselfer" customers.
Already Have an Account? Go to www.google.com

- click Sign In (upper right corner)
- click My Account (upper right corner)

If you don't currently have a Google account, go to www.google.com and click on the link that says: Don't have a Google page? Get started.
After you have signed up for an account or accessed your current account, you will see a list of products which Google offers to everyone, for free.
Select Local Business Center.

Make your changes, click submit.
Note: See Special Considerations below when updating your existing account.
Need to Set Up an Account? Add Local Business Center to your Google products list

- Go to Google Local/Add
- Enter your user name & password
- Click on the "Add new Business" button

Fill in all the required information about your business. If your business currently shows after you fill out the first part of the form, "Claim your Listing" by clicking on it. Continue on filling in as much information as possible for categories. You may add photos or videos to your listing.
Special Considerations that apply whether you are setting up a NEW account or updating an EXISTING account.

- Include an optimized description (ie: Elegant bed & breakfast in walking distance/on the lake/historic Victoria to city + state offering the perfect setting for your romantic getaway, honeymoon, wedding ceremony or business retreat)

- Your hours of operation (24/7/365 just like a true innkeeper!)

- Categories – list all that apply (Bed & Breakfast, Hotel, Weddings, Business, Packages, Cooking classes, etc)

- Additional Details – this one is important because this feeds you into the Google Local alpha indexing for searches on topics + city + state; you should include items like: Weddings: packages, small ceremonies, elopement, receptions, showers; Business: retreats, corporate meetings, seminars; Cooking Classes: Texas chefs, groups; WIFI: wireless access in all rooms, common areas, etc.
Submit your listing, then indicate whether you'd like to verify your account by phone, or by postcard. Verify by phone if you are standing by the phone whose number you listed in your listing. Google will call you within minutes with a PIN (personal identification number). You will enter the PIN on your listing where indicated. If you are not close to the phone, verify by postcard. You will receive a card in the mail within 2-3 weeks. Enter the PIN from the card into your listing ASAP, there is a time limit on the keying of your PIN.
Helpful Hints

Do not try to edit your Local Business information from Google search. Always go to your account and sign in to edit business information.

If we can help you with this, please contact Sharon or Willie.


Mid Atlantic Innkeepers [More Info]
January 11-14, 2009 - Hot Springs, VA
BBAA (Bed and Breakfast Association of Alabama) [More Info]
January 18-20, 2009 - Lake Guntersville, AL
PAII (Professional Association of Innkeepers) [More Info]
March 30 - April 2, 2009 - Atlanta, GA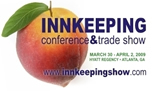 Acorn wants to make your ROI (Return on Investment) for this coming year's PAII conference as high as can possibly be! We are looking for a variety of ways to provide additional services to you during your stay in Atlanta.

If you would share with us if you plan to attend; we will keep you informed as to what we will be offering innkeepers attending this year's PAII conference!
Please take a moment to fill out the form below. That way we can keep you updated as to Acorn opportunities during the conference.


You now have the marker correctly locating your business. How would you like to display the proximity of other businesses to yours? Wouldn't it be great to show precisely where local restaurants, shops, galleries, golf courses, colleges or hospitals are located in relation to your business? Now you can!
Google allows you to not only show those businesses, but group them by category with color coding and iconic displays. Acorn has been working collaboratively with several clients to incorporate this enhanced mapping feature on their new web sites. Here are a couple of examples for you to check out:
Heritage/Spy House in Albuquerque, New Mexico
Click to View Map

Bed and Breakfasts of the Pikes Peak Area (regional B&B group in Colorado)
Click to View Map
Seattle Bed and Breakfast Association (regional B&B group in Washington)
Click to View Map
Interested in one of these mapping features for your web site? Contact our Sales Team to talk about the application that would best support your objectives.


How many times have you wanted to display a Calendar of Events on your web site but haven't had an easy mechanism for editing, loading, and displaying those events? Google recently made their Calendar feature available for accomplishing this important task for your events.
The Google calendar feature lets you set up a calendar, input various "events" that are date specific, and have them dynamically display within the calendar.
Below is a sample of what the calendar would look look like if embeded in your site. To setup the Google side of the calendar (where you enter the "event" data), click here.
Once you have set up the Google Calendar account (or have us do it for you) Acorn Programming Staff will need to insert the access code into your site. Then as you update your Google Calendar account, it will automatically update that information to your web site, without needing Acorn to do any additional code, once installed the first time.


Acorn staff are available to help install a calendar display on your web site. Contact our Sales Team for the details!


Historically, businesses didn't open their doors to their first customer before designing a logo to support their signage, stationery, rack cards, and other printed materials. Today's focus on electronic media and web design can often result in overlooking the importance of this graphic element in your marketing efforts. Perhaps you have a logo that was designed by the previous owners or in haste as you completed the inn remodel for your first day of business.
Logos serve a vitally important purpose – they support the branding or identity of your business. Whether you are an innkeeper, artist, doctor or other small business owner, your logo should instantly convey the style, ambiance, and/or concept of your business.
Acorn has a team of designers and graphic artists experienced in working with our clients in developing a logo to accomplish these objectives. Contact us today and ask us to help develop or revamp an outdated logo that will improve the marketability of your business!

If you are interested in viewing our sample logos, please contact our Sales Team for access.