In an effort to better serve our customers, as of Monday, March 12, 2007, Acorn Internet Services is announcing their new Online Ticket Support system. This ticket system is provided by Billing Orchard, the same company Acorn uses to handle invoices and billing.
After a NEW CUSTOMER has had their site go LIVE and the 'New Design', 'Re-Design' or 'Web Site Marketing Only' phase is completed, all support requests will now need to be submitted through the online ticket system. That way, no request will be lost. If you currently have a support person you prefer to work with, you may by all means include that person's name in the request. If your person of choice is available to do the work, that work will be assigned as requested.
All correspondence will need to occur via the ticket system. You will have a link to REPLY to any open item, please use the link provided. Do not hit REPLY or your response will not be recorded in the ticket system.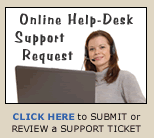 Also, by keeping all support requests in the ticket system, each customer may log into their account at any time to see updates regarding any open tickets they may have. Customers will also be able to log in and review past tickets as needed. Everything will now be kept on file for future reference.
In addition to the new Online Ticket System, Support Coverage will no longer be handled through the toll free number. The toll free number will be used only for Sales calls via a message system.