IMPORTANT Quarterly Billing Reminder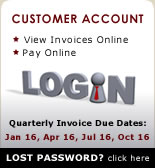 Based on Customer Feedback, we are trying something different and are reminding you in ADVANCE to watch for your 3rd quarter invoice.
This is a friendly reminder that Acorn Internet Services, Inc. will be generating 3rd Q Invoices on October 1, 2011 for work completed during the months of July, August and September.
10-01-2011 - Invoices generated
10-15-2011 - Check Payments must be received
10-16-2011 - Credit Card Auto Payments apply at midnight
10-17-2011 - If Payments are not received, a Past Due Email notice will automatically be generated and any outstanding work is suspended until payment is made.

Payments not satisfied by the end of the month will result in the Web site being taken offline and re-instatement fees will apply.
Suggestions based on issues we've seen during past billing cycles.
SPAM Folder Alert - Please make sure our Invoice Emails arrive to your Email account by adding billing@acorn-is.com to your Email safe list. If you don't receive your Quarterly invoice by Midnight on the 1st of October, please check your SPAM folder. If you don't receive your Invoice via Email by Midnight on the 1st of October, please call our Billing Department at 719-329-0977 option 4 ASAP for assistance.
Credit Card Expiration Dates change from time to time, so if you know you've received an updated card or your billing address does not match the card on file, please make sure all your information is correct and also updated on file.
Click the LOGIN Icon Above to review your online account to make sure your Credit Card and billing information File is up to date, or to add a Credit Card to your account for automatic payment.
Don't Remember your Password?
CLICK Forget Your Password in the Client Login box.

Important Note: If you add a Credit Card for Automatic Payment, Email billing@acorn-is.com so we may activate it.
- - - - - - - - - - - - - - - - - - - - - - - - - - -
Last Opportunity of 2011 to Attend the
Final Session of Acorn University Webinars
Fall is here and it's time for Continuing Education!
Acorn University Students are Learning and their Businesses are Growing.
Come join us in for our Exciting Fall Semester of Classes.
For registration information, contact Annie Buck at 877-226-7699
- - - - - - - - - - - - - - - - - - - - - - - - - - -
Did You Miss Out on the 3rd Quarter
FFA03 (Free-For-All) Industry Webinar?
If you were unable to attend the YouTube and the Innkeeper Webinar on the 27th, you can catch up on what you missed by watching the FREE video recording.
YouTube is the second largest search engine, currently placing between Google and Bing. Make use of the amazing marketing potential of this free service. Lisa Kolb will teach you how to optimize your videos for YouTube, leading to more views and exposure to your potential customers.