IMPORTANT Quarterly Billing Reminder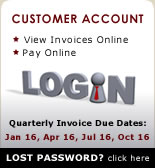 Based on Customer Feedback, we have started sending out a Friendly Reminder a few days in ADVANCE to WATCH for your upcomming invoice.
Acorn Internet Services, Inc. will be generating 4th Q Invoices on January 1 , 2012 for work completed during the months of October, November and December.
01-01-2012 - Invoices generated
01-15-2012 - Check Payments must be received
01-16-2012 - Credit Card Auto Payments apply at midnight
01-17-2012 - If Payments are not received, a Past Due Email notice will automatically be generated and any outstanding work is suspended until payment is made.

Payments not satisfied by the end of the month will result in the Web site being taken offline and re-instatement fees will apply.
Suggestions based on issues we've seen during past billing cycles.
SPAM Folder Alert - Please make sure our Invoice Emails arrive to your Email account by adding billing@acorn-is.com to your Email safe list. If you don't receive your Quarterly invoice by Midnight MTN time on the 1st of January, please check your SPAM folder. If you don't receive your Invoice via Email by Midnight MTN time on the 1st of January, please call our Billing Department at 719-329-0977 option 4 ASAP for assistance.
Credit Card Expiration Dates change from time to time, so if you know you've received an updated card or your billing address does not match the card on file, please make sure all your information is correct and also updated on file.
Click the LOGIN Icon Above to review your online account to make sure your Credit Card and billing information File is up to date, or to add a Credit Card to your account for automatic payment.
Don't Remember your Password?
CLICK Forget Your Password in the Client Login box.

Important Note: If you add a Credit Card for Automatic Payment, Email billing@acorn-is.com so we may activate it.
- - - - - - - - - - - - - - - - - - - - - - - - - - -
Attn: Current Acorn University Students
We will be including the 2012 Acorn University fee on your January 1, 2012 invoice. The fee for Acorn hosting customers is $99, and $249 for non-hosting customers. This will include any and all Acorn U and Club 60 classes and associated After-Hour and Watch-on-your-Own Recordings for the entire year 2012.
If you DO NOT WANT to participate in Acorn University and Club 60 activities into 2012, and do not want the Registration fee to appear on your January 1 invoice, you MUST send an E-Mail to: annie@acorn-is.com by Noon Eastern on Friday, December 30th, 2011, indicating that you no longer wish to partake in Acorn University and Club 60 offerings.
- - - - - - - - - - - - - - - - - - - - - - - - - - -
Did You MISS this Week's FREE Webinar?
If you were unable to attend the Do you have a PLAN for 2012? on the 27th, you can catch up on what you missed by watching the FREE video recording.
In fact, we are now keeping all our FREE Industry Webinars available online for ANYONE interested in learning more to better their business. So if we may suggest, please bookmark http://ffa.acorn-is.com
In 2012 all our Video Recordings will be available not only on a PC or Laptop, but will also be viewable from your smartphone, iPad or iPod style devices.
Just one more way we are supporting our Industry into 2012!