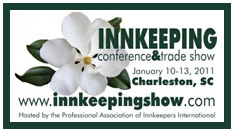 Dear Valued Customers,
Please read this information even if you are NOT planning on attending the January 2011 Professional Association of Innkeepers International(PAII) conference in Charleston, SC.
* THERE ARE VIRTUAL OPPORTUNITIES AVAILABLE *
All the Acorn Internet Services Seminars at the Charleston, SC Innkeeping Show 2011 will be presented in person at the conference, and will also be broadcast live as Acorn-IS Webinars that you are invited to attend FREE of charge!
IF YOU WILL BE ATTENDING this year's Innkeeping Show in Charleston, SC, please join us in these sessions LIVE at the conference. We look forward to seeing you in person! And don't forget to sign up for our FREE 1-on-1 Consultations!
IF YOU ARE UNABLE to attend this year's Innkeeping Show in Charleston, SC, please sign up below to join us Virtually via Acorn Sponsored Webinars for all the Seminars we will be teaching.
7 Building Blocks to Your Internet Success
Morning & Afternoon Sessions Available

Monday, January 10, 2011 Morning Session
9:00 am EST – 12:00 pm EST
[Click to Register Live] | [Click to Attend Via Webinar]

Monday, January 10, 2011 Afternoon Session
1:30 pm EST – 4:30 pm EST
[Click to Register Live] | [Click to Attend Via Webinar]
Do you have an Internet Marketing Plan in place for increasing revenue today, next year and beyond? Whether you are a "Do it Yourselfer" (DIY) or choose to hire Industry Professionals to handle your Online Presence, as an Innkeeper and business owner you MUST be aware of all the available opportunities and challenges in today's ever changing Online world.
We will provide insight into all things that impact your Online Presence starting with a Revenue Generating, Search Engine Friendly Web Site Design, Video, Mobile, Local and Organic Presence, Link Building, Social and Press Media, Newsletters, Blogging, and we'll wrap up with how to know if your Plan is working!
To better support Innkeepers' Travel Schedules, we are offering this session at two separate times. You may join us from 9:00 AM to Noon. Or attend the Repeat Session at 1:30 PM – 4:30 PM on Monday, January 10th, 2011. Register Now! Don't miss out on this valuable, information packed Pre-Conference Session.
- - - - - - - - - - - - - - - - - - - - - - - - - - - - - - - - - - - - - - - -
Unlock the Secrets to your Business Success ...
... with 10 Internet Marketing Steps
Wednesday, January 12, 2011
2:45 am EST – 3:45 pm EST
[Click to Attend Via Webinar]
Did you know that there are innkeepers in today's industry whose businesses are flourishing! Do you want to know the secret? It's truly no longer about just throwing money at the problem. Hear from an Internet marketing professional and a handful of these successful innkeepers who are experiencing all-time revenue/occupancy highs. Remember, if you keep doing the same thing the same way, you can expect the same results. Innkeepers who roll up their sleeves and get involved are the ones who are going to win! This is a hands-on workshop.
- - - - - - - - - - - - - - - - - - - - - - - - - - - - - - - - - - - - - - - -
SEO and Link Building is Alive and Well!
Wednesday, January 12, 2011
9:50 am EST – 11:00 pm EST
[Click to Attend Via Webinar]
Traditional Search Engine Optimization (SEO) and Link Building strategies have evolved in light of today's growing Social Media trends, YouTube, Bookmarking sites, etc. And though these strategies are still very much alive, how you utilize them to your best benefit continues to change. Come to this session and learn the basics of SEO and Link Building strategy in today's ever changing Internet world! This is a hands-on workshop.
- - - - - - - - - - - - - - - - - - - - - - - - - - - - - - - - - - - - - - - -
FREE 1-on-1, "30 Minute Consultations"
Available in Charleston, South Carolina!
Acorn Internet Services, Inc. is offering a total of 50 hours of FREE "1-on-1" Session Time available in 30 minute slots, while we are in Charleston, SC for ANY innkeeper interested in talking with us about YOUR topics choice. We are offering our assistance at absolutely no charge or obligation.
If you are an Innkeeper attending the conference, our intent is to offer the "1-on-1" time with one of our Acorn IS team members in an environment that is less interruptive than meeting with us at our booth in the Trade Show Hall.
We are announcing this Early Registration opportunity for our valued customers BEFORE we announce this benefit to the full attendee list.
- - - - - - - - - - - - - - - - - - - - - - - - - - - - - - - - - - - - - - - -



PLEASE BE CAREFUL NOT TO BLINDLY FOLLOW
THE ADVICE OF CONFERENCE SPEAKERS!
As a valued Acorn Internet Services client, we highly suggest that if you hear a speaker say something that doesn't fit or correspond with the ongoing education and training we provide on a weekly basis, ask that they provide proof (i.e. verifiable documentation) and references (at least 5). Once you have this information, PLEASE call us to discuss before you make a move in a direction that could negatively impact your bookings and bottom line revenue well into the future.
Educational conferences provide wonderful opportunities to network with other Innkeepers and to learn new and exciting things, but ultimately it is the Innkeeper's responsiblity to validate any and all information they hear, read or are told from any source in regards to their business before they act on that information.