Google Strikes Again!
Enforcement of Page Experience guidelines is on the horizon.


HOW DOES YOUR WEBSITE SCORE?
R U ready?
Google has announced that they will be enforcing their Page Experience guidelines in May of 2021.
For full details about the direction of this enforcement, please find below three different articles discussing these upcoming changes.
Search Engine Watch | Search Engine Land | SEO Round Table

WHAT IS THIS ALL ABOUT?
In a nutshell, Google has been providing webmasters direction and guidelines on how to improve their "under the hood" web code for many years.
They have also provided a tool, PageSpeed Insights, to help webmasters know how they are doing with those rules.
This direction from Google is not new. It is just what Google does. First, they tell you to do "XYZ", and then they give you multiple years to abide by the new rule. Then they find a way to enforce the rule, IE: force you to do it; assuming you haven't done what they told you to do by the date they told you to do it.
We will be presenting an Acorn Client ONLY webinar on these latest guidelines to explain what they mean to your bottom line on:
Date: Tuesday March 23, 2021
Time: 9:00 PDT / 10:00 MDT / 11:00 CDT / Noon EDT
We encourage you to attend so that you can learn and ask questions about what has been predicted to happen in May of this year.
PAGESPEED INSIGHTS SCORE
When it comes to the internal workings of your website, Acorn is THE LEADER in our industry! This expertise results in better ranking and more direct bookings for our clients. But rarely are we able to provide a visual that proves it!
With this pending PageSpeed Insights enforcement, we decided to investigate 900 + websites and see how they score on the PageSpeed Insights testing tool. We tested all of our Acorn designs that are currently online and active. We also tested an additional 4 providers in our industry who agressively sell similar services as Acorn, at higher prices.
CHECK OUT THE RESULTS BELOW!
Bear in mind, a GREEN score is elusive and difficult to obtain. The more javascript, bells and whistles, 3rd party connections, videos, photo rotations, widgets, etc. you add to your responsive mobile design, the heavier your site will become, and the slower it will load.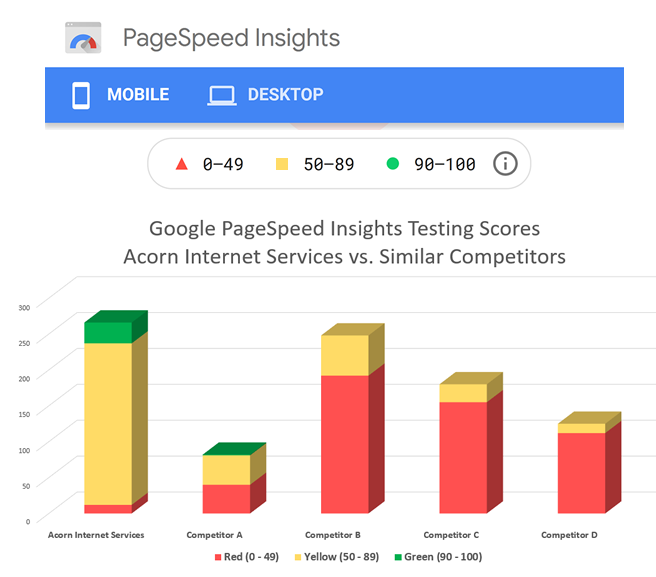 During the webinar we will show you how and if you want to achieve a GREEN score. You may find that you must sacrifice too much of your desired visual user experience to obtain a GREEN score. But --- obviously you don't want your website to score in RED either. Our investigation of these 900+ sites has led us to believe that it is possible that a YELLOW score may be more than enough to keep you ahead of your competitors. Especially if they are scoring in RED and their web providers are unable or unwilling to work with them to help them score higher.
PLEASE PLAN TO ATTEND!
We want each and every one of our clients to understand the nuances of this latest enforcement! And if you simply cannot attend live, the webinar will be recorded, and will be emailed to all those that register.
Lisa Kolb
President and Co-Founder
Acorn Internet Services, Inc.